FRIENDS THE MUSICAL PARODY Will Be There for You at The Ridgefield Playhouse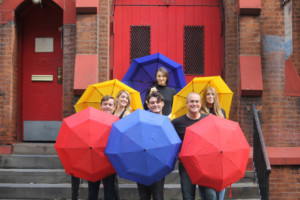 FRIENDS! The Musical Parody is an unauthorized musical parody based on the wildly popular television series. Brought to you by Bob and Tobly McSmith, the pair behind Full House! The Musical, Showgirls! The Musical, Katdashians! The Musical! and Bayside! The Saved by the Bell Musical, (New York Times Critic Pick) FRIENDS! The Musical Parody treats you to rollicking songs like "495 Grove Street - How Can We Afford This Place?;" "How you Doin?" and "We Were on a Break!"
This hilarious new musical lovingly lampoons TV's "Friends" and celebrates the wacky misadventures of your favorite group of 20-something pals as they navigate the pitfalls of work, life, and love in 1990s Manhattan. See FRIENDS! The Musical Parody at The Ridgefield Playhouse on Wednesday, October 24 at 8pm, part of Barts Tree Service Comedy Series, Ridgefield Magazine Broadway & Cabaret Series and STAR 99.9 & Western Connecticut Health Network's Pinktober. For mature audiences only. Join us in the lobby at 7:15pm for a complimentary wine tasting and try some great vintages offered by Treasury Wine Estates.
Visit Southwest Cafe (109 Danbury Road, Ridgefield) for dinner before the show and enjoy a complimentary margarita with your entree when you show your ticket. Enjoy your evening out with dinner and a show - without the stress of driving! Contact Nutmeg Livery at (203) 438-1381 for transportation to and from this show and receive a 15% discount (subject to Town Car availability).
It's a typical day at New York's only coffee shop, Central Perk, until an unexpected runaway bride enters the picture and kicks the whole gang out of second gear! The new musical recreates our favorite moments from all 10 years of Friends through an uncensored, fast-paced, music-filled romp.
Additional songs from Friends! The Musical Parody include: "Oh. My. God. It's Janice!" sung by Janice-- yes, they've brought back Janice!-- "Will They or Won't They" by Ross and Rachel; "The Ballad of Fat Monica"; "The Chick and The Duck Song"; "I am Marcel, the Monkey!"; "Could I BE Anymore...in Love with You" by Chandler; "The One Where We Make a Million Dollars an Episode" and "We'll Always Be There For You." "It's smart, funny and moving," proclaims Broadwayworld.com. The show is produced by Right Angle Entertainment McSmith Family Entertainment.
For tickets ($39.50) call or visit the box office, 203-438-5795 or go online at ridgefieldplayhouse.org. The Ridgefield Playhouse is a non-profit performing arts center located at 80 East Ridge, parallel to Main Street, Ridgefield, CT.
More Hot Stories For You