BWW Review: THE DROWSY CHAPERONE at Goodspeed Opera House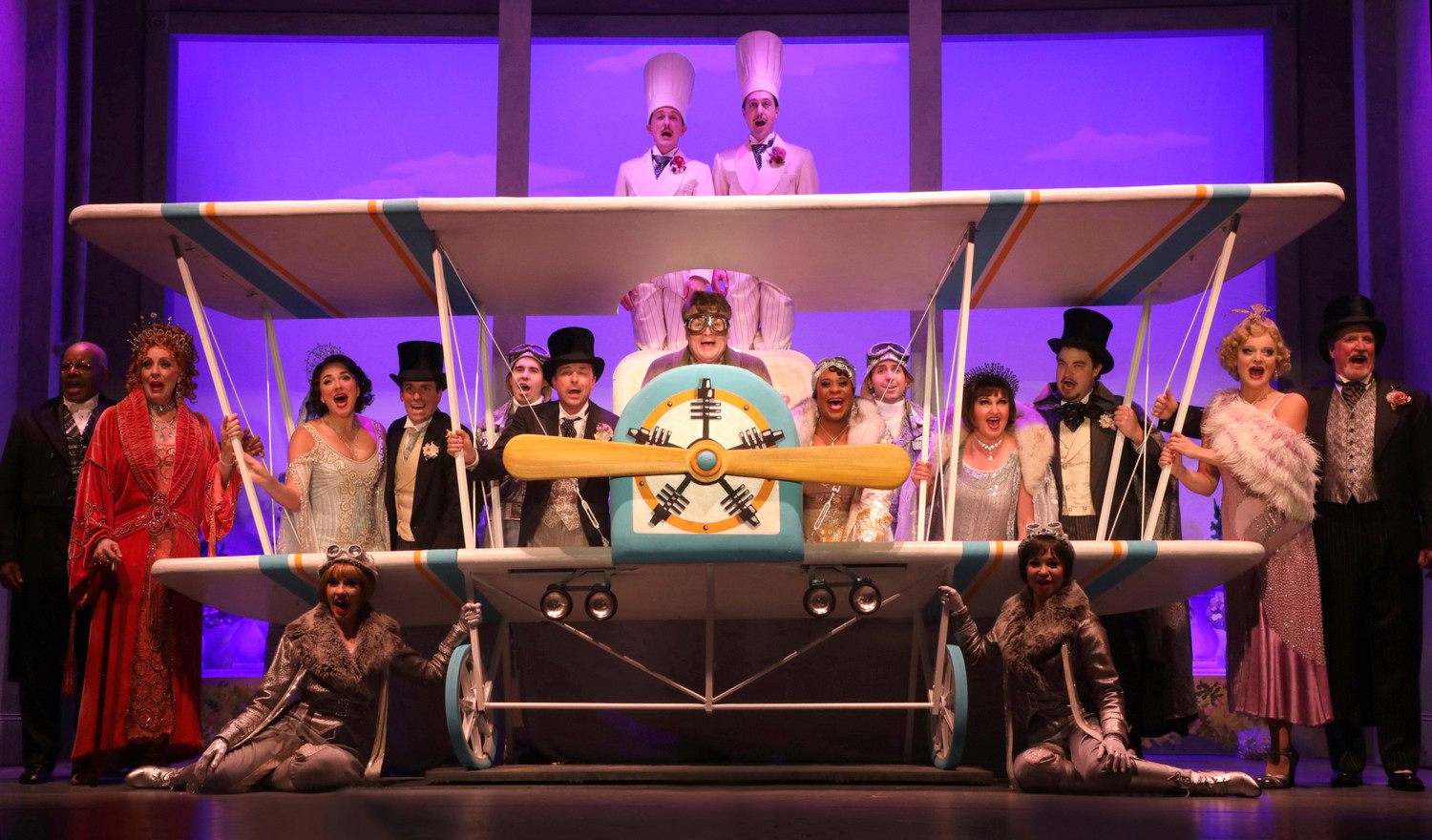 As a fan of musical theatre, there is nothing like sitting down with a favorite cast album and being transported (possibly for the umpteenth time) to fantastic worlds, bygone eras, or dramatic locales. These musical journeys help one forget the worries of day to day life and instead spend a couple hours with a smile on the face and a song in the heart. Imagine if the essence of that experience could be captured and put on stage, and you have the hilarious musical THE DROWSY CHAPERONE, the final show in Goodspeed Musicals' 2018 season. THE DROWSY CHAPERONE is one of those shows with something for everyone. For the die-hard theatre geeks (such as this writer) it is an exciting and thrilling, non-stop nod to the experience that only a musical can provide. But for everyone else, THE DROWSY CHAPERONE is just a hands-down great piece of musical theater. With rousing dance numbers, powerhouse ballads, beautiful costumes, magical scenery, and hilarious situations, this is a show that everyone can fall in love with.
The Tony Award winning musical with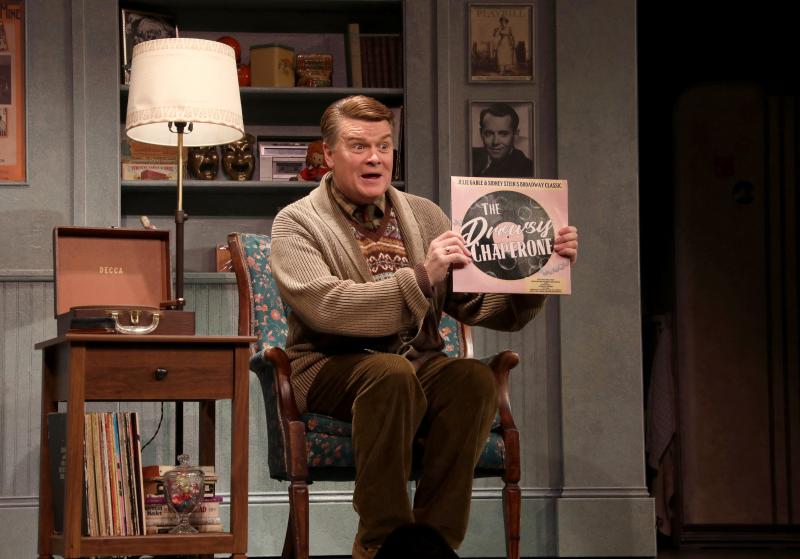 book by Bob Martin and Don McKellar and music and lyrics by Lisa Lambert and Greg Morrison is narrated by the ever present "Man in Chair" (John Scherer) who invites the audience to join him in his small New York City apartment as he listens to the album of his favorite classic musical from the 1920's, "The Drowsy Chaperone". As the record begins and the narrator explains what is going on in the play, his apartment magically transforms into scenes from a society wedding with all the tropes of classic 20th century musical comedy - A young vaudeville star and bride-to-be, Janet Van de Graaf (Stephanie Rothenberg), leaving the stage for her handsome fiancée, Robert (Clyde Alves). The bride and groom are joined by his forgetful best man, George (Tim Falter), her boozy "chaperone" (Jennifer Allen), her long suffering producer, Mr.Feldzieg (James Judy) and a cast of zany guests including two gangsters posing a pastry chefs (Blakely and Parker Slaybaugh). Mistaken identities, an on-again, off-gain wedding, and, of course, beautiful music and numerous production numbers ensue leading to, what else, a happy ending on the wings of a bi-plane.
By bringing THE DROWSY CHAPERONE to the Opera House stage, Goodspeed has tackled another big, classic American musical and shown how adept they are at making it fit perfectly in their compressed space. This production is the perfect close to the season as it is funny, endlessly entertaining and filled with quite a few amazing theatrical high-points (more on that in a moment.) Director Hunter Foster does a stellar job orchestrating the non-stop action and frantic pace of THE DROWSY CHAPERONE, without losing a bit of the charm and humor of the script. He creates characters that, though they are but caricatures in the mind of the narrator, feel alive and real.
In terms of performances, every cast member, to the person, is thrilling to watch. Each character has a moment (or moments) to shine, and boy, do they. As the narrator, "Man in Chair", John Scherer is, at first, sad and lonely, but when the musical gets into full swing he comes out of his shell, showing, in his eyes, the passion he feels for this music. His comic timing is great, especially when trying to explain the plot to the audience, and is hilarious in the moments where he is swept up into the action. As the bride and groom-to-be, Stephanie Rothenberg and Clyde Alves are goofy, yet sincere, and both have opportunities to show off their strong theatrical chops (Ms. Rothenberg in "Show Off" and Mr. Alves in "Cold Feets"). As the Latin lothario, Adolpho, John Rapson is hilarious. He chews the scenery and steals the spotlight, and it is great. As the two gangsters/pastry chefs, real life brothers Blakely and Parker Slaybaugh are a thrill to watch. They have a synchronicity that only brothers could convey and it works just perfectly. And as the "drowsy" (i.e., boozy) chaperone, Jennifer Allen is the perfect mix of comic foil and belting show stopper. Her rendition of the powerful "As We Stumble Along" elicited well-deserved prolonged applause and made this reviewer feel as if I had just witnessed an unforgettable theatrical moment.
In terms of creative, the magical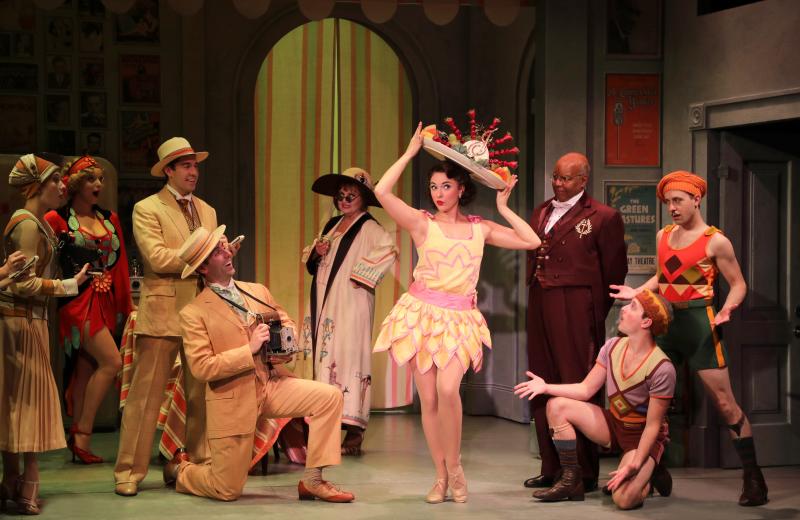 set I mentioned earlier, designed by Howard Jones, is quite impressive. It ebbs and flows where needed, transforming the basic apartment into a grand manor, lush gardens, and sunny poolside - but always with just enough of the apartment to maintain the fact that what is on stage is all in the mind of the narrator. As for the costumes, I could write an entire piece on Gregg Barnes' lush and beautiful costumes in THE DROWSY CHAPERONE. Every single scene delivers something new and breathtaking - even for singular numbers (the safari themed "Bride's Lament") and partial numbers (the hilariously over the top "Message from a Nightingale"). Chris Bailey's choreography is energetic and fresh, including a rousing tap number and quite a few full ensemble pieces that have to be perfectly planned due to the smaller stage. Kirk Bookman's lighting and Jay Hilton's sound design elevate the excitement throughout. Finally, Michael O'Flaherty, and his top rate orchestra bring the score to vivid life (using Dan DeLange's strong orchestrations).
With THE DROWSY CHAPERONE, Goodspeed Musicals delivers a first-rate musical theatre experience that is hard to beat. It is fun (I couldn't stop smiling!), entertaining, and the perfect remedy for when you are feeling blue or when you are simply in the mood for some great theatre. But as it is likely this production won't be preserved on record, audiences should take the time to come experience the show live on the Goodspeed stage before it is gone.
--
THE DROWSY CHAPERONE runs at the Goodspeed Opera House in East Haddam, CT through November 25, 2018. Curtain times are Wednesday at 2:00p.m. and 7:30 p.m., Thursday at 7:30 p.m. (with select performances at 2:00 p.m.), Friday at 8:00 p.m., Saturday at 3:00 p.m. and 8:00 p.m. and Sunday at 2:00 p.m. (with select performances at 6:30 p.m.). For more information, call 860-873-8668 or visit goodspeed.org. The Goodspeed Opera House is located at 6 Main Street, East Haddam, CT.
Top photo: Escape the everyday with the cast of Goodspeed Musicals' The Drowsy Chaperone, now playing at The Goodspeed through November 25. Photo by Diane Sobolewski.
Mid photo 1: John Scherer as Man in Chair in Goodspeed Musicals' The Drowsy Chaperone, now playing at The Goodspeed through November 25. Photo by Diane Sobolewski.
Mid photo 2: Jennifer Allen as The Drowsy Chaperone with the cast of Goodspeed Musicals' The Drowsy Chaperone, now playing at The Goodspeed through November 25. Photo by Diane Sobolewski.
Bottom photo: "I Don't Wanna Show Off" Stephanie Rothenberg (Janet Van de Graaf) with the cast of Goodspeed Musicals' The Drowsy Chaperone, now playing at The Goodspeed through November 25. Photo by Diane Sobolewski.