Tantrum Theater to Stage CAROLINE, OR CHANGE This July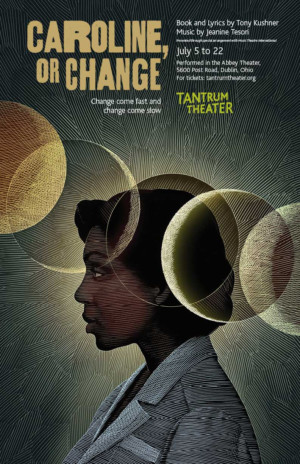 Tantrum Theater continues its second season with the moving Tony Award-nominated musical, "Caroline, or Change," running July 5-July 22.
Professional theater artists from across the country, including multiple Broadway and national tour veterans, will bring to life playwright Tony Kushner's ("Angels in America") enthralling story and composer Jeanine Tesori's ("Fun Home") powerful score at the Abbey Theater in Dublin.
"Change come fast and change come slow." It's 1963 in Louisiana, and for Caroline Thibodeaux the world is changing too fast. The president has just been shot and a fight for racial justice is sweeping the nation. Caroline, a black maid serving a Jewish household, desires only a good night's rest and a decent life for her children. A melodious moon provides the commentary as her relationship with young Noah, the precocious son of her employers, becomes complicated by pocket change. With its moving rock, gospel, and klezmer score, this exquisite musical is a riveting statement addressed to a nation still gripped by inequality.
The production is under the direction of Robert Barry Fleming, who serves as associate artistic director for the Cleveland Play House, where he recently directed "Between Riverside and Crazy."
Fleming formerly served as director of artistic programming at Arena Stage in Washington, D.C. and has directed, choreographed and acted in eminent theaters across the country, including The Public Theater, The Old Globe and The Goodman. Fleming is also the production's choreographer.
Brandon Adams serves as musical director for the sung-through show, joining Tantrum from recent productions of "The Secret Garden" at 5th Avenue Theatre in Seattle and Shakespeare Theatre Company in Washington D.C. The production's creative team also includes Scenic Designer Jason Ardizzone-West, who worked as associate set designer on the recent Tony Award-winning design for "Natasha, Pierre, & the Great Comet of 1812," with additional credits at The Public Theatre, Juilliard, The Cleveland Play House and more. Serving as costume designer is Lex Liang, whose work has been seen on the stage of the ALLIANCE THEATRE, Cleveland Play House and La Jolla Playhouse among others. They are joined by Lighting Designer Michael Lincoln, head of Ohio University's Theater Division, whose 300-plus lighting design credits include the Broadway production and national tours of "Copenhagen," the Playwrights Horizons production of "The Bubbly Black Girl..." and the Cleveland Play House production of "A Streetcar Named Desire"; Sound Designer Jane Shaw, whose credits include work at the Cleveland Play House, Hartford Stage and the Cincinnati Playhouse; and Dramaturg Matt Cornish, assistant professor of theater history and director of studies for Honors Tutorial College in theater at Ohio University. The production's assistant director is Allison Epperson, from Ohio University's Professional Director Training Program.
Leading a 16-member cast in the poignant title role is Christina Acosta Robinson, making her Tantrum debut with credits at the Hartford Stage Company, the Oregon Shakespeare Festival and Yale Repertory Theatre among others. Joining her is Ken Robinson (the Dryer/the Bus), whose Broadway credits include the Tony Award-winning revival of "The Color Purple," "Memphis" and "Baby It's You!" In the role of Noah Gellman is Joshua Turchin, who twice appeared in the national Broadway tour of "A Christmas Story, the Musical." Other Broadway veterans in the cast include Loni Ackerman (Grandma Gellman), best known for her performances as Grizabella in "Cats" and Eva Perón in "Evita"; Stanley Bahorek (Stuart Gellman), a Worthington native who returns to Central Ohio after performances in "The 25th Annual Putnam County Spelling Bee," "Amazing Grace," "West Side Story" at Carnegie Hall and Netflix's "Master of None"; and Gordon Stanley (Mr. Stopnick), a member of seven original Broadway casts including of "Joseph and the Amazing Technicolor Dreamcoat," "Beauty and the Beast," "Ragtime" and the first Roundabout revival of "Cabaret."
In the role of Emmie Thibodeaux is Arianna Hanson, a recent graduate of the American Musical Dramatic Academy and winner of the Apollo Theatre's Amateur Night. Portraying Dotty Moffett/Radio #1 is Cleveland-based Colleen Longshaw, whose performance credits include work with the Cleveland Play House, New York Music Theatre Festival, Porthouse Theatre and the national tour of NETworks' "Kiss Me, Kate." She is joined by Mariah Burks (the Moon/Radio #1), a current student in the Case Western Reserve University/Cleveland Play House MFA Acting Program, Alaina Kai (Radio #2), a recent alumna of Ohio University's BFA Performance Program, and Nicole Sumlin (the Washing Machine), whose credits include performances with Cleveland Public Theatre, Playhouse Square, Cain Park and Dobama Theatre. Performing the role of Rose Stopnick Gellman is Amy Blackman, a recent graduate of The Old Globe/University of San Diego Graduate Theatre MFA Program with additional credits including The Muny and the New York Theatre Workshop.
The role of Grandpa Gellman is performed by Howard Elson, whose professional theater credits include over 13 productions in Pittsburgh. Joining the cast as the younger Thibodeaux children are Easton Sumlin, seen onstage at the Cleveland Play House and Dobama Theatre, and Antonio Watson, who recently appeared on the "Late Night Show with Stephen Colbert."
IF YOU GO:
"Caroline, or Change"
By Tony Kushner
Music by Jeanine Tesori
Directed by Robert Barry Fleming
Wednesday, July 5, 7:30 p.m. Pay what you will preview
Thursday, July 6, 7:30 p.m. Pay what you will preview
Friday, July 7, 8 p.m. Opening Night-Reception to follow performance
Saturday, July 8, 8 p.m.
Sunday, July 9, 2 p.m.
Wednesday, July 12, 7:30 p.m.
Thursday, July 13, 7:30 p.m.
Friday, July 14, 8 p.m.
Saturday, July 15, 2 p.m.
Saturday, July 15, 8 p.m.
Sunday, July 16, 2 p.m.
Tuesday, July 18, 7:30 p.m.
Wednesday, July 19, 7:30 p.m.
Thursday, July 20, 7:30 p.m.
Friday, July 21, 8 p.m.
Saturday, July 22, 2 p.m.
Saturday, July 22, 8 p.m. Closing
For tickets and a full season calendar, visit www.tantrumtheater.org or call the Tantrum box office at 614-793-5700.
All shows will be performed at the Abbey Theater, Dublin Rec Center, 5600 Post Road, Dublin, OH 43017.
Three-ticket flex passes and single tickets are on sale at tantrumtheater.org. All preview performances are pay-what-you-will. Regular shows are: Adults $28.00; Seniors $26.00; and Students (with valid I.D.) $10.00.
Tantrum Theater was created to enrich the cultural landscape of the Central Ohio community with diverse and innovative programming and intercultural exchange. Later in the summer, timed to coincide with the annual Dublin Irish Festival, Tantrum will present "Into the West," adapted for the stage by Greg Banks from the screenplay by Jim Sheridan, originally commissioned and produced by Travelling Light Theatre Company, UK, and directed by Jen Wineman, August 1-19. Tantrum Theater and the Dublin Arts Council also offer fun and creative camps and workshops for kids and teens in both Dublin and Athens. Find a full schedule online at tantrumtheater.org/education.
Promotional artwork by Punch and Judy.
More Hot Stories For You