2018 Star-Spangled Spectacular Celebrates 100 Years Of Community Support For The Cleveland Orchestra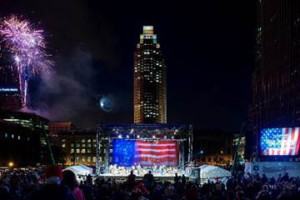 Today, The Cleveland Orchestra announced program details for the 29th annual, free community concert in downtown Cleveland, which will take place rain or shine on Friday, July 6 at 9:00 p.m. This year's Star-Spangled Spectacular brought to you by Cuyahoga Arts & Culture and sponsored by KeyBank will be held on the spacious Mall B, located at 300 St. Clair Avenue, Cleveland, between the Global Center for Health Innovation and Cleveland Public Auditorium. In addition to celebrating our nation's birthday, this year's concert celebrates The Cleveland Orchestra's 100th anniversary, concludes the Orchestra's special Around the Region Celebration, and thanks the Northeast Ohio community for a century of support.
The concert, led by Music Director Franz Welser-Möst, will include classical repertoire, patriotic favorites, Tchaikovsky's "1812" Overture, and more. The performance is capped off with a spectacular fireworks display. Details of the program and special 100th Birthday Celebration activities are listed below and at the end of this release. Additional information about the Birthday Celebration will be announced leading up to July 6.
"We are thrilled to bring great music to the Cleveland community again this year with the support of Cuyahoga Arts & Culture, KeyBank, and our other producing partners," said André Gremillet, Executive Director of The Cleveland Orchestra. "We look forward to hosting and welcoming music fans from across Northeast Ohio to this annual downtown Cleveland celebration, complete with fireworks, food trucks, and all of the fun and excitement that this concert offers. Whether you attend in person or listen to the live broadcast, for everyone this 100th birthday party will launch this Orchestra's second hundred years."
"We are very proud to once again support The Cleveland Orchestra's Star-Spangled Spectacular," said KeyCorp Chairman and CEO Beth Mooney. "As Cleveland's hometown bank, we are committed to doing our part to create thriving communities. Providing access to and preserving events like the Star-Spangled Spectacular is core to that mission."
"Cuyahoga Arts & Culture is proud to support the Star-Spangled Spectacular, especially as this year's event celebrates 100 years of the Orchestra's service to the community," said Karen Gahl-Mills, CEO + Executive Director of Cuyahoga Arts & Culture. "On behalf of the residents of Cuyahoga County, we are pleased to underwrite a free concert that brings the community together to experience the arts and to celebrate one of our important cultural assets."
100th Birthday Celebration Activities
To celebrate the Cleveland Orchestra's 100th birthday and to thank the Cleveland community for 100 years of supporting this incredible Orchestra, special activities will take place, which include:
· Starting at 6:00 p.m., a camera crew from ideastream will be on Mall B to film audience members wishing The Cleveland Orchestra a Happy 100th Birthday. These video greetings will be shown on the big screens on Mall B throughout the evening, before the concert begins at 9:00 p.m.
· From 7:00 - 8:00 p.m., there will be special pre-concert performances by local and regional groups.

More information about the pre-concert groups performing and other 100th birthday activities will be announced at a later date.
Live Broadcast and Streaming
As part of an ongoing commitment to partnering with ideastream to provide greater access to music and culture for the citizens of Cuyahoga County and beyond, the Star-Spangled Spectacular will be live video streamed on clevelandorchestra.com and ideastream.org, and the concert will be broadcast live by radio on 90.3 WCPN and WCLV Classical 104.9 ideastream.
Family Workshops at Cuyahoga County Public Library Locations
Again this year, in collaboration with The Cleveland Orchestra, the Cuyahoga County Public Library (CCPL) will host Star-Spangled Spectacular Family Workshops in the weeks leading up to the concert (previewing the music and helping kids and families prepare for this special performance). 2018 locations, dates, and times are:

Cuyahoga County Public Library: Parma-Snow
2121 Snow Road, Parma, Ohio 44134
Friday, June 22 at 2:00 p.m.
Cuyahoga County Public Library: Warrensville Heights
4415 Northfield Road, Warrensville Heights, Ohio 44128
Wednesday, June 27 at 10:00 a.m.
Mall B Location and RTA Public Transportation Details
Located a few blocks to the northeast of Public Square between the Global Center for Health Innovation and Cleveland Public Auditorium on St. Clair Avenue, Mall B is a grassy area that is an ideal location to bring a blanket for the concert.
Attendees are encouraged to take the RTA Rapid to the event. The Red, Blue, and Green line trains run until midnight, with free parking at most of the stations. Mall B is a short 5-minute walk from RTA's Tower City Station. Additionally, the RTA HealthLine operates 24/7 from the Louis Stokes Station at Windermere to Public Square. Visit www.riderta.com for routes, schedules, and to plan your trip.
About Cuyahoga Arts & Culture
Cuyahoga Arts & Culture (CAC) is one of the largest public funders for arts and culture in the nation, helping hundreds of organizations in Cuyahoga County connect millions of people to cultural experiences each year. Since 2007, CAC has invested more than $170 million in 375 organizations both large and small, making our community a more vibrant place to live, work and play. For more information, visit cacgrants.org.

Related Articles View More Cleveland

Stories

Shows
More Hot Stories For You