the kates Come to Chicago Improv 10/12
Chicago comedian and kates creator Kelsie Huff hosts the all-female comedy showcase at the legendary Comedy Club, The Improv. the kates, a ten-year comedy showcase created by Kelsie Huff and featuring the funniest female stand-ups in Chicago, perform at the Chicago Improv on Oct. 12th 7:30pm for One Night Only! Why all ladies? Why not!
The show is produced by Kelsie Huff, founder of the kates and instructor at the kates university. The show will take place on Oct. 12th at 7:30 p.m. at Chicago Improv (5 Woodfield Road, Woodfield Mall Store K120B, Schaumburg). There is a two-item minimum and it is an 18+ show. Tickets can be purchased at the Chicago Improv website for $15, in-person at the box office or by phone. Service Fees Apply. Box Office # 847-240-2001
the kates at Chicago Improv welcome some of Chicago's most bad ass female comedians to the stage on Oct. 12th 7:30pm.
Kelsie Huff is a Columbia College Chicago graduate turned stand-up and storyteller. She's the creator and host of the kates, a ten- year monthly comedy showcase, hosted by The Book Cellar and Laugh Factory Chicago. She taught Feminine Comique for five years and has now created the kates U- an all-female comedy university specializing in making spaces for female identified voices. Kelsie performs at clubs all around the Midwest, as well as comedy and fringe festivals around the country. She is a regular guest on ABC's Windy City LIVE, The Jam on the U and WGN radio. Huff has written four solo shows, is a short film producer, screenwriter and voice over actor. Huff is also a fan of frosting and Cheese Whiz.
the kates also host their Lincoln Square shows at The Book Cellar the second Friday and last Saturday of the month at 7pm. Lineups are posted on the kates website.
the kates launched the kates university in 2017 which includes adult storytelling, stand-up classes, all female stand-up classes, corporate comedy workshops, college comedy intensives and youth outreach programs. REGISTER HERE
For more information about the kates shows and classes, please visit the kates website or contact Kelsie Huff at kelsiehuff@gmail.com
the kates is a ten year all female comedy showcase created by Chicago comedian Kelsie Huff. the kates shows take place the second Friday and last Saturday of the month at The Book Cellar. the kates mission is to showcase talented and hilarious female identified performers by creating inclusive and positive environments; which encourages artists to express their comic point of view in unique and non-apologetic ways - proving that women are equal in the eyes of comedy.
the kates launched the kates university in 2017 which includes adult storytelling, stand-up classes, all female stand-up classes, corporate comedy workshops, college comedy intensives and youth outreach programs. REGISTER HERE
Chicago Improv is located at 5 Woodfield Rd, Woodfield Mall Store K120B, Schaumburg, IL. There is ample parking right in front of our door. There is also valet services available to the right of us through the mall. Valet is $8.
For over half a century, the Improvisation Comedy Clubs have remained the premiere stages for live comedy in the United States. Over the decades, the talent who has played center stage represents the Who's Who of American Comedy, including Richard Pryor, Billy Crystal, Lilly Tomlin, FrEddie Prinze, Andy Kaufman, Eddie Murphy, Jerry Seinfeld, Tim Allen, Jay Leno, Chris Rock, Dane Cook, Ellen Degeneres, Jamie Foxx, Adam Sandler, Jeff Dunham, and Dave Chappelle.
The Improvisation was founded in New York City by Broadway producer Budd Friedman. Budd hoped for a place where Broadway performers could meet after their shows, an intimate setting where performers could simply eat, drink (coffee, at first, as the Improvisation did not have a liquor license) and, most importantly, sing. The Improvisation quickly gained attention as the gathering spot where young Broadway artists would hold sing-alongs into the wee hours. Budd has a very vivid memory of Judy Garland and Liza Minnelli singing, accompanied at the piano by Peter Allen. (Google them if you aren't sure who these legends are!)
One year later, the Improvisation's first comedian, Dave Astor, appeared on stage to try new material. It worked- and others quickly followed. Soon, comedians began to dominate the rotation, as singers were phased-out of the nightly line-up. The Improvisation became the place for live comedy. In fact, the only nightly stage for live comedy. Little known Dave Astor made Budd the Impresario of comedy virtually overnight. The legendary club was just beginning.
For more information about The Improv and to learn about upcoming shows at the Chicago location, visit chicago.improv.com.
More Hot Stories For You
SongShop Live Presents THINGS CHANGE, December 11

December 1, 2022

SongShop Live presents Things Change,. exploring in song the many ways change can be good or bad, naughty or nice. When 'Everything Must Change' in this 'Crazy World', we offer Rodgers & Hart wit, Kurt Weill character, queens and pirates, elves and jingle bells (but not the carol), jazzy possibilities and endings, shifting seasons, soul-searching songs from our own Valentino, wishful thinking and resolve.
---
Comedian Ashley Gavin to Perform at The Den Theatre in February

December 1, 2022

The Den Theatre will present comedian Ashley Gavin for four stand-up performances on February 24 & 25, 2023 on The Heath Mainstage.
---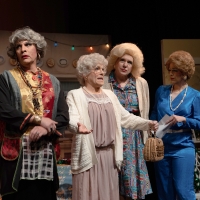 Photos: Hell in a Handbag Productions Presents THE GOLDEN GIRLS: THE LOST EPISODES – THE OBLIGATORY HOLIDAY SPECIAL

November 30, 2022

Hell in a Handbag Productions will ring in the holiday season with the return of its favorite seniors in The Golden Girls: The Lost Episodes – The Obligatory Holiday Special, playing November 26 – December 30, 2022 at The Hoover-Leppen Theatre at The Center on Halsted, 3656 N. Halsted St. in Chicago.
---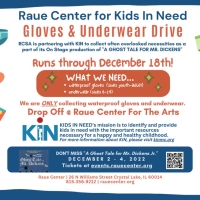 Raue Center For The Arts Partners With Kids In Need In Mchenry County

November 30, 2022

Raue Center School For The Arts has announced its partnership with Kids In Need this holiday season to collect often overlooked necessities as a part of its On Stage production of 'A GHOST TALE FOR MR. DICKENS Jr.'
---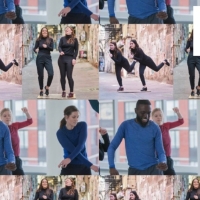 SYREN Modern Dance Announce 20-City Tour For 20th Anniversary

November 30, 2022

SYREN Modern Dance, New York City based company co-founded by Lynn Peterson and Kate Sutter, will share a split bill with kamrDANCE on December 2, 2022 at 6:30pm & 8:30pm at Arts on Site, Studio 3R, 12 St. Mark's Place, NYC.
---