Victory Gardens Presents Chicago Premeire Of Cambodian Rock Band, and More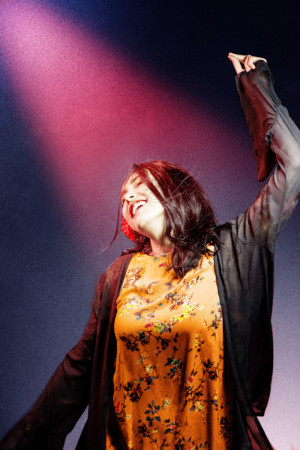 Victory Gardens Theater continues its 44th season with the Chicago Premiere of Cambodian Rock Band, written by Lauren Yee, featuring songs by Dengue Fever and directed by Marti Lyons. Cambodian Rock Band runs April 5 May 5, 2010, with press performance on Friday, April 12, 2019 at 7:30pm at Victory Gardens Theater, 2433 N. Lincoln Avenue. Victory Gardens is also pleased to announce a partnership with Lincoln Hall to present Dengue Fever in concert on Wednesday, May 1, 2019.
About Cambodian Rock Band
Part comedy, part mystery, part rock concert, this thrilling story toggles back and forth in time, as father and daughter face the music of the past. Neary, a young Cambodian American, has found evidence that could finally put away individuals who carried out the Cambodian genocide. But her work is far from done. When Dad shows up unannounced his first return to Cambodia since fleeing 30 years ago it's clear this isn't just a pleasure trip. A wild rock-and-roll journey through the eyes of father and daughter, Artistic Director Chay Yew brings the world premiere journey of Lauren Yee's (Samsara) Cambodian Rock Band from South Coast Repertory Theatre to Victory Gardens.
The cast of Cambodian Rock Band includes Rammel Chan (Duch), Eileen Doan (Pou/Guard/Keyboard), Peter Sipla (Rom/Journalist/Drums), Greg Watanabe (Chum/Bass), Aja Wiltshire (Neary/Sothea/Vocals), and Matthew Yee (Leng/Ted/Guitar)
About Dengue Fever
The roots of Dengue Fever began in the late 1990's with a 6-month trek through Southeast Asia by Keyboardist Ethan Holtzman. Returning to Los Angeles with a suitcase crammed full of Cambodian cassette tapes, Holtzman and his brother Zac, who had discovered the same music while working at a record store in San Francisco, reunited. The brothers soon bonded over their love of vintage Cambodian rock and in 2002 founded the band with saxophonist David Ralicke (Beck/Brazzaville), drummer Paul Dreux Smith, and bassist Senon Williams (Radar Brothers). Shortly thereafter the members were on hot pursuit for the ideal Cambodian chanteuse to complete their outfit. After a short period of musical courtship that began at a Cambodian nightclub in Long Beach, CA, Chhom Nimol joined the band when she realized the guys shared a genuine passion for the music and culture of her homeland.
That passion is a cross pollination of Khmer rock, garage rock, psychedelic rock and the British Invasion sound that has pushed the band to heights they could only dream of in 2002. DENGUE FEVER as performed in front of thousands of fans at such noted music festivals as WOMAD (UK, AUS, NZ), WOMEX (Spain), Melbourne Festival (AUS), Glastonbury (UK), Bumerbshoot, (USA), Transmusicales (France), Roskilde (Denmark), Electric Picnic (Ireland), Peace and Love (Sweden), Treasure Island (USA) among many others. Their songs have appeared in films such as City of Ghosts , Jim Jarmusch's, Broken Flowers , The Hangover 2 , the Showtime series, Weeds , the HBO's hit series True Blood (who named an entire episode after one of their songs) and featured the band's music, CBS' series CSI: Las Vegas and numerous independent documentaries.
Box Office: The Box Office is located at 2433 N. Lincoln Avenue, Chicago.773.871.3000; www.victorygardens.org.