The Neo-Futurists Launch CAN'T STOP/WON'T STOP Fundraiser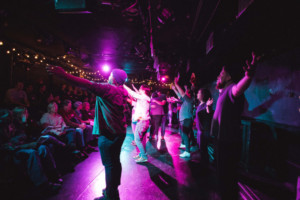 The Neo-Futurists launch Can't Stop//Won't Stop, their annual campaign supporting the Ensemble's prolific writing and programs. The summer campaign is poised to raise $24,000 and will culminate at the 7 p.m. performance of The Infinite Wrench on Sunday, August 12, featuring a series of 30 two-minute plays all written in a 24-hour period. Reservations to the event will be available to any that can raise the $150 ticket price on the peer-to-peer online fundraising platform Crowdrise; every $150 raised gives an audience member another ticket to the world-premiere-packed-event.
Can't Stop//Won't Stop reflects on a canon of more than 10,293 original plays created in The Neo-Futurist aesthetic over their 29-year history. The summer-long campaign supports not only this continued new work creation, but a multi-faceted slate of programs, including: Ensemble Member Lily Mooney's acclaimed Prime Time production Empty Threats extends one week and now closes Saturday, July 21; Ensemble Member Nick Hart's Remember the Alamo has its second workshop presentation on Wednesday, Aug. 1 as part of the in-house incubation program Neo-Lab; and, the company's ongoing and long-running performance The Infinite Wrench at Steppenwolf's 1700 Theatre heads for an accessible show Saturday, Aug. 4.
2018 SUMMER LAUNCHES WITH A CAMPAIGN AND ENDS WITH A PREMIERE-PACKED EVENT
Can't Stop//Won't Stop: 24-Hours with The Neo-FuturistsSunday, Aug. 12 at 7 p.m.Tickets and information at http://neofuturists.org/cant-stop-wont-stop-2018/Crowdrise fundraising page at https://www.crowdrise.com/cantstop2018
Tickets: Donations of $150 per ticket, through crowd-funding on the Crowdrise page or individually gifted.
Writing 10,263 plays for 29 years is a marathon. The Neo-Futurists have been running it since 1988. To ensure they sustain their work and build towards the company's future, they set a goal to raise $24,000. All summer, members of the Neo-Futurist community raise their part of this ultimate goal, in support of the theater and a world-premiere-packed night of The Infinite Wrench on Sunday, Aug. 12. This performance presents 30 plays written in 24 hours. Every ticket to the 24-hour culminating event is $150. This can be donated individually or raised amongst audience members' networks on the crowd-funding platform Crowdrise.com. Every $150 raised equals another ticket to the world-premiere-packed-performance.
In addition to the "made-in-24-hours" Infinite Wrench, groups and individuals from the Neo-Futurist theater and performance community will make short works, starting Sunday afternoon. Food and drink will round out the celebration, as the company raises funds to keep the theater affordable and accessible all year long. The campaign funds The Neo-Futurists' multi-faceted programming, including Prime Time productions, Neo-Lab and Neo-Access.
Lily Mooney'S PRIME TIME PRODUCTION EMPTY THREATS EXTENDS ONE WEEK UNTIL JULY 21. EMPTY THREATS June 7 - now extended thru July 21
Created by Neo-Futurist Ensemble Member Lily Mooney Directed by Krissy Vanderwarker Run: Thursdays through Saturdays at 7:30 p.m.Ticket Prices: Thursdays and Previews Pay-What-You-Can, Regular Run: $10-$25 Tickets and information are available at neofuturists.org or 773.275.5255
The Neo-Futurists extend Ensemble Member Lily Mooney's Empty Threats, directed by Krissy Vanderwarker, until July 21. Performances run Thursdays - Saturdays at 7:30 p.m. The running time is currently 90 minutes.
In Empty Threats, writer-performer Lily Mooney presents a send up of power dynamics found in contemporary theater and in modern life. The show begins with a fictional premise: Victor, a college professor, prepares to leave his office at the end of a long day. Soon the play's author, a "real person," barges in and stages an interrogation, forcing Victor to defend his fictional existence. Mary Shelley's Frankenstein and David Mamet's Oleanna serve as springboards for this complex, comedic, and vigorous investigation of truth and responsibility.
Nick Hart'S NEO-LAB PRODUCTION REMEMBER THE ALAMO GETS ITS SECOND WORKSHOP SHOWING ON AUGUST 1
Neo-Lab presents the Second Workshop Presentation of Remember the Alamo Wednesday, Aug. 1 at 7:30 p.m.Created by Neo-Futurist Ensemble Member Nick Hart Directed by Neo-Futurist Artistic Director & Ensemble Member Kurt Chiang Ticket Price: $8 Tickets and information available at neofuturists.org or 773.878.4557
An ensemble led by Nick Hart will take over The Neo-Futurist Theater, refuse to leave, and obstruct all production in the theater until the audience, actors and management work to recreate the Battle of the Alamo in its entirety, leading to its sad bloody conclusion. This second lab performance will continue to explore modes of reenacting one of the country's most peculiar, elusive, and aggrandized moments in military history. This presentation will feature performances from Nick Hart, Ida Cuttler and Steve Mosqueda.
Neo-Lab is an original works residency, originally launched by a grant from the National Endowment for the Arts, that annually commissions one new play anchored by innovative approaches to creation and shares public readings and presentations of the work in progress. This is The Neo-Futurists' third Neo-Lab commission, after producing Tif Harrison's Saturn Returns in 2016 and Kirsten Riiber's Tangles & Plaques in 2017.
NEO-ACCESS BRINGS AN ACCESSIBLE INFINITE WRENCH PERFORMANCE TO STEPPENWOLF ON AUG. 4
Steppenwolf's LookOut Series presents an Accessible Performance ofThe Infinite Wrench, Saturday, Aug. 4 at 8 p.m.Steppenwolf's 1700 Theatre, 1700 N Halsted St.Tickets: $20 - available at steppenwolf.org and 312-335-1650.
The Infinite Wrench, The Neo-Futurists' open run production, is the Ensemble's ongoing and ever-changing attempt to shift the conventions of live performance and speak to the present audience, including those unreached or unmoved by other types of theater. In pursuit of this mission, this wheelchair accessible performance will include Open Captioning, a Touch Tour, Audio Description, American Sign Language Interpretation, and programs in Braille and large print formats. Featuring: Neil Bhandari, Kurt Chiang, Trent Creswell, Joanna Jamerson, Kirsten Riiber and Malic White.
The 1700 Theatre is wheelchair accessible and is equipped with an induction hearing loop for people who use personal hearing devices that have a T-coil. Front Bar, directly in front of the 1700 Theatre, has a push-button entrance, wheelchair accessible seating and multi-stall all-gender restrooms.
The Neo-Futurists are a collective of writer-director-performers creating theater that is fusion of sport, poetry and living-newspaper. Creating over 10,000 plays within the newly launched The Infinite Wrench, 28 years of Too Much Light Makes the Baby Go Blind, and over 65 full-length productions within their immediate, non-illusory aesthetic, The Neo-Futurists have grown to become one of the most highly regarded experimental theater companies in the United States. From humble beginnings as the first late-night theater production in Chicago, they launched what became Chicago's longest running show and today sustain multifaceted programs such as Neo-Access, The Kitchen (a micro-festival on art and performance), Prime Time, Neo-Lab and The Infinite Wrench, the ongoing late night show running 50 weekends every year.