Photo Flash: New Production Shots from The Inconvenience and New Colony's B-SIDE STUDIO
Join a live studio audience on the set of a '70s-style sitcom as The Inconvenience, The New Colony and the University of Chicago's Theater and Performance Studies Program team up to co-produce the world premiere of B-SIDE STUDIO, co-written by Inconvenience Resident Writer Ike Holter and New Colony Co-Artistic Director Evan Linder and directed by Nicholas J. Carroll, Andrew Hobgood and Gus Menary. B-SIDE STUDIO is performed on Fridays and Saturdays at 9/8c (that's 8 pm in Chicago, meathead!) now through October 12, 2013 at The Logan Center for the Arts, 915 E. 60th St. in Chicago. B-SIDE STUDIO stars Daeshawna Cook, Missi Davis, Mikey Harnichar, Wes Needham, Brad Smith and Kevin Stangler. BroadwayWorld has new production shots from the show below!
Each week's performances of B-SIDE STUDIO will feature a new episode performed in front of a live studio audience. The Monday following each performance weekend, the most recently taped episode will be made available for online viewing at www.thenewcolony.org and www.theinconvenience.org - allowing audiences to stay current with the latest antics of their B-Side friends.
The episodic story of B-SIDE STUDIO focuses on Gary and Felix McNamara and their failing Chicago recording studio. Despite Felix's get-rich-quick schemes, it seems that B-Side is never going to reach the heights of success that the once-promising McNamara brothers always dreamed of. When Felix decides to use the studio to record "Song Poems" with the help of their assistant Janice and in-house musicians Butch and Marvin, there might be hope yet to save the studio. They just have to convince Lady, the overbearing trophy wife of their absentee landlord. Tune in to find out what happens next at B-Side Studio.
In a joint statement, co-writers Linder and Holter said "B-Side Studio has been a long time in the works, so we're excited to finally be working together. This blending of creative mediums comes naturally to all three artistic partners, allowing each group to play off their own strengths while working together to build a unique performance experience that harkens back to the sitcoms of the 1970s while simultaneously revealing a glimpse into the future of the arts."
Both writers have seen recent success and accolades. Linder's 5 Lesbians Eating a Quiche made its move to the off-Broadway Soho Playhouse after taking home the Best Overall Production prize at the 2012 NYC International Fringe Festival. Similarly, Holter's Hit The Wall received raves at the Steppenwolf Garage and played a subsequent run off-Broadway at New York's Barrow Street Theater.
Production team:
John Wilson
(scenic designer), Nathan Rohrer (costume designer), Jeffrey Glass (lighting designer), Jenny Pinson (props designer), John Cicora (music director), Kaylie Honkala (stage manager), Laura Scales Ashlock (unit production manager), Bobby Huggins (first assistant director), Cole Simon (director of photographer/camera operator), Adam Bialy and Sarah Giroux (camera operators), Adam Goron (audio finishing) and Wes Lambert (music recording engineer).
B-SIDE STUDIO, Co-written by Ike Holter and Evan Linder and directed by Nicholas J. Carroll, Andrew Hobgood and Gus Menary, features Daeshawna Cook (Lady), Missi Davis (Janice), Mikey Harnichar (Marvin), Wes Needham (Gary), Brad Smith (Butch) and Kevin Stangler (Felix). The show plays The Logan Center for the Arts, 915 E. 60th St., Chicago through Saturday, October 12, 2013. Curtain Times: Fridays and Saturdays at 8 pm. Please note: there will not be performances on Friday, September 20 and Saturday, September 21. Tickets: Subscription pass $40/$20 students (all four episodes, one per week) Single episodes $20/$10 students. Season subscriptions for all four episodes of B-SIDE STUDIO are available at www.ticketsweb.uchicago.edu/subscriptions or by calling 773.702.ARTS (2787). Tickets for individual episodes are available at www.ticketsweb.uchicago.edu or by calling 773.702.ARTS (2787).
Photos by Ryan Bourque


Brad Smith and Mikey Harnichar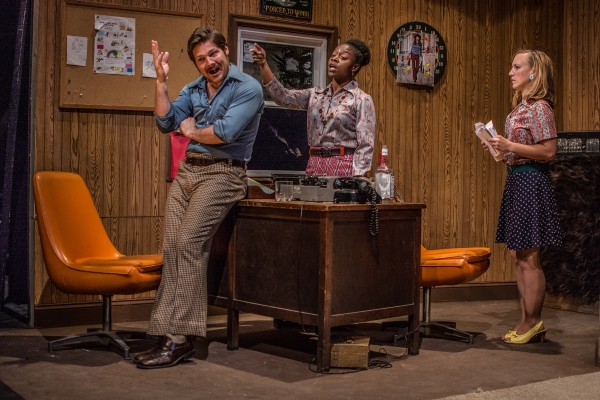 (left to right) Wes Needham, Daeshawna Cook and Missi Davis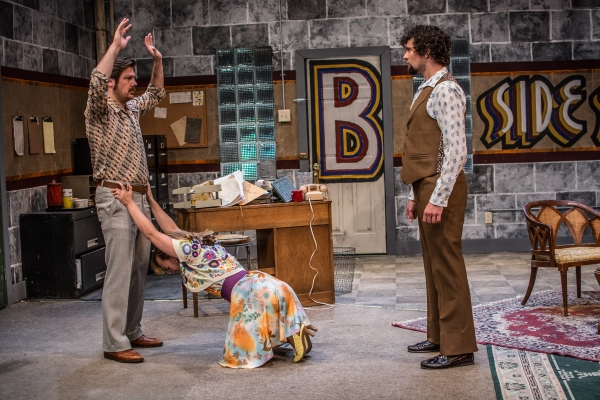 (left to right) Wes Needham, Missi Davis and Kevin Stangler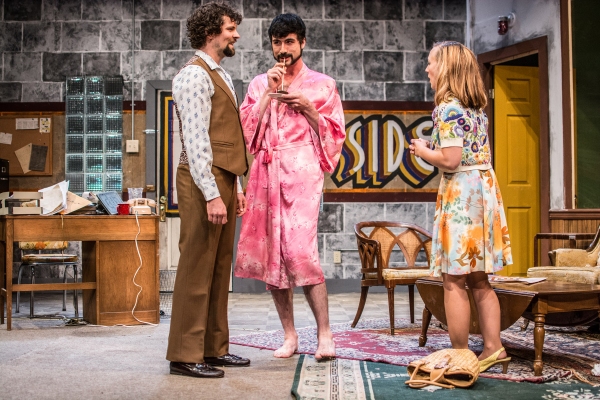 Kevin Stangler, Mikey Harnichar and Missi Davis

More Hot Stories For You