Photo Flash: MIRACLE ON 34TH STREET: THE MUSICAL Opens at TATC
Director Linda Fortunato has cast Neil Friedman as Kris Kringle, Stella Rose Hoyt as Susan, Courtney Jones as Doris and Christopher Kale Jones as Fred for Theatre at the Center's Miracle On 34th Street: The Musical. Previews began November 15 with Opening Night on November 18 and a continued run through December 23. This production is sponsored in part by American Community Bank.
The original 1947 American Christmas comedy-drama film, Miracle on 34th Street, was written and directed by George Seaton and based on a story by Valentine Davies. Maureen O'Hara, John Payne, a young Natalie Wood and Edmund Gwenn as Santa starred in the popular film, which received three Academy Awards and has remained a family favorite at for decades.
Miracle on 34th Street: The Musical, features book, music and lyrics all by Meredith Willson of The Music Man fame and was adapted from the 1947 movie. It opened on Broadway in 1963 with the show's title changing during the decades as both Here's Love and later, It's Beginning to Look a Lot Like Christmas, with the latter a reference to the popular holiday song featured in the musical.
Neil Friedman returns to TATC where he was seen last December as George Bailey's father Tom in It's a Wonderful Life: The Musical. Other Chicago area credits include Chicago Shakespeare Theatre, The Marriott Theatre, The Court Theatre, Porchlight Theatre, Steppenwolf, Drury Lane, The Goodman Theatre and Peninsula Players. Regional credits include: The Fulton Theatre, PA; Utah Shakespeare Festival; Capitol Repertory, NY and The New Victory Theatre, NY. Neil is a proud recipient of Chicago's Joseph Jefferson Awards.
Stella Rose Hoyt has performed throughout Chicagoland since age 4. She was last seen at TATC playing Molly in the 2016 holiday run of Annie Warbucks. She recently played Small Alison in the Chicago premier of Fun Home at Victory Gardens, Mary Claire in The Christmas Schooner at Mercury Theatre as well as both Young Cosette in Les Miserable and Jane in Mary Poppins at Oak Lawn Theatre.
Courtney Jones, who is making her debut at TATC, recently played the role of Dyanne in Million Dollar Quartet at Timberlake Playhouse. Other credits include Ragtime and Titanic at Griffin Theatre and Ordinary Days at BoHo. Jones also worked regionally with Chicago Shakespeare.
Christopher Kale Jones is making his acting debut at TATC after his recent one-man tribute Darin: Bobby's Biggest Hits dazzled TATC audiences last summer. He is best known for playing Frankie Valli in the first National Broadway Tour of Jersey Boys. A former member of the popular singing group Under the Streetlamp, his other theater credits include The Battle of Little Jo at Steppenwolf, A Midsummer Night's Dream at Chicago Shakespeare, and The King and I at Marriott Theatre.
Additional cast members include Michael Kingston as Mr. Macy, Dan Klarer as Shellhammer, Michael Potsic as District Attorney, Rick Rapp as the Judge, Sam Shankman as Sawyer, Amir Henderson as Harry, Liliana Rene as Hendrika, Ethan Solis as Tommy as well as Chris Carter, Veronica Garza, Matthew Huston, Rachel Klippel, Ashley Lanyon, Haley Jane Schafer, Hope Elizabeth Schafer and Trequon Tate.
Linda Fortunato, director and choreographer of Miracle on 34th Street: The Musical, is in her third season as TATC Artistic Director where her recent credits include directing the hits Ghost The Musical and Steel Magnolias as well as Cabaret and Big River.
Fortunato has been nominated for five Joseph Jefferson Awards for her work as choreographer and director and received both Equity and Non-Equity Jeff Awards for Outstanding Choreography in 2013-14 for TATC's first Jeff Award for choreography of 42nd Street.
"'Miracle on 34th Street' is certainly familiar from the classic 1947 film and its more modern remakes," said Fortunato, who choreographed TATC's "It's Beginning to Look a Lot Like Christmas" in 2010 as well as "Here's Love" in 2000, both the previous titles for the stage telling of this beloved story.
"The story of the real Kris Kringle hired as Macy's Santa Claus still touches hearts and reminds us of the power of the imagination. I am excited to share this classic story in musical form with audiences of all ages. From the littlest believers to those who may have lost sight of the magic of Christmas, this musical brightens the holiday season for all."
The creative team for Miracle on 34th Street includes Scenic Designers Jacqueline and Richard Penrod, Lighting Designer G. Max Maxin IV, Sound Designer Barry Funderburg, Costume Designer Brenda Winstead, Wig Designer Kevin Barthel and Prop Designer Devon Green. Stage Manager is Jessica Banaszak. William Underwood is Music Director. Fortunato is teamed with Richard Friedman, General Manager, and Ann Davis, Head of Production.
Founded in 1991, the 410 seat TATC is a year-round professional theater at its home: The Center for Visual and Performing Arts, 1040 Ridge Road, Munster, Indiana. TATC is an accessible venue with plenty of free parking and is located off I80/94, just 35 minutes from downtown Chicago.
Performances are 2 p.m. Wednesdays and Thursdays; 7:30 p.m. Fridays; 3 p.m. and 7.30 p.m. Saturdays; and 2:30 p.m. on Sundays, with select Thursday and Sunday night performances. Individual ticket prices range from $42- $46. To purchase individual tickets, call the Box Office at 219-836-3255 or Tickets.com at 800-511-1532. Group discounts are available for groups of 11 or more. Student tickets are $20 and gift certificates are also available.
For more information on Theatre at the Center, visit www.TheatreAtTheCenter.com

Actor Rick Rapp at Opening Night for Miracle on 34th Street at TATC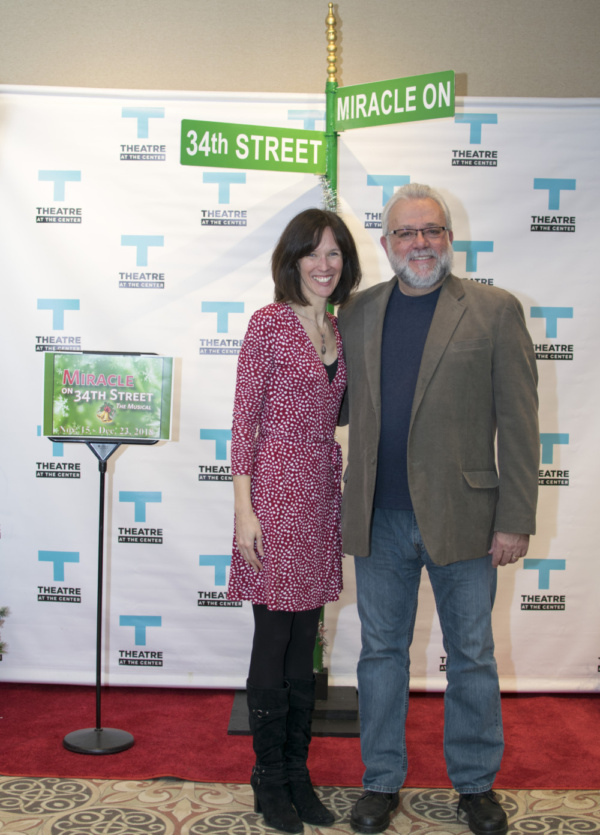 Director and Choreographer Linda Fortunato with actor Neil Friedman at Opening Night for Miracle on 34th Street at TATC

Actors Matthew Huston, Veronica Garza, Michael Kingston, Sam Shankman and Rachel Klippel

Actors Ashley Lanyon, Matthew Huston, Veronica Garza, Hope Elizabeth Schafer, Michael Kingston, Sam Shankman, Rachel Klippel and Haley Jane Schafer

Actor Neil Friedman with young cast members Amir Henderson, Liliana Rene, Ethan Solis and Stella Rose Hoyt

Actors Christopher Kale Jones, Courtney Jones and Stella Rose Hoyt

Actors Trequon Tate, Christopher Kale Jones, Chris Carter and Sam Shankman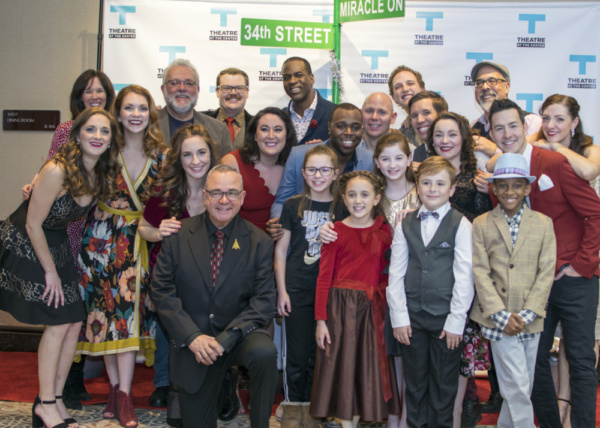 Cast of Miracle on 34th Street on Opening Night at TATC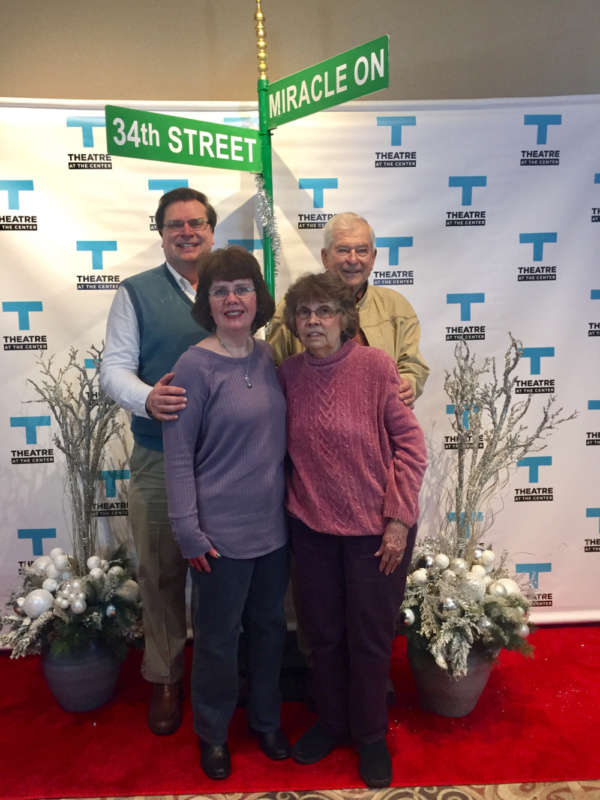 Post-Tribune Columnist Phil Potempa and Ann Scamerhorn with Chester and Peggy Potempa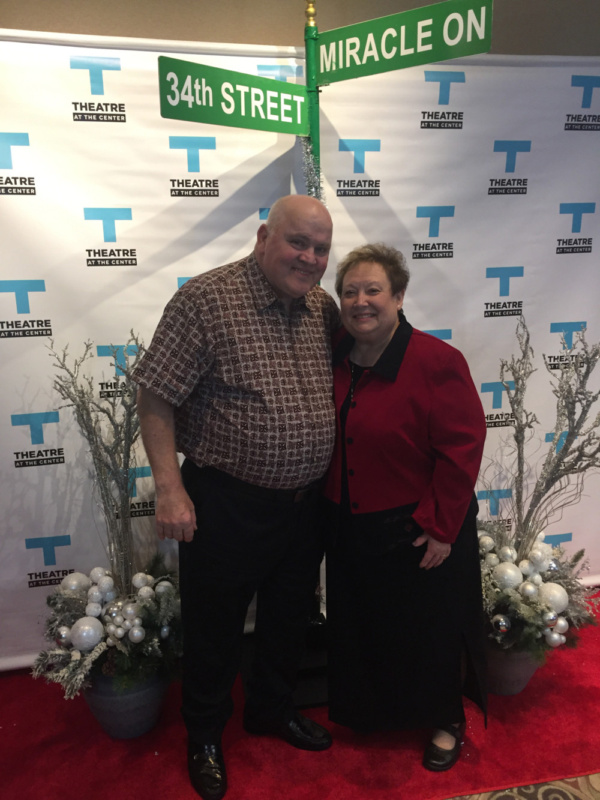 Leroy and Jamie Marsh at Opening Night for Miracle on 34th Street at TATC

TATC General Manager Richard Friedman and TATC Board Member Pat Binkley