Latest News on Matthew Huston
Matthew Huston News
Photo Flash: Irving Berlin's WHITE CHRISTMAS Opens At Theatre At The Center In Munster
by A.A. Cristi - Nov 19, 2019
Irving Berlin's White Christmas opened Sunday night November 17 to a packed house at Theatre at the Center in Munster.  The cast gave a thrilling performance for an audience that was teeming with the holiday spirit.  Theatre at the Center Artistic Director Linda Fortunato directed and choreographed the show.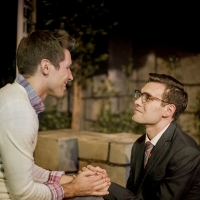 Pride Films and Plays Extends ALL THAT HE WAS Through September 15
by Julie Musbach - Aug 29, 2019
The 1993 AIDS-themed musical ALL THAT HE WAS that opened on August 12, earning rave reviews and a Jeff recommendation, will extend its run by one week and will now close on Sunday, September 15.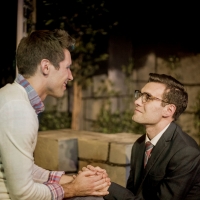 Pride Films and Plays' ALL THAT HE WAS Announces 'Fundraiser Fridays'
by Sarah Hookey - Aug 15, 2019
Pride Films and Plays has announced that $5 of each ticket sold for each Friday 8pm performance of ALL THAT HE WAS, the Jeff-recommended musical that opened on Monday August 12, will go toward one of four Chicago-area charities that provides services and advocacy for those impacted by HIV/AIDS.

Cast Announced For ALL THAT HE WAS At Pride Films & Plays, Opening August 12
by A.A. Cristi - May 16, 2019
A brand-new version of the award-winning 1993 musical ALL THAT HE WAS to open on August 12, 2019 at Pride Arts Center.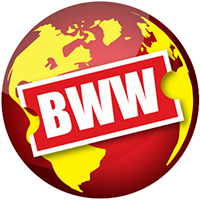 Pride Does Streisand: A Birthday Celebration To Be Performed April 22
by Stephi Wild - Apr 13, 2019
BUYER & CELLAR star Scott Gryder to lead cabaret of songs made famous by Barbra Streisand Emmy Award winner and Chicago Musical Theatre and Cabaret performer Scott Gryder, who in Pride Films and Plays' current production of BUYER & CELLAR plays a struggling actor that manages a make-believe shopping mall in the basement of Barbra Streisand's Malibu home, will lead a cabaret of Ms. Streisand's songs on Monday, April 22 - just two days before her 76th birthday - in The Broadway, Pride Arts Center. Gryder and Music Director Adam LaSalle will be joined in this tribute to the Emmy, Grammy and Oscar-winning actress, songwriter and director by a cast including Jerome Riley Jr., Anslee Rainwater, Missy Aguilar, Matthew Huston, Adam Hibma, and Kimberly Lawson. The concert will be directed by BUYER & CELLAR director Donterrio Johnson.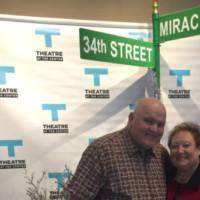 Photo Flash: MIRACLE ON 34TH STREET: THE MUSICAL Opens at TATC
by A.A. Cristi - Nov 20, 2018
Director Linda Fortunato has cast Neil Friedman as Kris Kringle, Stella Rose Hoyt as Susan, Courtney Jones as Doris and Christopher Kale Jones as Fred for Theatre at the Center's Miracle On 34th Street: The Musical. Previews began November 15 with Opening Night on November 18 and a continued run through December 23. This production is sponsored in part by American Community Bank.
Matthew Huston To Perform IT'S BEEN A F*CKING YEAR Cabaret 9/24
by A.A. Cristi - Sep 4, 2018
Life is a rollercoaster of emotions, a whirlwind of events. Who would have thought that the last 365 days could hold so much? First love, first therapist, coming out, and TWO (!?) award-winning musicals. Join Jeff-award nominee Matthew Huston as he explores coming out as a queer man, first love, and learning how to love and accept himself in "IT'S BEEN A F*CKING YEAR" - directed by Derek Van Barham, with musical direction by Justin Harner.  He will be joined by Chicago gems Honey West and Scott Gryder for a retrospect of the year that was…and wasn't.

Lineup Of Performers Announced For 'Nominee Night' Concert at The Broadway, Pride Arts Center
by Stephi Wild - May 15, 2018
Robert Ollis, music director and producer of Pride Films and Plays's annual NOMINEE NIGHT, has announced the lineup of performers nominated for Non-Equity Jeff Awards who will perform at the Monday, May 21 event, singing songs from the productions and roles for which they were nominated this year. It was also announced that Steve Kmetko (pictured), a longtime featured personality on E! Entertainment will serve as the concert's Master of Ceremonies.
Nominees Announced For the 45th Annual Non'Ä"Equity Jeff Awards; Griffin Theatre Company Leads With 14 Nominations
by Alan Henry - Apr 23, 2018
The Jeff Awards announced today a total of 115 nominations in 19 categories for the 45th Annual Non-Equity Jeff Awards.

Bradley Halverson and Jeremiah Alsop Join Cast of YANK! A WWII LOVE STORY
by Julie Musbach - Feb 27, 2018
Jeremiah Alsop and Bradley Halverson have joined the cast of Pride Films and Plays' Chicago premiere of YANK! A WWII Love Story.  Halverson, whose recent credits include THEY'RE PLAYING OUR SONG with Brown Paper Box Company and HIGH FIDELITY with Refuge Theatre Project, is now playing Czechowski, the 'nice guy' of the platoon.  Alsop, a recent graduate of the Chicago College of Performing Arts, is playing India and is a member of the ensemble.