Photo Flash: First Look at HEARTBREAK HOTEL
Broadway In Chicago presents HEARTBREAK HOTEL, a musical premiere that ignites the stage of the Broadway Playhouse at Water Tower Place (175 E. Chestnut). Get a first look below!
HEARTBREAK HOTEL follows the tender story of Elvis Presley in the early years of his career as he and Sam Phillips create the music that will forever change their lives. As Elvis's career skyrockets, both lifting and shattering the lives of those he loves, a secret love story is revealed, a betrayal is discovered, and "Colonel" Tom Parker changes the course of history, all in just 18 short months.
This brand new musical features hit songs from the King himself as well as the legends who influenced his iconic music, with chart-toppers including "Blue Suede Shoes," "That's All Right," "Shake, Rattle and Roll," and, of course, "Heartbreak Hotel." This is where the story begins... "take a walk down lonely street."
Chicago's 'King of Rock and Roll' is played by Eddie Clendening who originated the role of Elvis in the acclaimed production of HEARTBREAK HOTEL at the Ogunquit Playhouse. Broadway World called Clendening's performance at the Ogunquit "spectacular." The Portland Press Herald says, "Clendening channels Elvis's unforgettable vocals with an uncanniness that brings thrilling goose bumps..." and the Boston Post Gazette hails, "[Clendening] is able to rock out with the raw energy of Presley while always retaining that shyness that made him so charming."
The full company includes Jerry Kernion as Colonel Tom Parker, Matt McKenzie as Sam Phillips, Geno Henderson as Jackie Wilson, BB King, Ike Turner and others, Matt Codina as Scotty Moore, Colte Julian as Dewey Phillips, Zach Lentino as Bill Black,
Jamie Pittle as DJ Fontana/Drums, Erin Burniston as Dixie Locke, Darcy Jo Wood as Marion Keisker, Katherine Lee Bourne? as Rosetta Tharpe and others, Takesha Meshe? Kizart as Ruth Brown and others, Andrea Collier as Sally Wilbourn and others, Alicia McCracken Morgan as Gladys/ensemble, and Chuckie Benson, Briana Bower, Tommy Malouf and Zach Sorrow as understudies/swings.
HEARTBREAK HOTEL is written and directed by Floyd Mutrux (Million Dollar Quartet) whose screenwriting and directorial credits include American Hot Wax, The Untouchables, Urban Cowboy, Up In Smoke, American Me, Ford Fairlane, Blood In Blood Out, Mulholland Falls, and Hillside Strangler. The show's creative team will include Birgitte Bjorum (Choreography), Adam Koch (Scenic Design), Jason Lyons (Lighting Design), Drew Levy (Sound Design) and Daniel Brodie (Projection Design), John R. Banister and Keith Harrison (Orchestrations and Arrangements) and Tom Vendafreddo (Music Direction).
Individual tickets for HEARTBREAK HOTEL at the Broadway Playhouse at Water Tower Place (175 E. Chestnut) range from $35- $75 with a select number of premium seats. Tickets are available now for groups of 10 or more by calling Broadway In Chicago Group Sales at (312) 977-1710 or emailing GroupSales@BroadwayInChicago.com. For more information, visit www.BroadwayInChicago.com.
Photo Credit: Brett Beiner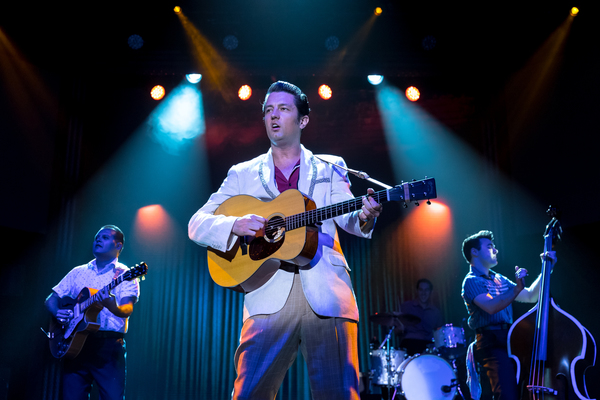 Matt Codina (Scotty Moore), Eddie Clendening (Elvis), Jamie Pittle (DJ Fontana), Zach Lentino (Bill Black)

Matt Codina (Scotty Moore), Eddie Clendening (Elvis), Zach Lentino (Bill Black)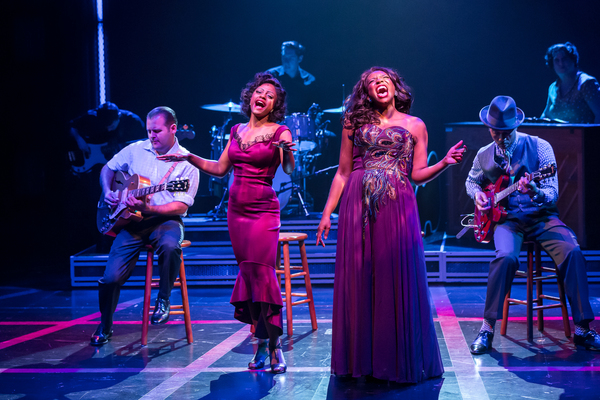 Matt Codina (Scotty Moore), Katherine Lee Bourne (Rosetta Tharpe and others), Takesha Meshe Kizart (Ruth Brown and others), Geno Henderson (Chuck Berry/Roy Brown and others)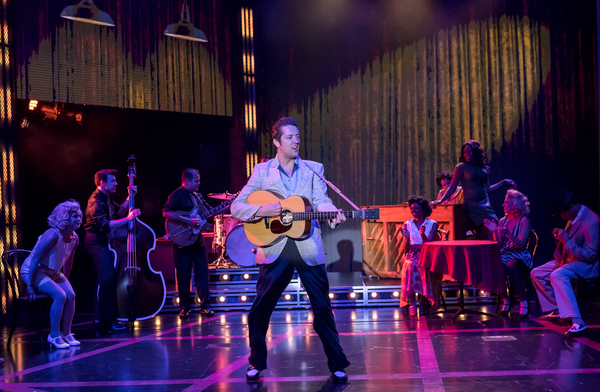 Eddie Clendening (Elvis)

Geno Henderson (Chuck Berry/Roy Brown and others)

Eddie Clendening (Elvis), Katherine Lee Bourne (Rosetta Tharpe and others)

Matt Codina (Scotty Moore), Eddie Clendening (Elvis), Zach Lentino (Bill Black)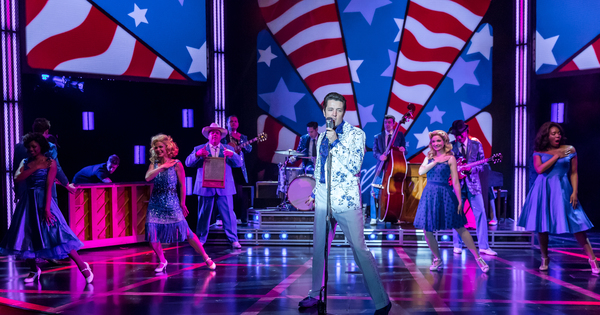 Eddie Clendening (Elvis)

Eddie Clendening (Elvis)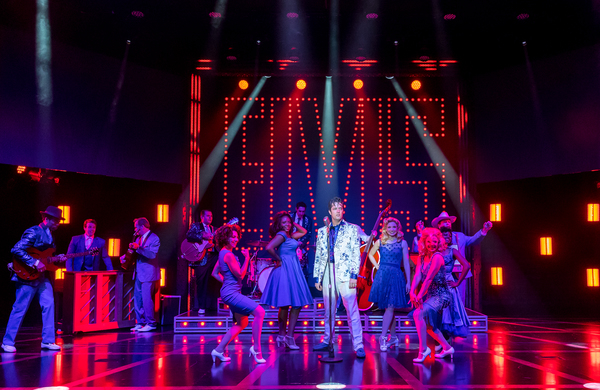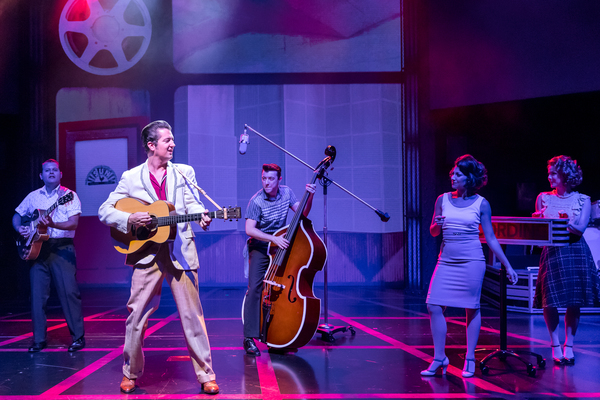 Matt Codina (Scotty Moore), Eddie Clendening (Elvis), Zach Lentino (Bill Black), Darcy Jo Wood (Marion Keisker) and Andrea Collier (Sally Wilbourn)

Matt Codina (Scotty Moore), Eddie Clendening (Elvis) and Zach Lentino (Bill Black)

Eddie Clendening (Elvis) and Erin Burniston (Dixie Locke)

Eddie Clendening (Elvis) and Jerry Kernion (Colonel Tom Parker)