Photo Flash: First Look- Parmount's Aurora Theatre's MARY POPPINS
Paramount's Aurora Theatre presents the eye-popping, song-and-dance-filled, supercalifragilisticexpialidocious production of Disney and Cameron Macintosh's Mary Poppins at the beautiful Paramount Theatre in downtown Aurora, now thru Jan. 1. BroadwayWorld brings you a first look at the show below!
Chicago's hottest musical theater director, Rachel Rockwell, fresh from her Goodman debut with Brigadoon, returns to Paramount to direct and choreograph a huge production that has Paramount's creative team's collective imagination soaring. Expect beautiful scenery that takes audiences all over Victorian England, statues that come to life, enormous dance numbers on the ground and rooftops of London performed by Chicago's top musical theater professionals and lush orchestrations for such iconic songs as "Spoonful of Sugar" and "Chim Chiminey."
But that's not the only magical moment that will leave audiences flying high. Featuring an A-list cast headed by Emily Rohm as Mary Poppins and Matt Crowle as Bert, Paramount's Poppins not only brings the excitement of musical theater but also instills important life lessons for kids and adults alike. With parents trying to make ends meet, busy schedules that have family members passing in the halls and no one taking the time to even notice, Poppins is the story that every family can relate to. And just in time for the holidays, it takes a stranger with a warm heart to remind everyone that the most important things in life are family and love.
Bring the family and see for yourself when Mary Poppins begins its run on November 26. Press opening is Sunday, November 30 at 5:30 p.m. The production plays through January 4 at the Paramount Theatre, 23 E. Galena Blvd. Regular show times are Wednesday at 1:30 p.m. and 7 p.m.; Thursday at 7 p.m.; Friday at 8 p.m.; Saturday at 3 p.m. and 8 p.m.; and Sunday at 1 p.m. and 5:30 p.m. Tickets are only $41 to $54. To purchase, go to ParamountAurora.com, call (630) 896-6666, or visit the Paramount box office Monday through Saturday, 10 a.m. to 6 p.m., and 2 hours prior to evening performances. Mary Poppins is rated G.
More about Paramount's Mary Poppins
As always, Paramount is working with the highest caliber of professional talent in every aspect including actors, musicians, creative and technical teams.
The stars of the show are
Emily Rohm
as Mary Poppins and
Matt Crowle
as Bert. Rohm returns to Paramount after her dazzling turn as Marian the librarian in The Music Man and as Grace in Annie. Fresh from the Goodman's Brigadoon, Rohm's beautifully soaring soprano voice promises to captivate Paramount audiences just as she did in Drury Lane's Sweeney Todd and LES MISERABLES. Crowle, previously in Paramount's 42nd Street, is a consummate song and dance man with an elegant, warmhearted flair and comic chops to boot, which were in evidence in the role of Patsy in Spamalot both on Broadway and at Drury Lane.
The head of Mary Poppins' "first family" is Michael Lindner as the father, George Banks. Lindner, currently in Chicago Shakepeare's King Lear, was seen in Paramount's The Music Man as Marcellus, has toured nationally in Mamma Mia!, and returns to Paramount hot from his successes at Chicago Shakespeare in Road Show and playing the title role in Shrek.

The mother, Winifred Banks, is played by Cory Goodrich, Jeff Award-winning Mother in Ragtime at Drury Lane and Theatre at the Center's June Carter Cash in Ring of Fire.
Their children are cast in alternating performances:
Charlie Babbo
and Jake Helm as little Michael, and
Eloise Lushina
and
Peyton Shaffer
as Jane. The ensemble includes
William Carlos Angulo
,
Marilynn Bogetich
,
Courtney Cerny
,
Carl Draper
,
Cameron Edris
,
A
dam Fane
,
Don Forston
,
Allyson Graves
,
Matthew R. Jones
, Glory Kissel, Tommy Lucas,
Amber Mak
,
James Nedrud
,
Maggie Portman
, Todd Rhoades,
Laura Savage
,
Will Skrip
,
Holly Stauder
and
Lauren Villegas
.
Paramount's Mary Poppins production team includes Rachel Rockwell, director and choreographer; Tom Vendafreddo, music director and conductor; Amber Mak, associate director and choreographer; Kevin Depinet, set; Theresa Ham, costumes; Greg Hofmann, lights; Mike Tutaj, projections; Palmer Jankens, sound; Sarah E. Ross, props; Katie Cordts and Lauren Cecil, wigs and make-up. Rose Marie Packer is Production Stage Manager andRebecca Louise Fischer is Assistant Stage Manager.
As always, the 16-member Paramount Orchestra, headed by Tom Vendafreddo, will play the full, original Broadway orchestrations for Mary Poppins.
Says director/choreographer Rachel Rockwell, "I'm incredibly excited. This is my first time directing Mary Poppins, but the original Poppins books by P.L. Travers were among my childhood favorites and I feel I know the stories and these characters so intimately."

"Our challenge with this production," she added, "is also our opportunity - to deliver on the visual expectations the movie has instilled in audiences, while introducing them to the wonderful new songs that add so much to the theatrical version's beautiful score."
Rachel Rockwell (director/choreographer) returns to the Paramount after her smash hit stagings of 42nd Street,In the Heights,Annie, The Music Man and Hair. Other directing/choreography credits: Brigadoon at the Goodman Theatre; Enron at TimeLine Theatre (Chicago premiere, Jeff nomination - Best Play in a Midsize Category); LES MISERABLES, Oliver! (Jeff nomination - Best Musical, Best Director), Sweeney Todd (Jeff nomination - Best Musical and Best Director), The Sound of Music (Jeff nomination - Best Musical, Best Director), Ragtime (Jeff Award - Best Musical, Best Director) and Miss Saigon (Jeff nomination - Best Musical and Best Director) at Drury Lane Theatre; 42nd Street (Jeff nomination - Best Musical, Best Director), Shout! (Jeff nomination - Best Revue), The 25th Annual Putnam County Spelling Bee (Jeff nomination - Best Musical) at the Marriott Theatre; and Shrek, Disney's Beauty and the Beast, SS! Romeo and Juliet, SS! The Taming of the Shrew, The Adventures of Pinocchio and The Emperor's New Clothes at Chicago Shakespeare Theatre. Rockwell served as choreographer for Drury Lane Oakbrook's production of The King and I (Jeff nomination) and A Chorus Line (Jeff nomination) at the Marriott Theatre. She was named the 2012 Chicagoan of the Year in Theatre by the Chicago Tribune, Best Director of 2010 by Chicago Magazine, and was recently honored by the Sarah Siddons Society.
Tom Vendafreddo (music director/conductor) made his Paramount debut with In the Heights, and will be returning right after Mary Poppins to music direct Paramount's The Who's Tommy and LES MISERABLES. Recent credits include On the Town (Marriott Lincolnshire), Shrek the Musical(Chicago Shakespeare Theatre), Sweet Charity(Writers' Theatre), The Wedding Singer(Red Mountain Theatre Company), Gifts of the Magi (Porchlight Music Theatre), The Spitfire Grill (Jeff Nomination: Musical and Music Direction - Bohemian Theatre Ensemble), Pump Boys and Dinettes (Metropolis Performing Arts Centre), Into the Woods (Stage 48 Productions) and Urinetown: The Musical (Harper Theatre Ensemble). Other regional credits include Odyssey (Old Globe Theatre), RENT (San Diego Musical Theatre), It's a Wonderful Life: A Radio Play (Cygnet Theatre) and Zanna, Don't! (San Diego State University).
Disney's and Cameron Mackintosh's Mary Poppins isbased on the stories of P.L. Travers and the iconic 1964, five-time Academy Award-winning Walt Disney film starring Julie Andrews and Dick Van Dyke. Original music and lyrics are by Richard M. Sherman and Robert B. Sherman. The book is by Julian Fellowes. New songs and additional music and lyrics are by George Stiles and Anthony Drewe. Fun facts: London's West End original production, which debuted in 2004, did not allow children 3 and under into the theater. At the time, the producers felt the show was too scary for children that young. Mary Poppins debuted on Broadway in 2004, and was nominated for seven Tony Awards including Best Musical.
Paramount's 2014-15 Broadway Series is sponsored by the Dunham Fund, BMO Harris Bank and PACE (Paramount Arts Centre Endowment). Broadway Series Lighting Sponsor is ComEd. Broadway Series Costume Sponsor is Gerald Auto Group. Mary Poppins is also sponsored by Comfort Suites Aurora.
Photo credit: Liz Lauren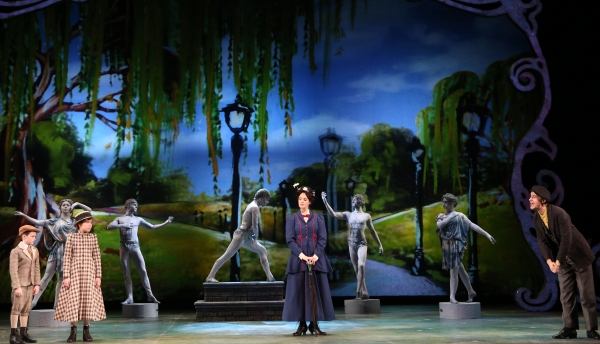 Emily Rohm, Charlie Babbo, Peyton Shaffer, and Matt Crowle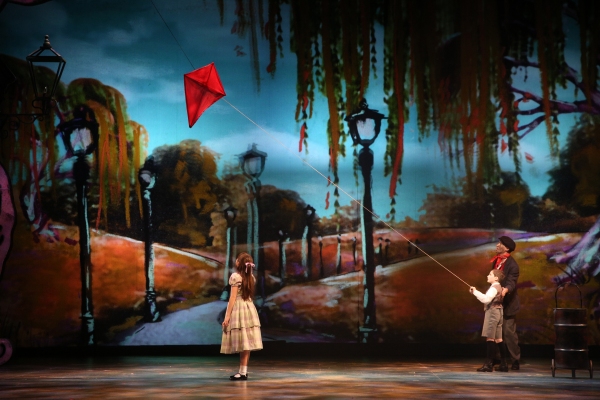 Charlie Babbo, Matt Crowle, and Peyton Shaffer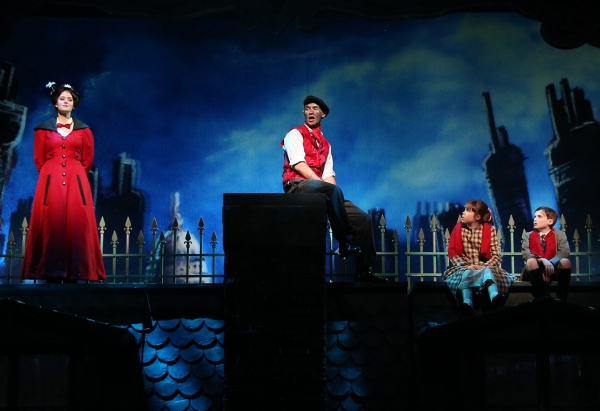 Emily Rohm, Matt Crowle, Peyton Shaffer, and Charlie Babbo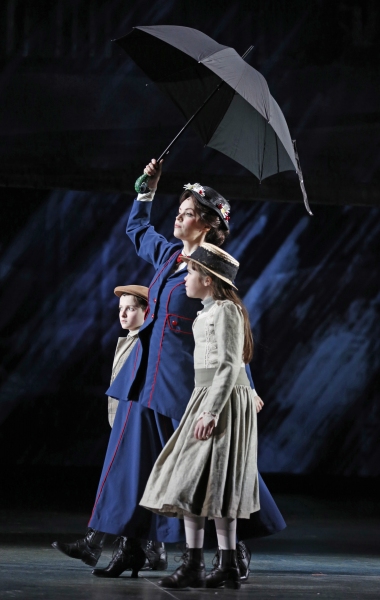 Charlie Babbo, Peyton Shaffer, and Emily Rohm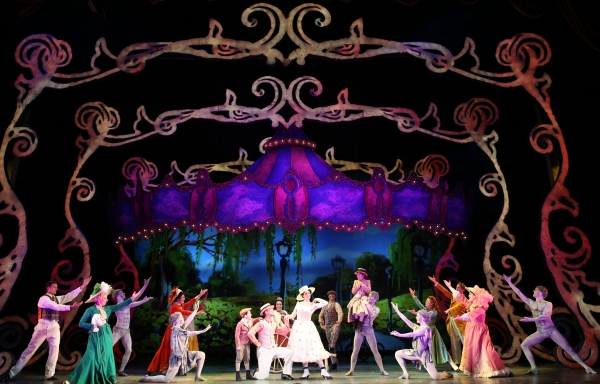 Mary Poppins Cast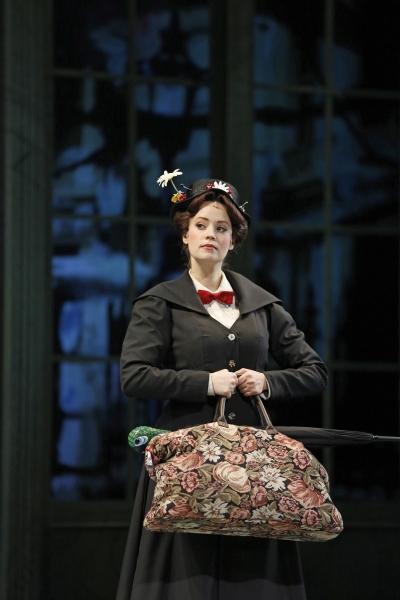 Emily Rohm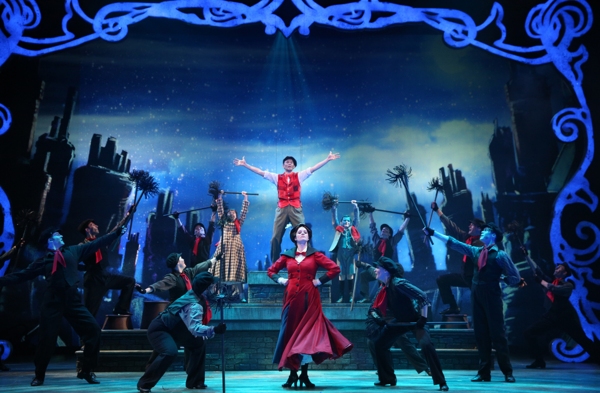 Emily Rohm plays the title role in Mary Poppins, and Matt Crowle Plays Bert