Photo Flash: BEYOND CARING Comes to Lookingglass Theatre Company
Lookingglass Theatre Company, in association with Dark Harbor Stories, present the U.S. Premiere of Beyond Caring, written and directed by Alexander Zeldin. Beyond Caring runs March 22 - May 7, 2017 at Lookingglass Theatre Company, located inside Chicago's historic Water Tower Water Works, 821 N. Michigan Ave. at Pearson.
Unseen. Unheard. Unknown. At the margins of society, on the knife-edge of survival, they work for low wages, in harsh conditions. No safety net. No insurance or protections. No guarantee of work tomorrow.
This critically-acclaimed piece, most recently produced at the UK's National Theatre and re-imagined for Chicago by writer/director Alexander Zeldin, is a gritty portrait of those who cling precariously to the bottom rung of the ladder. Full of life, humor, and tenderness, it sheds light on America's shadow economy and shines an unflinching spotlight on the incendiary intersection of race and class.
Beyond Caring is produced in association with Dark Harbor Stories. Dark Harbor Stories is a company led by David Schwimmer and Tom Hodges dedicated to producing original stories with a social conscience in theatre, television and film. Lookingglass Ensemble Member David Schwimmer brought this project to Lookingglass, and is working closely with writer/director Alexander Zeldin on the production, and collaborating with Lookingglass to develop the necessary attention and funds for this exciting project.
Playwright and director Alexander Zeldin comments, "This opportunity in the US is a totally new one for me. I've found that looking at the lives of those working in the conditions of the temporary economy, the margins of society, says so much about the moral, spiritual, and emotional place that the country is in, much like it did the UK. It tells us about how the sentiment that lives are to be lived with dignity, respect and a sense of value is only a hollow set of words. But it says something else, too-here in the US, it tells us about race in this country. So we're not just remaking the play with US actors. We're continuing the inner work and the research to make a new Beyond Caring born out of these conditions in a deep collaboration with these actors, as well as with the deep involvement of workers here."
The cast of the U.S. Premiere of Beyond Caring includes Caren Blackmore (Ebony-Grace), Ensemble Member J. Nicole Brooks (Tracy),Keith D. Gallagher (Ian), Edwin Lee Gibson (Phil) and Wendy Mateo (Sonia).
The creative team for Beyond Caring includes Ensemble Member Daniel Ostling (scenic and lighting design), Ensemble Member Mara Blumenfeld (costume design), Josh Anio Grigg (sound design and composition) and Amanda Herrmann (props design). Tess Golden is the Production Stage Manager.
Community Partners for Beyond Caring include: Chicago Humanities Festival, The Chicago Urban League, Chicago Worker's Collaborative, The Jewish Women's Foundation of Metropolitan Chicago, Latino Union of Chicago, Latinos Progresando, Leadership Greater Chicago, and Women Employed.
REFLECT Panels
REFLECT is a curated series of post-show discussions featuring panelists with a range of viewpoints and expertise on the content and context of the play. Discussions take place directly following the 2 p.m.­ matinee on select Sundays at Lookingglass Theatre. The discussions are free and open to the public.
April 9: Division Street: Race, Class, and Who's in Charge
The temporary labor work force in Chicago relies upon division between races to help keep wages low and workers disunited. What are the strategies and techniques that achieve this? What are potential strategies and techniques for overcoming it? How have racial and ethnic hierarchies shifted over time?
April 16: The State of the Union: Will Collective Bargaining Survive?
Chicago has been a hub of union organizing and a stronghold of collective bargaining. At the same time, it remains one of the biggest open markets for temporary labor in the country. What are the obstacles to unionizing the temporary labor workforce? Would unionization be a good thing? How do other labor unions feel about temporary laborers? How do unions stay relevant? Should they?
April 23: Welcome to The Jungle: Chicago Workers Then and Now
Chicago has long used immigrant labor to populate its stockyards, mills, warehouses, and factories. Why has it historically been a destination for both people and goods? Who benefits from this system, and who suffers? Is upward mobility a reality? How long does it take for "the American dream" to become manifest, or alternately, to wither and die?
April 30: Power Dynamics: Women in Today's Workforce
What are the obstacles and issues uniquely faced by women in the workplace? How has the societal view of working women changed, and is it changing still? In what ways do double-standards for men and women remain? How are our conversations about equal pay, family leave, sexual harassment, life/work balance and other issues evolving?
Wednesday, May 3 (following the 7:30 p.m. performance): The Ethics of Investigative Journalism
How do reporters serve their multiple constituents: their readers/audience, their sources, their media outlets? When should a reporter go "undercover" to get the "inside scoop" of the on-the-ground realities? And if they do, when should they disclose their true identity? How is this similar to the investigative process for artists or others researching a subject? The Ethics of Investigative Journalism panel discussion is moderated by Chicago Humanities Foundation's Alison Cuddy.
May 7: Crossing the Atlantic: Beyond Caring in the U.K. and the U.S.
Beyond Caring was originally produced in England in response to the temporary labor force and working conditions there. In adapting the production to reflect Chicago realities, what was similar and what was different about the development process? Join the conceiver and director of the production, Alexander Zeldin, for a unique conversation.
About the Artists
ALEXANDER ZELDIN (Writer/Director) is a writer and director for theatre. His critically-acclaimed play Beyond Caring had its World Premiere at The Yard Theatre in Hackney in 2014, before transferring to the Temporary Theatre at the National Theatre in London in 2015. In 2015, Alex was the recipient of The Quercus Trust Award and was appointed as Associate Director at The Birmingham Repertory Theatre. Beyond Caring toured the UK in 2016 and his new play LOVE opened at the National Theatre in London in December 2016 to rave reviews. As of 2017, he will be resident director at the National Theatre where his upcoming work will premiere.
CAREN BLACKMORE (Ebony-Grace) is making her Lookingglass debut with Beyond Caring. She was last seen in Court Theatre's production ofElectra. Her Chicago theatre credits include: a one woman show, The MLK Project: The Fight For Civil Rights (Writers Theatre), Spill (TimeLine Theatre), Jitney! (Court Theatre), The Joe Tex Story (Black Ensemble Theater), and she has also worked with Pegasus Players, Stockyards Theatre Project, Theater Wit, The Loop Players, Congo Square Theatre Company, eta Creative Arts Foundation and MPAACT. Caren has attended New Freedom Theatre in Philadelphia and is a graduate of Oberlin College and the Eugene O'Neill National Theater Institute
J. Nicole Brooks (Tracy/Lookingglass Ensemble Member) is an actor, wordsmith, and director. Recent stage credits include the acclaimed comedy Immediate Family directed by Phylicia Rashad (Goodman Theatre; Mark Taper Forum), and Lucas Hnath's Death Tax (Lookingglass Theatre). She is author of Black Diamond: The Years the Locusts Have Eaten (published by Methuen), Fedra Queen of Haiti (published University of Illinois Press) and has several plays in development. Directing credits include Thaddeus & Slocum: A Vaudeville Adventure, Black Diamond, and Mr. Rickey Calls a Meeting (Lookingglass Theatre). Prized ribbons: TCG Fox Foundation Resident Actor Fellowship, National Endowment for the Arts, LA Ovations, African American Theatre Alliance of Chicago, Jeff Award Nominations, and Black Theater Alliance Awards.
Keith D. Gallagher (Ian) is making his Lookingglass debut. Chicago: Mary Page Marlowe, Marie Antoinette (Steppenwolf Theatre Company); The Gospel of Franklin, Man in Love (Steppenwolf First Look); Awake and Sing, The Lieutenant of Inishmore (Northlight Theatre);Shining City (Goodman Theatre); Tracks (TUTA Chicago); Arcadia (Court Theatre); The Real Thing (Remy Bumppo Theatre Company). Regional:A Raisin in the Sun (Geva Theatre Center); The Gospel According to James (Indiana Repertory Theatre); The Lieutenant of Inishmore (The Repertory Theatre of St. Louis); Shining City (Huntington Theatre Company). TV: Chicago Fire; Chicago P.D.; Detroit 187.
Edwin Lee Gibson (Phil) is making his Lookingglass debut. Off Broadway: Love and Information, U.S. premiere (The Minetta Lane Theatre/New York Theatre Workshop); The Seven (New York Theatre Workshop); The Bellagio Fountain Has Been Known To Make Me Cry(Concrete Temple Theatre, NYC); Turquoise (Dixon Place, NYC); The Death of Bessie Smith (New Brooklyn Theatre); The Diary of Black Men(Fairfield Halls, London). Chicago credits: The Royale (American Theater Company); St. James Infirmary (Congo Square Theatre Company). Awards: OBIE Award - Outstanding Performance. TV: recurring role as Orton Freeman on Law and Order: SVU (NBC); Shameless (Showtime). Film: Mom and Dad (Armory Films/BrIan Taylor); Marshall (Chestnut Ridge Prods/ Reginald Hudlin); Blood First (NaRa Films).
Wendy Mateo (Sonia) returns to the Lookingglass after last appearing as "Mother-in-Law" in Blood Wedding (2016) and "Maria" in Big Lake Big City (2013). Other Chicago credits include Tumbao: The Misadventures of la Familia Pilón at Steppenwolf Theatre Company's 1700 Theatre and Don Chipotle produced by The Playground Theater. Wendy can also be seen on the many comedy stages around Chicago and at Mas Mejor online with the comedy duo, Dominizuelan. TV credits include: Shameless (Showtime), Chicago P.D. (NBC), and The Exorcist (FOX).
Photo credit: Liz Lauren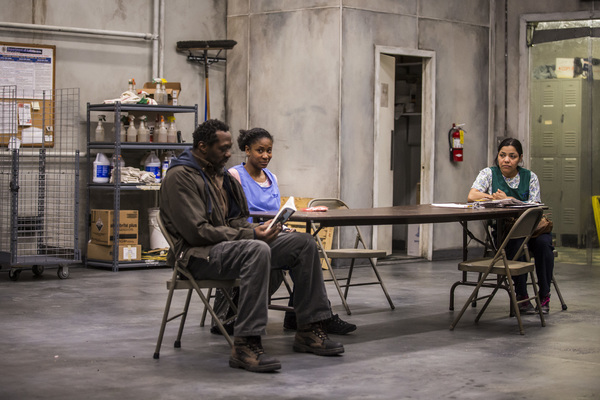 Edwin
Lee Gibson
,
Caren Blackmore
,
Wendy Mateo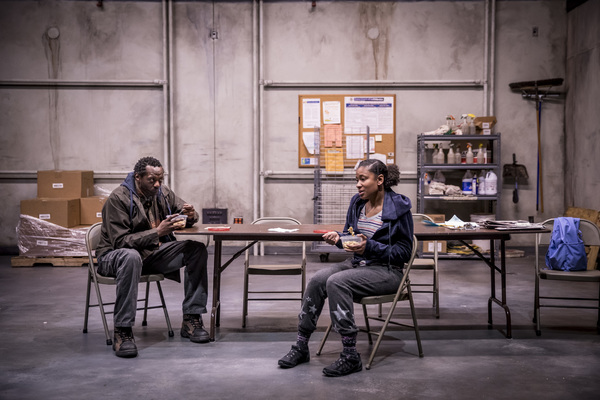 Edwin
Lee Gibson
,
Caren Blackmore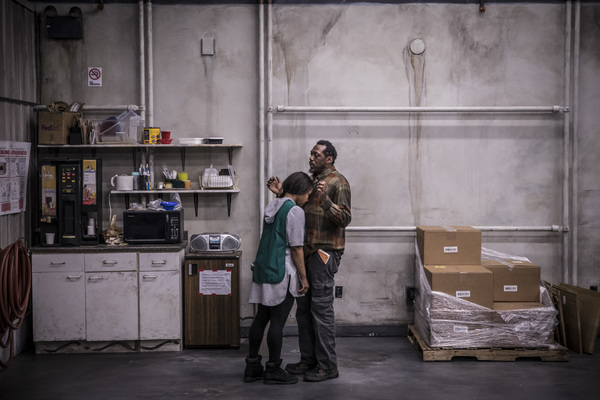 J.
Nicole Brooks
, Edwin
Lee Gibson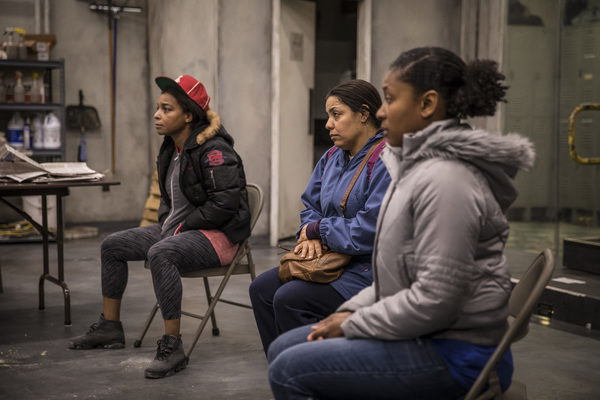 Caren Blackmore
,
Wendy Mateo
,
J.
Nicole Brooks
J.
Nicole Brooks
Keith D. Gallagher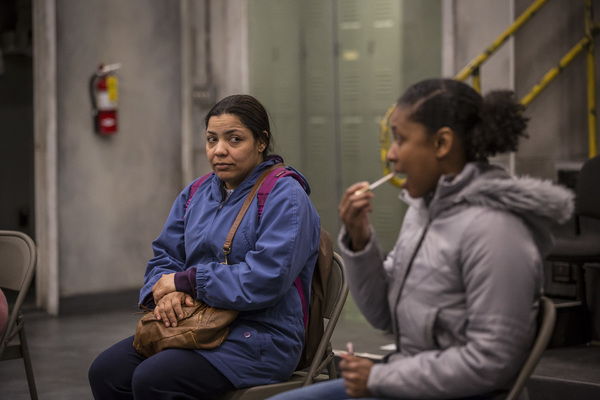 Wendy Mateo
,
Caren Blackmore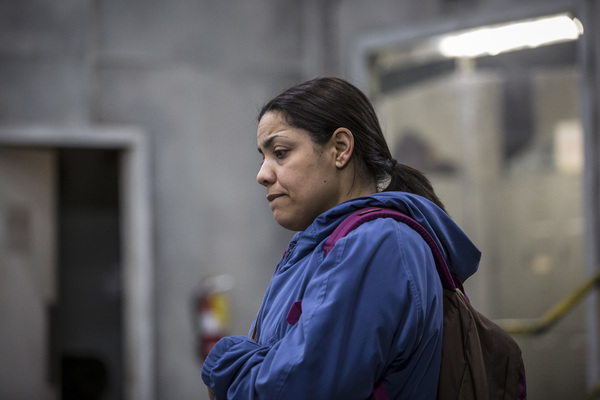 Wendy Mateo
More Hot Stories For You