MASKS & MYTHS Reviews Colonialism's Effects On Artistry And More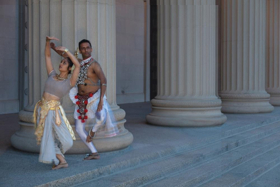 Mandala Arts Presents Masks & Myths at The Logan Center, October 6 & 7 2018. These performances are the culmination of an extraordinary year-long collaboration between Mandala Arts and dancers and musicians from Sri Lanka, celebrating cross-cultural exchange and examining the often-unanticipated historic results.
Maks & Myths
Reva & David Logan Center for the Arts
915 E 60th St, Chicago, IL 60637
Saturday, October 6 at 7pm | Sunday, October 7 at 3pm | Tickets: $25 | Student/ Seniors $20 | Vip at $50
mandalaarts.org/
In 1893, Chicago hosted the World's Columbian Exposition, marking a pivotal moment in American and Western history. Numerous pavilions built to represent various African and Asian nations included "Ceylon," as Sri Lanka was then known. Exposition organizers often chose to present the arts and culture of these "colonial conquests" as a spectacle with no artistic context or input.
Now, 125 years later, Sri Lankan dancers and musicians, along with guest artists, present an honest and authentic rendition of their artistry and other cultures presented at the Columbian Exposition including Balinese Gamelan, Japanese classical dance, and African drumming. "Masks and Myths" takes cultural exchange full-circle, reviewing colonialism's effects on artistry and new choreography bridging traditional Sri Lankan dance and contemporary influences.
"Mandala exists in the 21st century with dreams and desires of a modern South Asian. While we are strengthened by tradition and identity, we are also equipped to step forward into this century with new music and movement vocabulary-rooted in our American (Chicago) context." - Pranita Nayar
"Both Chicago and the rest of the world have changed. Chicago has also changed the world. The story of 1893 is very close to the hearts-also with sadness-of many immigrants; but in 2018, we want to celebrate the story of "sharing" and "understanding," presenting a world that continues to heal and move forward. Our programming with Sri Lankan will examine pervasive issues that have existed,still, exist, and continue to exist; and so, where boundaries-national, racial, economic-divide us, we will push forth sharing the cultures that weave us together." - Ashwaty Chennat
The evening will be performed in three parts featuring:
Sudesh Mantillake and Ashwaty Chennat w/ Mandala Ensemble & Sri Lankan Guest Dancers, Ruwansiri Chinthaka Bandara and Shantha Thennakoon
With special guests: I Gusti Ngurah Kertayuda and gamelan orchestra, Rika Lin and Fujima (artists of Shubukai), Khazna (Middle-eastern dance), Ayolo Drumming (Djembe and West-African drumming)
Nicole Volpe (Ballet)
Directed by: Pranita (Jain) Nayar
Production by: Connor Torres
Light Design: Geoffrey Bushor
This program and Cultural Exchange is funded by the MacArthur Foundation International Connections Fund.
Mandala will be performing excerpts of Masks & Myths at Chicago Public Libraries and community centers across Chicago throughout the summer.
Related Articles View More Chicago

Stories

Shows
More Hot Stories For You