Joffrey Ballet Presents North American Debut Of MIDSUMMER NIGHT'S DREAM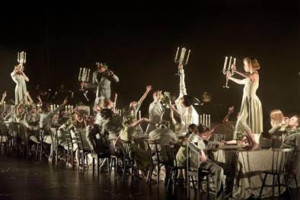 The Joffrey Ballet boldly closes its 2017-18 season with the North American Premiere of Midsummer Night's Dream by internationally renowned Swedish choreographer Alexander Ekman. A full-length contemporary ballet vastly different from Shakespeare's tale, this fully immersive theatrical experience pays homage to the summer solstice and the Scandinavian Midsummer holiday-a time of uproarious celebration, mystery, adventure and love. Midsummer Night's Dream is presented in 10 performances, April 25-May 6, 2018.
"Alexander Ekman is an astounding modern trailblazer," said Artistic Director Ashley Wheater. "This production is unlike anything audiences have seen in ballet today, mixing together the bold performance elements Ekman is most known for to create a truly theatrical performance. This year, we have elevated our commitment to dynamic performances and transformative storytelling, and I am thrilled to end our season with his larger-than-life Midsummer Night's Dream."
Midsummer features a commissioned score by Swedish composer Mikael Karlsson, who has partnered with Ekman on several major works, including his popular contemporary work Tulle. Karlsson's original score will be performed live by members of the Chicago Philharmonic. Swedish indie rock sensation Anna von Hausswolff will also join the Joffrey dancers on-stage to perform three songs for Ekman's Midsummer Night's Dream, live at every performance. Von Hausswolff is best known for pushing the limits of metal, experimental pop and progressive rock. Her fourth studio album, Dead Magic, via record label City Slang, has received major international praise following its release on March 2, 2018.
A production in two acts with costumes by Bregje van Balen (former dancer with Nederlands Dance Theatre) and original set/lighting designs by Linus Fellbom (credited with more than 180 productions, including the World Tour for Swedish rock band Refused), Midsummer Night's Dream made its world premiere with The Royal Swedish Ballet in 2015 and is widely considered Ekman's wildest and most daring production. Ekman's ode to the longest day of the year follows a traditional Midsummer festival-from a passionate, lively celebration by day to a whirlwind dream by night.
Celebrated around the globe for his originality and humor, Ekman has collaborated with companies worldwide to create award-winning works that both entertain and challenge the observer. This will be the fourth work by Ekman that The Joffrey Ballet has performed; most recently, Ekman staged the world premiere of his critically-acclaimed Joy on the Joffrey in April 2017. Past performances include the Chicago Premieres of Tulle in 2015, along with the wild and rhythmic Episode 31 during the 2013 Chicago Dancing Festival.
The Joffrey Ballet performs Midsummer Night's Dream April 25 - May 6, 2018; the full performance schedule is as follows: Wednesday, April 25 at 7:30pm, Friday, April 27 at 7:30pm, Saturday, April 28 at 2:00pm and 7:30pm, Sunday, April 29 at 2:00pm, Thursday, May 3 at 7:30pm, Friday, May 4 at 7:30pm, Saturday, May 5 at 2:00pm and 7:30pm, Sunday, May 6 at 2:00pm.
Single tickets, which range from $34-$177, are available for purchase at The Joffrey Ballet's official Box
Office located in the lobby of Joffrey Tower, 10 E. Randolph Street, as well as the Auditorium Theatre of
Roosevelt University Box Office, by telephone at 312.386.8905, or online at joffrey.org.
About The Joffrey Ballet
Classically trained to the highest standards, The Joffrey Ballet expresses a unique, inclusive perspective on dance, proudly reflecting the diversity of America with its company, audiences, and repertoire which includes major story ballets, reconstructions of masterpieces and contemporary works.
the company's commitment to accessibility is met through an extensive touring schedule, an innovative and highly effective education program including the much-lauded Academy of Dance, Official School of The Joffrey Ballet, Community Engagement programs and collaborations with myriad other visual and performing arts organizations.
Founded by visionary teacher Robert Joffrey in 1956, guided by celebrated choreographer Gerald Arpino from 1988 until 2007, The Joffrey Ballet continues to thrive under internationally renowned Artistic Director Ashley Wheater and Executive Director Greg Cameron.
The Joffrey Ballet gratefully acknowledges Midsummer Night's Dream Presenting Sponsor Margot and Josef Lakonishok; Production Sponsors Jane Ellen Murray Foundation, The Poetry Foundation, Bill and Orli Staley Foundation, Barbro Osher Pro Suecia Foundation, Martha and Richard Melman with Suzanne and Albert Friedman and Ken Norgan. Special thanks to Co-Sponsors of the 2017-2018 Season: Abbott Fund, Alphawood Foundation Chicago, NIB Foundation, Daniel and Pamella DeVos Foundation; and Live Music Sponsor The Marina and Arnold Tatar Fund for Live Music.
For more information on Alexander Ekman, visit here, and for more information on The Joffrey Ballet and its programs, visit joffrey.org. Connect with the Joffrey on Facebook, Twitter and Instagram.
More Hot Stories For You