Chicago Theatre Workshop Presents I LOVE YOU, YOU'RE PERFECT, NOW CHANGE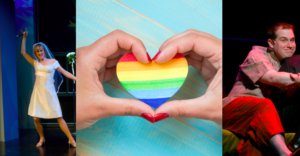 Chicago Theatre Workshop (CTW) with permission from authors, Joe DiPietro and Jimmy Roberts will present a one-night only LGBTQ performance of their long running off-Broadway hit musical, "I Love You, You're Perfect, Now Change" as a benefit for the company.
During the show's nearly 20 year off-Broadway run, audiences celebrated the on stage relationships as a reflection of their own lives. CTW is excited to recalibrate the show's series of vignettes focusing on the themes of love and relationships with a LGBTQ twist. Characters have now been re-imagined to reflect the lives of the LGBTQ community.
Author Joe DiPietro remarked, "When Tom called and asked about doing an all-gay version of I Love You, You're Perfect, Now Change (once dubbed the straightest off-Broadway hit ever,) Jimmy Roberts and I readily agreed. I've always been a big fan of Tom's work, and I can't wait to see his very contemporary and, I'm sure, very hilarious take on the show.
CTW Artistic Director Tom Mullen comments on the uniqueness of this benefit production, "This is a great joy for us, I've directed Love/Perfect a couple times before and I've always felt that this could really be an exciting version to try to do. It's a great opportunity to really highlight that when it comes to love and relationships, we are all equal in our wants and wishes. We've also assembled an incredible cast and creative team and are so thankful to Joe and Jimmy to allow us to do this."
$45 General Admission. Tickets for the performance can be purchased on line at www.chicagotheatreworkshop.org. VIP and Sponsorship ticket packages are also available by contacting CTW.
The cast includes, Karl Hamilton, Charissa Armon, Melissa Young, Honey West, Lars Ebsworth, Noah Berman, Jessica Vann, Britain Gebhardt and more are slated to perform. Musical Direction is by Nick Sula with direction by Tom Mullen.