'Chicago Deep Dish' Reading to Feature Ada Palmer, Sue Burke, and More this December at Volumes Bookcafe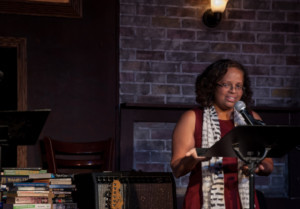 Chicago Deep Dish, a science-fiction and fantasy reading series, features historian/novelist Ada Palmer, novelist/poet Sue Burke, novelist/comics writer Michael Moreci, and offers brief readings from author Valya Lupescu, Stephen Segal, Dan Gonzalez, Angeli Primlani and Mary Anne Mohanraj. Sponsored by the Speculative Literature Foundation (www.speclit.org), the Science Fiction and Fantasy Writers' Association (www.sfwa.org), and the Chicago Nerd Social Club (www.chicagonerds.com).
Volumes Bookcafe, 1474 N. Milwaukee Ave., Chicago, IL 60622
Learn more at www.volumesbooks.com
Thursday, December 7, 2017, at 7 p.m., FREE
Ada Palmer writes science fiction and fantasy, and is a historian and composer. She teaches at the University of Chicago history department, and did her Ph.D. at Harvard. She composes close harmony folk music with mythological, science fiction and fantasy themes, and performs with the a cappella group Sassafrass. She also studies the history of manga anime, especially the "God of Manga" Osamu Tezuka, blogs for Tor.com and writes the history/philosophy blog ExUrbe.com.
Sue Burke is a writer and translator who has lived in Milwaukee, Austin, Madrid, and now Chicago. She has published short stories, poems, and articles in a variety of magazines and anthologies, and her novel Semiosis will be published by Tor in February 2018.
Michael Moreci is a novelist and comics writer. Black Star Renegades, his debut novel, will be released on January 2nd, to be followed by a sequel in 2019. His sci-fi comics trilogy Roche Limit has been called "one of the best 50 sci-fi comics of all time" by Paste Magazine. He lives in Oak Park with his wife and two sons.
Valya Dudycz Lupescu is the author of The Silence of Trees and the founding editor of Conclave: A Journal of Character. With her partner, Stephen H. Segal, she is the co-author of the book Geek Parenting and the co-founder of the Wyrd Words storytelling laboratory. Valya earned her MFA in Writing from the School of the Art Institute of Chicago, and currently teaches at DePaul University.Dan Gonzalez's fiction and essays have appeared in many publications, and is currently shopping a novel in which the entire world lives and works in a single, giant parking garage. Daniel is the co-managing editor at Another Chicago Magazine.
Angeli Primlani is a writer, director, playwright, and performer. She is the founding Artistic Director of Accidental Shakespeare Theater Company, and her plays have been performed by Accidental Shakespeare, Rasaka and Otherworld. She was also a reporter and essayist for various publications and outlets including National Public Radio and The Prague Post.Host Mary Anne Mohanraj wrote Bodies in Motion (finalist for Asian American Book Awards, translated into six languages) and twelve other titles. She's executive director of SLF, and an English professor at UIC (maryannemohanraj.com).
The next reading in the series, is Thursday, March 1, 2018, 7 p.m., at Volumes.
Photo by Aaron Cynic