Artistic Home Ensemble Presents VANYA ON THE PLAINS September 15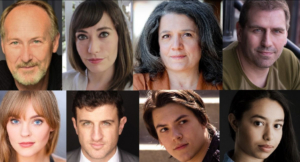 The Artistic Home Ensemble's first production of the 2019-20 Chicago Theatre Season will be the world premiere of VANYA ON THE PLAINS, a Chekhovian tragicomedy by Jason Hedrick, Director of the O'Neil Theatre and Instructor of Theatre and Speech at John A. Logan College in Carterville, IL.
Hedrick's play imagines a future totalitarian society in which in-person human interaction is greatly diminished and daily life experiences are detached from reality in favor of digital virtual reality experiences. The "plains" of the title is a barren land only somewhat more livable than the neighboring sector, the Outlands. In an attempt to acquaint his family and friends with real-time and real-space personal interaction and genuine relationships, the 79-year old Elijah convinces them to perform Chekhov's UNCLE VANYA despite the fact that the younger members of the family have never seen a play and have no conception of acting.
VANYA ON THE PLAINS will be directed by The Artistic Home's Associate Artistic Director Kayla Adams, who helmed the company's Jeff-nominated production of HOW I LEARNED TO DRIVE last year. Playing the septuagenarian Elijah will be ensemble member
Frank Nall
, whose recent credits include FRANKENSTEIN with Remy Bumppo and BY THE BOG OF CATS with The Artistic Home. His acerbic mother-in-law Gayle will be played by Artistic Director
Kathy Scambiatterra
.
Mark Pracht
, who won a Jeff Award this year for the title role of the company's REQUIEM FOR A HEAVYWEIGHT, will play Carl, who is sexually involved with Elijah's daughter Anka (
Katherine Schwartz
, of DEAR BRUTUS with Eclectic Full Contact Theatre).
Brookelyn Hebert
, currently appearing Ada Lovelace in the company's ADA AND THE ENGINE, has been cast as Caprice, a friend of Elijah's granddaughter Sophia (Ariana Lopez). Caprice and Sophia are meeting in person for the first time after years of only digital contact. Also in the cast are Ben Zarbock (Nicolas), Eric Simon (Barry), Ernest Henton (NCTP 1) and Karla Corona (NCTP 2). The design team includes
Kevin Hagan
(set design), Zachery Wagner (costume design), Jeff award-winner Petter Wahlback (sound design) and Mark Bracken (lighting design). Edmond Hood will be stage manager.
September 11 - October 27, 2019
Previews Wednesday, September 11- Saturday, September 14 at 8:00 pm
Press Opening Sunday, September 15 at 7:00 pm
Regular schedule Thursdays at 7:30 pm, Fridays and Saturdays at 8:00 pm, Sundays at 3:00 pm
Preview Tickets are $15. Regular prices are $28 for Thursday or Sunday (seniors & students $20), $32 for Friday or Saturday.
The Artistic Home Theatre
1376 W. Grand Avenue, Chicago 60642
tickets: 866/811-4111 or go to http://www.theartistichome.org/
Accessible via the CTA #65 Grand bus and the Blue Line.