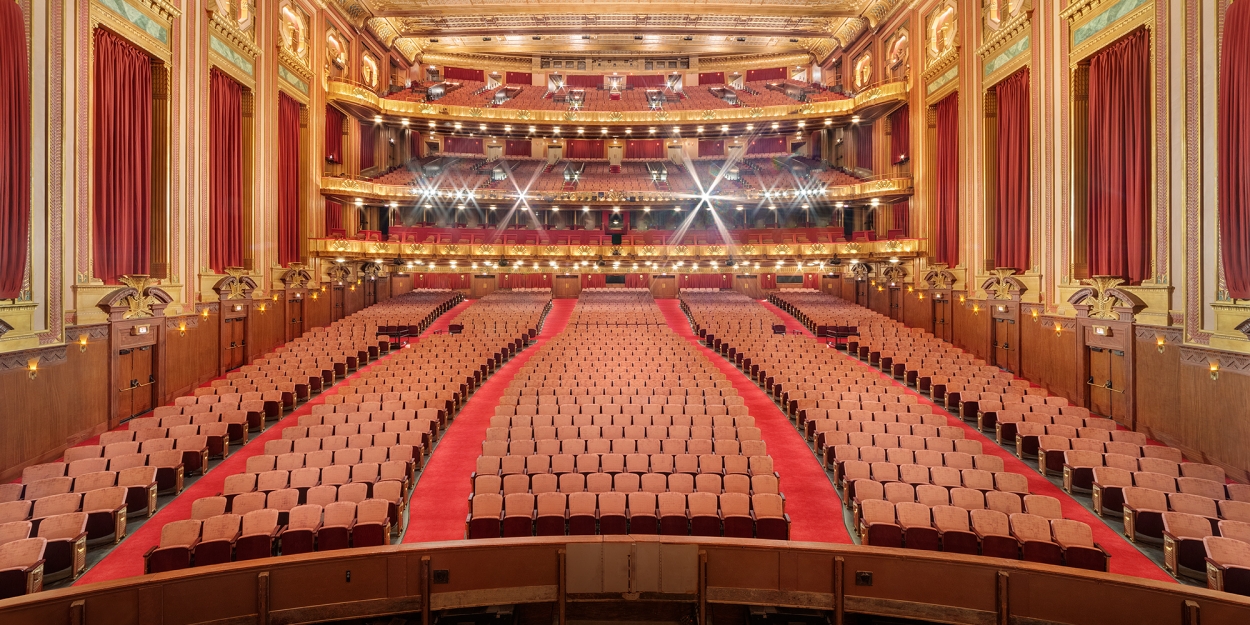 AN EVENING WITH AUDRA MCDONALD, CHAMPION & More Set for Lyric Opera of Chicago 2023/24 Season
The season also features Aida, Cinderella and more.
Lyric Opera of Chicago has announced the company's 2023/24 Season, which takes audiences on a global tour of opera featuring a richly curated slate of musical events in six different languages.
The company's 69th season opens with Wagner's The Flying Dutchman, conducted by Music Director Enrique Mazzola, who leads his first Wagner opera at Lyric. Directed by Christopher Alden, the production stars Tomasz Konieczny in the title role, Lyric favorite Tamara Wilson as Senta, and Robert Watson in his Lyric debut as Erik.
The season continues with a pair of operas offering contrasting emotional approaches to experiencing Lyric's signature world-class vocalism. One of opera's most delightful comedies, Donizetti's The Daughter of the Regiment - back on the Lyric Stage for the first time in 50 years - features the return of Lawrence Brownlee to Lyric as Tonio and the long-awaited Lyric debut of Lisette Oropesa as Marie. The iconic Laurent Pelly production is revived by Christian Räth and conducted by Speranza Scappucci, both in their Lyric debuts.
In repertory with the lighthearted Donizetti is one of opera's most intense dramas, Janáček's Jenůfa, starring two of the world's most sensational sopranos: Lise Davidsen in the title role for her Lyric debut and Nina Stemme in her return to Lyric as the Kostelnička, Jenůfa's stepmother. The production is conducted by Jakub Hrůša, the celebrated music director designate of London's Royal Opera House and one of the world's foremost experts in the Czech repertoire, and is directed by Claus Guth, both in their Lyric debuts.
Winter brings another diverse pairing of operas to the Lyric Stage. The witty and heartwarming comedy of Rossini's Cinderella features the Lyric debuts of Vasilisa Berzhanskaya as Angelina and Jack Swanson as Ramiro, alongside returning favorites Alessandro Corbelli as Don Magnifico and Joshua Hopkins as Dandini. Conductor Yi-Chen Lin makes her Lyric debut, and the classic production of Jean-Pierre Ponnelle is revived by Crystal Manich, also in her Lyric debut.
In repertory with Cinderella is Champion, the "opera in jazz" by composer Terence Blanchard (who composed last season's hit Fire Shut Up in My Bones) and librettist Michael Cristofer. Champion tells the true story of Emile Griffith, a professional boxer from the U.S. Virgin Islands who threw a fatal punch in the boxing ring in 1962 after being taunted for his sexuality by his rival. Eric Owens is the older Emile, Justin Austin is Young Emile, and Whitney Morrison, an alumna of Lyric's Patrick G. and Shirley W. Ryan Opera Center artist-development program, co-stars as Emelda Griffith, Emile's mother. Music Director Enrique Mazzola conducts his first contemporary opera at Lyric, and James Robinson directs this new Lyric coproduction with the Metropolitan Opera.
The season continues with Verdi's majestically scaled but intimate love story Aida, conducted by Music Director Enrique Mazzola. Michelle Bradley and Russell Thomas, the star-crossed lovers of last season's Tosca, reunite as Aida and Radamès, another of opera's famously doomed couples. Aida also heralds the return to Lyric of Jamie Barton as Amneris. The production, directed by Francesca Zambello, has designs by the contemporary visual artist RETNA, whose work uses calligraphy, hieroglyphics, and bold colors to evoke a mythic past with a contemporary edge. RETNA's mural work can be seen locally in Chicago on the south wall of 33 East Congress, part of the Wabash Arts Corridor. Aida also features the Lyric debut of renowned modern dance choreographer Jessica Lang.
Within his run of Aida performances, Music Director Enrique Mazzola also leads two special performances of Mozart's Requiem, a beloved masterpiece that puts the Lyric Opera Chorus and Orchestra center stage. The soloists for these performances will be announced in the coming months.
To commemorate the 2023/24 Season, musical theater's biggest star will headline Lyric's Season Opening Gala: An Evening with Audra McDonald on Friday, October 6, 2023. Andy Einhorn conducts the Lyric Opera Orchestra in an evening celebrating McDonald's unique interpretive talents in a variety of song styles.
"Opera is at a very challenging moment, and I am proud of how our entire company is rising to that challenge every day. Despite the painful new economic realities of producing grand opera, Lyric will present a varied and compelling 2023/24 Season that keeps our main pillars front and center: presenting the best singers in the world, bringing exciting and thought-provoking large-scale productions to the stage, and offering fresh contemporary perspectives that point to the future of our beloved art form," says Freud. "We are keeping our carefully built pipelines strong - both in terms of the artists we continue to mentor in our recently expanded Ryan Opera Center, and the new operas by new creators we continue to commission, workshop, and produce. We have a robust and responsible growth plan in place, and - as evidenced by our 2023/34 Season - artistic excellence will continue to be our guiding principle as we work to find the right balance between market demand and diversity of productions and the number of them on offer in each season."
"I am excited to be conducting such a profoundly diverse repertoire at Lyric next season: Wagner, Verdi, Mozart, and the brilliant Terence Blanchard, whose opera Champion is part of Lyric's ongoing commitment to new works," says Mazzola. "Stay tuned for ongoing news about the other new and recent operas Lyric will be commissioning and producing across future seasons. This is constant, essential work for the company and includes important pieces like Omar by Rhiannon Giddens and Michael Abels, The Listeners and Proving Up by Missy Mazzoli and Royce Vavrek, and the world premieres of the Lyric commissions of Safronia by avery r. young and H of H Playbook by Bryce Dessner and Anne Carson. Lyric is committed to remaining at the center of exploration and innovation in opera for many years to come."
For more information on Lyric's 2023/24 Season, visit lyricopera.org/newseason
Lyric Opera of Chicago's 2023/24 Season
Richard Wagner The Flying Dutchman (Der fliegende Holländer)
September 23, 27, October 1m, 4m, 7, 2023
Sung in German with projected English titles
The first opera that revealed Wagner's genius, The Flying Dutchman is the story of a young woman's obsession. Senta dreams of the Dutchman, who is cursed to wander the earth. He comes ashore every seven years, searching for a woman who will be faithful to him until death. When she meets him, Senta's fate is sealed. The Flying Dutchman contains some of Wagner's most magnificent and emotional music, including thrilling, spectacular choruses. Leading an outstanding cast are Tomasz Konieczny (previously the title role in Lyric's spellbinding Wozzeck) and Tamara Wilson (the radiant heroine of Il trovatore and Ernani), in Christopher Alden's electrifying production, with Music Director Enrique Mazzola conducting his first Wagner at Lyric.
The Dutchman - Tomasz Konieczny
Senta- Tamara Wilson
Erik - Robert Watson*
Daland - Mika Kares
Conductor - Enrique Mazzola
Director - Christopher Alden
Set & Costume Designer - Allen Moyer
Lighting Designer - Anne Militello*
Chorus Master - Michael Black
The Daughter of the Regiment
(La fille du régiment)
November 4, 10, 14, 16m, 19m, 22m, 25, 2023
Sung in French with projected English titles
Donizetti's The Daughter of the Regiment is Bel Canto opera's equivalent of vintage champagne. Marie, the lovable, irrepressible, spirited heroine - a foundling, raised by soldiers - loves handsome Tonio. Things get complicated when the Marquise carts her off to refine her with a "proper" education. In one exhilarating number after another, Marie throws off coloratura flourishes like shooting stars, while her tenor sweetheart pops out nine high Cs in a single aria! Bel Canto superstar Lawrence Brownlee and comedic veteran Alessandro Corbelli partner with the dazzling Lisette Oropesa in her eagerly awaited Lyric debut. The marvelously stylish Speranza Scappucci conducts Laurent Pelly's quick-witted, uproarious production.
Marie Lisette - Oropesa*
Tonio - Lawrence Brownlee
Marquise - Ronnita Miller
Sulpice - Alessandro Corbelli
Conductor - Speranza Scappucci*
Original Director - Laurent Pelly
Revival Director - Christian Räth*
Set Designer - Chantal Thomas*
Costume Designer - Laurent Pelly
Lighting Designer - Joël Adam*
Chorus Master - Michael Black
Original Choreographer - Laura Scozzi
Revival Choreographer - Karine Girard
Leoš Janáček
Jenůfa
November 12m, 15m, 18, 21, 26m, 2023
Sung in Czech with projected English titles
Janáček's Jenůfa is a dark and stunning masterpiece, both musically and dramatically. In this profoundly moving story, the Kostelnička secretly drowns her foster daughter Jenůfa's illegitimate child, hoping to save Jenůfa - and herself - from shame and humiliation. When the murder is discovered, the Kostelnička accepts the consequences, but Jenůfa ends the opera with hope for the future. Performing Janáček's magnificent score will be an enthralling cast led by two of the finest dramatic sopranos of our time: opera's newest superstar, Lise Davidsen, and the legendary Nina Stemme, Lyric's sensational Elektra in 2019. Czech maestro Jakob Hrůša will bring unique authenticity to this unforgettable music, leading Claus Guth's mesmerizing production.
Jenůfa - Lise Davidsen*
The Kostelnička - Nina Stemme
Laca - Pavel Černoch*
Števa - Richard Trey Smagur*
Conductor - Jakob Hrůša*
Director - Claus Guth*
Set Designer - Michael Levine
Costume Designer - Gesine Völlm*
Lighting Designer - James Farncombe*
Video Designer - rocafilm*
Chorus Master - Michael Black
Choreographer - Teresa Rotemberg*
Gioachino Rossini
Cinderella
(La Cenerentola)
January 21m, 26, 30, February 1m, 4m, 7m, 10, 2024
Sung in Italian with projected English titles
Rossini's enchanting fairytale heroine is the downtrodden daughter of a selfish father, Don Magnifico. When Prince Ramiro (disguised as his own valet, Dandini) meets her, they fall instantly in love, leading - after a few complications - to a heartwarming happy ending. Rossini's score provides endless sparkle, with Angelina's and Ramiro's arias abounding in fabulous vocal virtuosity. There is also hilarity, thanks to the antics of Magnifico and Dandini. Two rising stars, Vasilisa Berzhanskaya and Jack Swanson, will be joined by the incomparable Alessandro Corbelli to lead Lyric's cast, in Jean-Pierre Ponnelle's world-famous production led by the exciting Taiwanese conductor Yi-Chen Lin.
Angelina (Cinderella) - Vasilisa Berzhanskaya*
Ramiro - Jack Swanson*
Don Magnifico - Alessandro Corbelli
Dandini - Joshua Hopkins
Alidoro - Nicholas Newton
Conductor - Yi-Chen Lin*
Original Director - Jean-Pierre Ponnelle
Revival Director - Crystal Manich*
Set & Costume Designer - Jean-Pierre Ponnelle
Lighting Designer - Duane Schuler
Chorus Master - Michael Black
Lyric premiere
Terence Blanchard and Michael Cristofer
Champion
January 27, 31m, February 3, 6, 9, 11m, 2024
Sung in English with projected English titles
Based on a true story, Champion unfolds in what composer Terence Blanchard calls "an opera in jazz," featuring a libretto by Michael Cristofer. Welterweight boxer Emile Griffith is tortured by the complex realities of his life: decades-long guilt from defeating a challenger in the ring, who died from Griffith's blows; and desperately conflicted feelings regarding his own sexuality. James Robinson's production arrives in Chicago with a remarkable cast. Joining Lyric favorites Eric Owens, Whitney Morrison, and Paul Groves is Justin Austin, a brilliant new star who triumphed in Blanchard's Fire Shut Up in My Bones, with Music Director Enrique Mazzola leading the Lyric Opera Orchestra.
Emile Griffith - Eric Owens
Young Emile - Griffith Justin Austin
Emelda Griffith - Whitney Morrison +
Luis Griffith - Martin Luther Clark +
Howie - Albert Paul Groves
Conductor - Enrique Mazzola
Director - James Robinson
Set Designer - Allen Moyer
Costume Designer - Montana Levi Blanco*
Lighting Designer - Donald Holder
Projection Designer - Greg Emetaz
Chorus Master - Michael Black
Choreographer - Camille A. Brown
Aida
March 9, 13m, 17m, 20, 23, 26, 29, April 1, 4m, 7m, 2024
Sung in Italian with projected English titles
Opera at its grandest! While Aida delights audiences with its visual splendor, it also captivates them with a score ranging from exquisitely intimate arias to deeply dramatic duets and trios, and the most thrilling choruses Verdi ever composed. Aida presents a riveting love triangle, which unfolds in an alluring Egyptian setting. Each of the five principal artists in Lyric's Aida boasts not only a sumptuously beautiful voice, but also the charismatic presence to bring these characters vividly to life. Conducting Francesca Zambello's striking production will be Music Director Enrique Mazzola, acknowledged internationally as an exceptionally authoritative Verdian.
Aida - Michelle Bradley
Amneris - Jamie Barton
Radamès - Russell Thomas
Amonasro - Reginald Smith, Jr.
Ramfis - Önay Köse*
Conductor - Enrique Mazzola (March 9-April 1), Francesco Milioto (April 4m & 7m)
Director - Francesca Zambello
Artistic Designer - RETNA*
Set Designer - Michael Yeargan
Costume Designer - Anita Yavich
Lighting Designer - Mark McCullough
Chorus Master - Michael Black
Choreographer - Jessica Lang
Wolfgang Amadeus Mozart
Requiem
March 22 & 24m, 2024
Sung in Latin with projected English titles
Conducted by Enrique Mazzola
Featuring the Lyric Opera Orchestra & Chorus
Legend has it that Mozart believed he was writing the Requiem for his own funeral. Other composers completed it after his death, but - miraculously - this is not only a totally unified work musically, but one of the greatest choral pieces ever written. It offers a sublime beauty and dignity that leaves audiences profoundly moved and memorably uplifted. Under Music Director Enrique Mazzola, these concerts present a unique opportunity to celebrate the extraordinary Lyric Opera Orchestra and Chorus. Additional repertoire by Mozart and the soloists for these performances will be announced in the coming months.
Season Opening Gala: An Evening with Audra McDonald
Experience the inimitable talent of Audra McDonald in concert with the Lyric Opera Orchestra in a spellbinding evening of songs, from theater classics to new works and seldom-heard gems. Winner of six Tony Awards, two Grammy Awards and an Emmy Award, Audra McDonald possesses a "lustrous lyric soprano" (The New York Times) and an incomparable gift for dramatic truth-telling. This one-night only performance is not to be missed.
Enhance your experience by joining us for cocktails before the concert, then dinner and dancing the night away at our Season Opening Gala. Walk the red carpet like a star and enjoy premium seats to the most anticipated concert of the year.
Coming this summer:
Sunday in the Park with Lyric
Sunday, August 20, 2023 at 7 p.m.
Jay Pritzker Pavilion, Millennium Park, 201 East Randolph Street, Chicago
Join them for an evening of beautiful music as artists from The Patrick G. and Shirley W. Ryan Opera Center perform a variety of favorites from the 2023/24 Season with members of the Lyric Opera Orchestra and conducted by Music Director Enrique Mazzola. Bring a blanket, your favorite snacks, your fellow music lovers, and those you can't wait to introduce to opera for this free, fun and friendly, can't-miss summer delight that always ushers in a new cultural season on a high note.
Seating is first-come, first-served for this free event and no tickets are required.
Photo credit: Darris Lee Harris photography