Interview: Victor And Kelly Legarreta of AGATHA CHRISTIE'S MURDER ON THE ORIENT EXPRESS at Dutch Apple Dinner Theatre
Ludwig's fast-paced adaptation of a classic mystery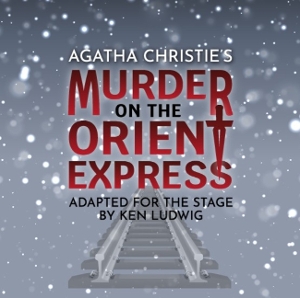 Agatha Christie's mysteries have truly stood the test of time. Not only do readers still enjoy the novels, but many of them have been adapted for the stage and the screen. Playwright Ken Ludwig's adaptation Agatha Christie's Murder on the Orient Express has been hailed as fast-paced, intelligent, and humorous, while upholding the glamour and suspense of the original story. The story features Christie's famed detective Hercule Poirot, who gets caught up in a murder investigation on a train headed toward London. Mystery fans can see Agatha Christie's Murder on the Orient Express at Dutch Apple Dinner Theatre January 20-February 18. The cast includes Victor and Kelly Legarreta, who are not only castmates, but spouses. They took a few moments from their rehearsal schedule to share their experience with this delightful mystery.
BWW: Tell us a little about yourselves. Where are you from? How did you get into acting?
Victor: I grew up on Long Island in New York and my first show was in ninth grade. It was West Side Story. My cousin Joe was my idol, so I decided I would audition for the show that he was auditioning for, and I've done theater ever since.
Kelly: I am originally from Miami Florida, and I have been doing theater since I was in elementary school. I went to the University of Miami's theater conservatory and have a BFA in theater. I feel extremely lucky to have been acting for almost my entire life! Fun fact: I'm also a Canine/Equine Massage Therapist. I grew up with horses and training dogs. To be able to do the two things I ALWAYS wanted to do when I grew up-work with animals and perform on stage (AND get to do it with the love of my life?!?)-well, I couldn't ask for anything more. Grateful is an understatement.
BWW: How did you meet?
Victor: We met on Sanibel Island in Florida. She was doing Barefoot in the Park, and I was doing a review called Sanibel Night Fever. One night, we were both in the same restaurant, and a woman who ushered for both theaters was there. She was, shall we say, tipsy, and she decided that she would try to play matchmaker and introduce us. Not wanting that woman to be our first point of contact, Kelly approached me and introduced herself. Five months later I asked her to marry me.
Kelly: Victor told the story. I was actually on my way to New York. Then I got a year theater contract on Sanibel Island, and the stars aligned. I'm the luckiest girl in the world!
BWW: Have you been on stage together before? What is it like performing together?
Victor: We have done numerous shows together, and it's a joy getting to share the stage with my best friend. She has such a gift, and getting to see audiences react to her is pure happiness to me.
Kelly: I said it before, but I really mean it-I'm the luckiest girl in the world. It is such a gift to have been married for 20 years and to be able to have done so many shows together. We have a great rapport, and we are always in sync. He's my best friend on and off stage!
BWW: Agatha Christie is, of course, well-known for her murder mysteries. What do you like most about this particular story?
Victor: One of the things I enjoy about this Agatha Christie story is how many possible suspects could have done it. It keeps the audience, and me, guessing so much.
Kelly: Murder on the Orient Express is a mystery with a masterful twist infused with a myriad of exotic characters. It is an emotional story with incredibly high stakes for all involved!
BWW: Without giving away too much of the story, tell us a little about your characters.
Victor: "I'm Hercule Poirot...I am a Detective."
Kelly: I play the Russian Princess Dragomiroff. She's on the train with an assistant, and they are traveling to Paris.
BWW: Murder on the Orient Express was first published as a book in 1934. The play was first performed in 2017. Clearly Agatha Christie's stories have amazing staying power. In your opinion, what is it about Agatha Christie's mysteries that still appeals to us so many years after their first publication?
Kelly: It's a classic story, and the adaptation by Ken Ludwig adds a touch of humor and wit. It brings a bit of deliciousness to the intense storyline!
BWW: What has been the biggest challenge for you in preparing for this performance?
Victor: My challenge thus far in the rehearsal process is the sheer amount of lines Poirot has. The second act might as well be one giant monologue.
Kelly: Learning to do a Russian accent! I love accents but have never had the chance to do Russian on stage! Also, on a heartfelt note, our theater family recently lost a dear friend suddenly. And in the last show that I was privileged to do with him, he was Russian. Rob was gregarious and had a booming voice and personality, and we all loved him dearly. So, when I'm having trouble with the accent, I just think of him. I'm happy to have a piece of him with me on stage.
BWW: What do you think audiences will love most about this production of Murder on the Orient Express?
Victor: I feel like this is something outside of the box for Dutch Apple and is something that might bring in an audience base that has been waiting for this kind of entertainment!
Kelly: ALL of it. The characters are juicy, the costumes are gorgeous, the set is visually stunning, and the story is a classic!
BWW: Are you personally a fan of mysteries? If so, do you have a favorite mystery author, play, or TV show?
Victor: The series Black Mirror kept me on my toes and wanting more.
Kelly: I do like mysteries! I don't watch a whole lot of TV because we keep pretty busy, but I love suspense shows. We were big fans of 24 if that counts! Lol
BWW: Is there anything else you'd like our readers to know?
Victor: This cast is the most amazing bunch of actors, and it's an absolute joy to share the stage with them. I also think Kelly is kind of cute but shhhhhh don't tell her.
Join Victor, Kelly, and the rest of the cast and crew to solve the mystery of Agatha Christie's Murder on the Orient Express at Dutch Apple. Visit https://cloud.broadwayworld.com/rec/ticketclick.cfm?fromlink=2219652®id=194&articlelink=https%3A%2F%2Fdutchapple.com%2F?utm_source=BWW2022&utm_medium=referral&utm_campaign=article&utm_content=bottombuybutton1.