Photo Flash: First Look at Mac-Haydn Theatre's CHICAGO
The Mac-Haydn Theatre roars back to the 1920's with Kander and Ebb's jazzy music and a deliciously scandalous story in CHICAGO.
Velma is in jail for murdering her night club act partners (her sister and husband), and Roxie is a newcomer to the cell-block. Roxie quickly discovers it's all about who gets the best lawyer - Billy Flynn - who also happens to be Velma's lawyer. Devious defense tactics abound as the two vie for Flynn's in court attention. Flynn meanwhile gives them both his best advice as he slyly works towards acquittals for all.
Caitlin Wilayto and Bridget Elise Yingling come back to Mac-Haydn to play Roxie and Velma. Ms. Wilayto was last seen as the delightfully seductive Inga in 2014's smash hit "Young Frankenstein"; her hopes of stardom will be told in "Roxie." Ms. Yingling's talents were praised as Millie Dilmont in last summer's "Thoroughly Modern Millie," and she will set the tone of the show with the swinging and sultry "All That Jazz".
Pat Moran takes on his first leading MHT role as Billy Flynn; previous roles include Tommy Ross in a New York City production of "Carrie", and Joe Hardy in "Damn Yankees". He was featured in the Cockney Quartet in 'My Fair Lady".
Aneesa Folds returns to Mac-Haydn to play jail matron Mama Morton, telling the girls what happens "When You're Good to Mama". Last summer she was a powerful addition to "Rent" as Joanne, and delivered a show-stopping "I Know Where I've Been" as Motormouth Mabel in "Hairspray"; over the winter she toured as Sarah's Friend in "Ragtime".
Andrew Jordan DeWitt was a hysterical hit as Cookie in "Nice Work If You Can Get It", he plays the hapless Amos Hart and will sing the story of his life in "Mr. Cellophane". Conor Robert Fallon is the object of Roxie's affection and gunshot, Fred Casely. Chris Hendricks gained every laugh as Luther Billis in Mac-Haydn's "South Pacific" and will get more as the intrepid reporter Mary Sunshine. Artistic Director John Saunders Directs, James Kinney Choreographs.
Rounding out the cast is, Wayne Shuker as Master of Ceremonies, Daniel Klingenstein as Sargeant Fogarty, Matthew Blum, Ashley DeLane Burger, Joe Boniorni, Viveca Chow, Beatrice Crosbie, Emily Louise Franklin, Amy Laviolette, Lily Lewis, Stephen Millett, Kate Suppes, and Kelsey Woods.
There are three weeks to see the all-professional production of CHICAGO, but it is recommended to order tickets early at 518-392-9292 or www.machaydntheatre.org. Performance times and prices vary, see website for details, and get ready for the "Razzle Dazzle"!
Photo Credit: Neal Kowalsky

Roxie (Caitlin Wilayto) reading her headline in the paper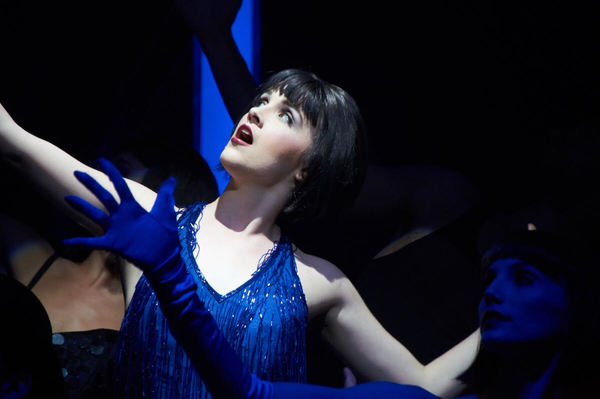 Velma (Bridget Elise Yingling) in "All That Jazz"

Roxie and her Boys in "Roxie"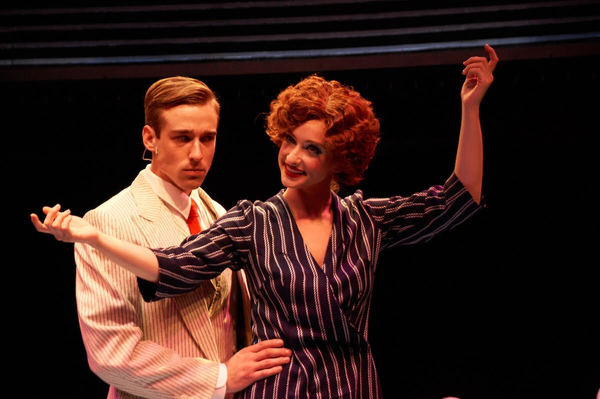 illy Flynn (Pat Moran) and Roxie in "We Both Reached for the Gun"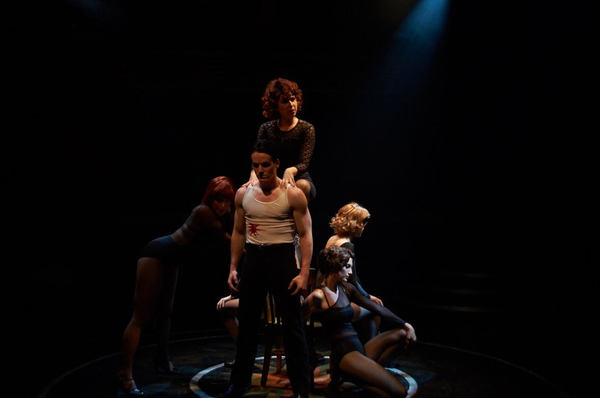 The girls of Cell Block Tango: From Left: Ashley DeLane Burger (Liz), Beatrice Crosbie (June), Conor Robert Fallon (Fred Casely), Emily Louise Franklin [Blonde] (Mona), and Amy Laviolette (Annie)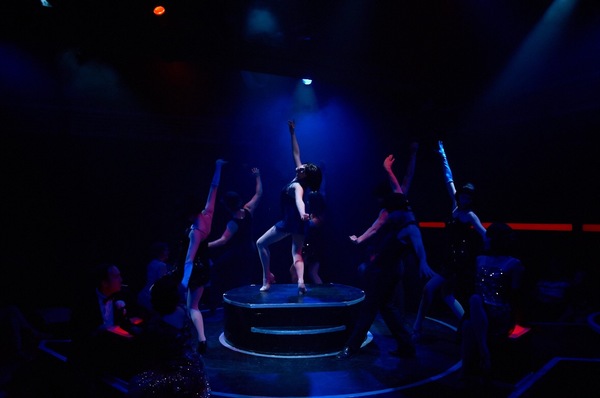 Roxie and the company in "All That Jazz"