Photo Flash: CHINGLISH Begins Tonight at Syracuse Stage
Chinglish is Tony Award-Winning playwright David Henry Hwang's hilarious new comedy about the misadventures of miscommunication. It tells the story of an American businessman, Daniel Cavanaugh, who travels to a bustling Chinese province looking to score a lucrative contract in properly translated signs. But the deal isn't the only thing lost in translation as he tangles with a government official, a bumbling consultant, and a surprisingly sexy bureaucrat along the way. Chinglish performs today, February 26-March 16 in the Archbold Theatre at the Syracuse Stage/Drama Complex. BroadwayWorld has a first look at the cast in action below!
Playwright David Henry Hwang drew inspiration for Chinglish from the common miscommunications he experienced while on business trips to China. On one trip in 2005, he visited a brand-new cultural center where everything was gorgeous - except for the badly translated, "Chinglish"-y signs. "For instance, the designation on the handicapped restrooms that read, 'Deformed Man's Toilet.' I started to think about using those signs as a jumping-off point for a play about doing business in China today, one that would deal with the issue of language. I'd never seen a play deal with this."
Nearly half of Chinglish is in Mandarin Chinese that is translated with over 750 surtitle slides, letting audience members in on humor that stems from miscommunication between the plays' characters. Almost all of the actors in Chinglish are required to speak fluent Mandarin Chinese. Three translators and a cultural consultant assisted the cast and creative team.
Chinglish debuted on Broadway in 2011 at the Longacre Theatre after a successful run at the Goodman Theatre where it earned Hwang the coveted Jeff Award in the New York category. "Chinglish explores the different levels on which people and cultures misunderstand each other," Hwang says. "The most superficial of these is language. Going deeper, we encounter differing cultural assumptions and preconceptions. Beneath this, even when two people speak the same language, they often misunderstand each other, particularly in the arena of romance. In the play, two people discover they hold very different assumptions about the importance of love and the role of marriage in life."
Hwang earned a Tony Award in 1998 and was a 1989 Pulitzer Finalist for his most famous play M. Butterfly. He was also awarded a Tony nomination in 1998 and OBIE Award for Golden Child, as well as another Obie Award and was a 2008 Pulitzer Finalist for Yellow Face. Hwang'sFOB earned him another Obie Award in 1981, and The Dance and the Railroad won a Drama Desk nomination in 1982.
May Adrales, director of Chinglish at Syracuse Stage, recently directed Hwang's The Dance and the Railroad at NYC's Signature Theatre Company followed by a run at the Wuzhen International Theatre Festival in China.
The Syracuse Stage cast features Tina Chillip (Xi Yan), Lily Tung Crystal (Hotel Manager/Prosecutor Li/ Tea Server/Bartender), Jeff Locker(Peter Timms), Rachel Lu (Miss Qian/Zhao), Peter O'Connor (David Cavanaugh), Yuekun Wu (Bing/Judge Xu Geming), and Jian Xin (Cai Guoliang). Designers of the production are Timothy Mackabee (Scenic and Projection Designer), Jeff Cone (Costume Designer), Seth Reiser(Lighting Designer), Casi Pacillio (Sound Designer). Additional credits include Jana Crenshaw (Composer) and Jane Chen (Cultural Consultant). The Stage Manager is Laura Jane Collins. The Director is May Adrales.
Tickets can be purchased online at www.SyracuseStage.org, by phone at 315-443-3275, or in person at the Syracuse Stage Box Office at 820 East Genesee Street. Discounts are available for groups of 10 or more at 315-443-9844.
Photo Credit: Patrick Weishampel

Peter O'Connor (Daniel Cavanaugh, the American businessman), Tina Chilip (Xi Yan, the Vice Minister of Culture), Jeff Locker (Peter Timms, an Englishman acting as a consultant in China), Rachel Lu (Miss Qian, the interpreter), Jian Xin (Cai Guoliang, the Minister of Culture)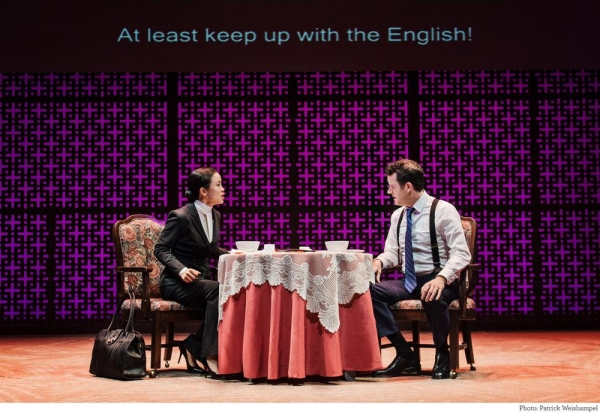 Peter O'Connor (Daniel Cavanaugh, the American businessman) and Tina Chilip (Xi Yan, the Vice Minister of Culture)

Peter O'Connor (Daniel Cavanaugh, the American businessman) and Tina Chilip (Xi Yan, the Vice Minister of Culture)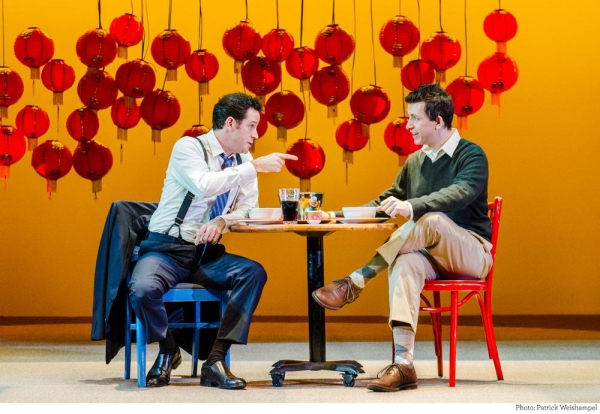 Peter O'Connor (Daniel Cavanaugh, the American businessman) and Jeff Locker (Peter Timms, an Englishman acting as a consultant in China)