Bridge Street Theatre Opens Its 2018 Season With FRANKIE AND JOHNNY IN THE CLAIR DE LUNE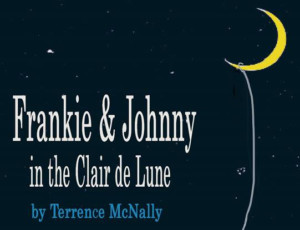 What begins as a one-night-stand turns into a tug of war between a short-order cook who sees a lifetime of love and adventure ahead and a waitress who's been burned too many times in the past and is terrified of being hurt again in Terrence McNally's contemporary American classic "Frankie & Johnny in the Clair de Lune", being presented by Catskill's Bridge Street Theatre for eight performances only, Thursdays through Sundays March 29-April 8, 2017.
A clear-eyed love story about two ordinary people, "Frankie & Johnny" is arguably the finest romantic comedy of the latter half of the 20th Century. It premiered at the Manhattan Theatre Club in 1987 with Kathy Bates and F. Murray Abraham in the title roles, was adapted into a 1991 film starring Michelle Pfeiffer and Al Pacino, and was revived on Broadway in 2002 with Edie Falco and Stanley Tucci, where it earned two Tony Award nominations.
Appearing in this Bridge Street Theatre production are Broadway's Rita Rehn as Frankie and Catskill's own Steven Patterson. The production is directed by Sara Lampert Hoover (in her Bridge Street Theatre debut) and designed by John Sowle. "Frankie & Johnny in the Clair de Lune" contains adult themes, nudity, and strong language and is recommended for audiences age 16 and over. It also contains a soundtrack of some of the most beautiful music ever written, playing in the background on a bedside radio.
"Frankie & Johnny in the Clair de Lune" will be presented Thursdays-Saturdays at 7:30pm and Sundays at 2:00pm, from March 29-April 8 on the Bridge Street Theatre Mainstage, located at 44 West Bridge Street in the Village of Catskill, NY. The Thursday March 29 preview and the Easter Sunday April 1 matinee are both "Pay-What-You-Will" performances. Advance tickets are available for $22 at BrownPaperTickets.com or by calling 800-838-3006. Tickets can also be purchased at the door prior to each performance (on a space available basis) for $25. Students age 21 and under are always $10. For more information, visit the theatre online at BridgeSt.org.
Events and performances in Bridge Street Theatre's 2018 Season are made possible in part by the New York State Council on the Arts with the support of Governor Andrew M. Cuomo and the New York State Legislature and by Public Funds from the Greene County Legislature through the Greene County Cultural Fund, administered in Greene County by the Greene County Council on the Arts.
*Member of Actors' Equity Association, the union for professional actors and stage managers in the United States.
Performance Calendar:
Bridge Street Theatre presents
FRANKIE & JOHNNY IN THE CLAIR DE LUNE
by Terrence McNally
with Rita Rehn and Steven Patterson
Directed by Sara Lampert Hoover
Designed by John Sowle

March 29 - April 8, 2018
Bridge Street Theatre Mainstage
44 West Bridge Street, Catskill, NY
Thursday March 29 @ 7:30pm ("Pay What You Will" preview)
Friday March 30 @ 7:30pm (Opening Night)
Saturday March 31 @ 7:30pm
Sunday April 1 @ 2:00pm ("Pay What You Will" performance)
Thursday April 5 @ 7:30pm
Friday April 6 @ 7:30pm
Saturday April 7 @ 7:30pm
Sunday April 8 @ 2:00pm (Closing Performance)
Tickets:
Advance tickets available at http://clairdelune.brownpapertickets.com or by calling 800-838-3006
General Admission $22, $10 for students age 21 and under
Tickets can also be purchased at the door prior to each performance (on a space available basis) for $25, $10 for students age 21 and under.
Rita Rehn (Frankie) makes her Bridge Street Theatre Debut in FRANKIE & JOHNNY IN THE CLAIR DE LUNE. She was in the Broadway companies of the Tony Award-winning musical NINE, A CHORUS LINE, and THE ROYAL FAMILY (with Rosemary Harris), Off-Broadway in Marsha Norman's LAST DANCE (with Jo Beth Williams), John Patrick Shanley's DEFIANCE (with Stephen Lang), and Charles Busch's OUR LEADING LADY. She also toured the country with Valerie Harper in Busch's TALE OF THE ALLERGIST'S WIFE. On film, Rita has been featured in THE PRODUCERS (with Nathan Lane), POCKET PAIR, EXTRAS, and on the HBO Shows THE JINX and SHOW ME A HERO. Television appearances include LAW & ORDER, CHICAGO FIRE, MIAMI VICE, MOON OVER MIAMI, B.L. STRYKER, TOUGH COOKIES, GENERAL HOSPITAL, SUPERBOY, and BLACK JACK SAVAGE.
Steven Patterson (Johnny) is Associate Director of Bridge Street Theatre. He has performed both Off- and Off-Off-Broadway in NYC, and regionally with such theaters as Kaliyuga Arts (which he founded with his husband, John Sowle, in 1986), South Coast Repertory, Capital Repertory, TheatreWorks, Lexington Conservatory Theatre, Chenango River Theatre, Centenary Stage Company, Contemporary Opera Marin, and the Oregon, Orlando, Colorado, Pennsylvania, Tennessee, Utah, Lake Tahoe, and Richmond Shakespeare Festivals. A few of his most memorable roles have been Lear in KING LEAR, Prospero in THE TEMPEST, Michael Williams in HENRY V, Austin Wiggin in THE SHAGGS: PHILOSOPHY OF THE WORLD, Jake Sturdy in KILL ME NOW, David in POOR SUPER MAN, Judi Boswell in HOW TO PRAY, The Storyteller in THE EPIC OF GILGAMESH, The Creature in FRANKENSTEIN: THE MODERN PROMETHEUS, and Jean in BEAUTY, a one-man show inspired by the life and works of Jean Genet which he created, performed, and toured with internationally for four years. He currently resides in Catskill, NY.
The Production Team:
Terrence McNally (Playwright) received Tony Awards for "Best Play" for LOVE! VALOUR! COMPASSION! and MASTER CLASS. In addition, LOVE! VALOUR! COMPASSION! was awarded the Drama Desk, Outer Critics Circle Award, and the New York Drama Critic' Circle Award for "Best Play". His other plays include CORPUS CHRISTI (which was named one of the best plays of 1998 by Time Magazine); THE LISBON TRAVIATA; MOTHERS AND SONS; A PERFECT GANESH (finalist for the Pulitzer Prize); LIPS TOGETHER, TEETH APART; THE RITZ; and IT'S ONLY A PLAY. He has also written the books for numerous musicals including RAGTIME; THE FULL MONTY; and KISS OF THE SPIDER WOMAN and opera librettos including DEAD MAN WALKING, his adaptation of Sister Helen Prejean's book, with a score by Jake Heggie. He has written a number of television scripts, including ANDRE'S MOTHER, for which he won an Emmy Award. McNally has received two Guggenheim Fellowships, a Rockefeller grant, a Lucille Lortell Award, and a citation from the American Academy of Arts and Letters. A member of the Dramatists Guild since 1970, and recipient of their Lifetime Achievement Award, Mr. McNally was raised in Corpus Christi, Texas, and makes his home in New York City.
Sara Lampert Hoover (Director). Recent credits include BRIGHT HALF LIFE; THROW PITCHFORK; PRECIOPUS NONSENSE; PETER AND THE STARCATCHER; and DANCING LESSONS, all for Kitchen Theatre Company in Ithaca where she has also directed BLACK PEARL SINGS! (also at Geva Theatre); NEAT; THE TRICKY PART; I BECOME A GUITAR; SOUVENIR; THE CLEAN HOUSE; TONY AND THE SOPRANO; YELLOWMAN; THE SYRINGA TREE; A SERVANT OF TWO MASTERS; CRUMBS FROM THE TABLE OF JOY; PRETTY FIRE; and MOLLY SWEENEY. For the Vermont Stage Company, she directed THREE DAYS OF RAIN; DOUBT; and I AM MY OWN WIFE. Other credits include FALSETTOS; SWEENEY TODD; PROOF; 4 BY BECKETT; MERTON OF THE MOVIES; SIDE MAN; THE INSECT COMEDY; THE FOREIGNER; AND THE GNADIGES FRAULEIN. Assistant Directing credits include SIGHT UNSEEN (Manhattan Theatre Club, Daniel Sullivan, Director) and THE DYBBUK (Syracuse Stage, Barbara Damashek, Director). Sara is a member of the Stage Directors and Choreographers Society (SDC) and she and her husband Bruce are recent transplants to Catskill.
JOHN SOWLE (Designer) is Artistic and Managing Director of Bridge Street Theatre. He founded Kaliyuga Arts in 1986 with his partner Steven Patterson and has received multiple awards for his directing and design work on their Los Angeles, San Francisco and New York productions. He has directed and designed BST's productions of REDWOOD CURTAIN, HOW TO PRAY, THE OFFICIAL ADVENTURES OF KIERON AND JADE, FRANKENSTEIN: THE MODERN PROMETHEUS, HOLIDAY MEMORIES, THE EPIC OF GILGAMESH, THE KILLING & THE LOVE DEATH (late plays of William Inge), and GRINDER'S STAND by Oakley Hall III, and designed their productions of THE TAVERN and THE EFFECT OF GAMMA RAYS ON MAN-IN-THE-MOON MARIGOLDS. John has an undergraduate degree in mathematics from M.I.T and a PhD in Dramatic Art from UC Berkeley.
Related Articles View More Central New York

Stories

Shows
More Hot Stories For You