The Love Show Presents Gl'AMOUR! at House of Yes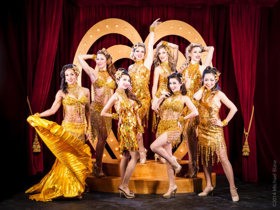 House of Yes & The Love Show present Gl'Amour!, an evening of opulence, feathers, rhinestones, romance, champagne, showgirls and showboys! Let them transport you through song, dance, circus, and more to a land where the brash brilliance of Vegas meets hot Havana nights and the Parisian underground in our one-night-only spectacular! Prepare to be swept away by a dozen dazzling dancers and an array of amazing artists in this original, fully-choreographed floorshow in three acts!
Featuring:
Dance by The Love Show!
(www.theloveshownyc.com)
Song by Corn Mo!
(www.cornmo.com)
Fire performance by Evgeniya Radilova!
(www.evgeniyaradilova.com)
Aerial performance by Raven!
(www.kindnessofravens.com)
Hosted by David F. Slone, Esq.!
(www.davidslone.com)
Plus, special guests!
Wear your fancy pants... and vive la France!
21+ | No re-entry
Behave with beauty, connect with intention.
We are obsessed with CONSENT.
Always ASK before touching anyone in our House.
Anyone who cannot follow this simple rule will be escorted to the sidewalk.
Community and Accessibility
This is a space for everyone to feel welcome and loved. Racism, sexism, ableism, homophobia, transphobia, xenophobia will not be tolerated at our House. All entrances and spaces within the venue are single-level and handicap accessible. There are stairs leading to the upper portions of the stage, for those who wish to dance in the spotlight. Gender neutral bathrooms are easily located throughout the venue.
Tuesday, October 10, 2017
Doors: 7pm
Show: 8pm
General Admission: $20
VIP: $90 (VIP includes one bottle of sparkling wine + a reserved table for drink service)
Tickets available at:
https://giamour.eventbrite.com
House of Yes
2 Wyckoff Avenue (corner of Jefferson St.)
Brooklyn, NY 11237
L to Jefferson St.
www.houseofyes.org
The Love Show
The Love Show is a theatrical dance company based in Brooklyn that combines cabaret, ballet, rock, comedy, and theater into creative performances all over the US and beyond. The Love Show has entertained all audiences, rocking stages from Lebowskifest to The Public's Shakespeare in The Park. The Love Show was commissioned to perform original choreography for clients including Banksy, Veuve Clicquot, Bacardi, and Vogue Magazine. An active presence on
The New York
art scene, The Love Show was also awarded a week-long residency with Chashama, and recently closed the seventh season of their very popular holiday show, "Nutcracker: Rated R", which they also performed in Tokyo. The Love Show also has three other full-length productions, "Dance Mayhem: A Grindhouse Ballet", "SEVERED: The Tragic Loves of Frankenstein's Monster"
Evgeniya Radilova
The Love Show
The Love Show
(premiered to a sold-out house at Highline Ballroom), and "Boomstick Ballet: A Rock Opera tribute to Bruce Campbell" (set to reopen October 2016). The Love Show has been featured in The Wall Street Journal, The New York Post, and TONY, and The New York Times sent a reporter to exclusively follow the troupe's exploits on Bastille Day. The Love Show recently performed on a resort in Egypt for a live and electronic music festival, premiered a cameo piece commissioned by The Public Theater in their run of "Twelfth Night" at the Delacorte Theater in Central Park, and danced in the Macy's Thanksgiving Day Parade.
www.theloveshownyc.com
Evgeniya Radilova I am a NYC based actress, born in Bulgaria. After making a name for myself there working as a co-MC in one of the most popular TV Shows airing every night on TV, I came to America to explore more. My Type/Branding: Ethnically ambiguous, international, mysterious, sexy, refined, spy, operative, diplomat, business woman. In NY, I graduated from The American Academy of Dramatic Arts with honors. Since then, I have appeared Off-Broadway, became a SAG-AFTRA member, Equity member, and a lifetime member of
The Actors Studio
, where I performed next to
Ellen Burstyn
in The Cherry Orchard directed by
John Gould
Rubin. I have appeared in 5 prime time TV shows including Law & Order: SVU, Limitless, Elementary, and Sex&Drugs&Rock&Roll, and in multiple feature and short length films. www.evgeniyaradilova.com Raven Aerial & Dance Duo Kyla Ernst-Alper & Sylvana Tapia www.kindnessofravens.com
Corn Mo
Jonathan Cunningham (
Corn Mo
) has toured America, Australia, New Zealand and Europe supporting the Bindlestiff Family Cirkus, Wheatus, The Pontani Sisters,
Nick Offerman
,
Ben Folds
, They Might Be Giants and the Polyphonic Spree. He is Disco Mountain Man in a Bee Gees Metal Tribute called Tragedy. In the studio, he shared vocals with
Ben Folds
on Folds' cover of "Get Your Hands Off My Woman" for the Supersunnyspeedygraphic EP, joined the choir for the Polyphonic Spree's Together We're Heavy and played accordion on TMBG's "Particle Mo". He has written 7 albums for
Corn Mo
and his band .357 Lover, the latest being The Purchase of the North Pole. He co-wrote a musical about Grizzly Adams with
Nick Jones
for The Huntington Theatre in Boston, MA. He co-wrote "The Rainbow Song" with
Nick Offerman
of Parks and Rec for his American Ham show. He co-produced a ballet called SEVERED: The Tragic Loves of Frankenstein's Monster with The Love Show featuring the music from his album The Purchase of the North Pole. He's is currently working on the next albums. www.cornmo.com
David F. Slone
, Esq. Born on the day that D
R. Martin
Luther King, Jr. was assassinated,
David F. Slone
, Esq. was born to save the world - a destiny from which he has been running his entire life. Raised on the Upper East Side of Manhattan, his was a life of relative ease an privilege. Mixing from an early age with debutantes and drag queens, he was exposed to all that life had to offer. He was quick to channel these life experiences into the arts. He debuted on the
New York Theater
scene in the early seventies in the title role of an all but forgotten musical, Off-White. However, shortly thereafter, he disappeared from the professional stage for nearly two decades. While historians disagree as to the exact details, it seems that David spent the era from the mid-seventies to the mid-nineties focussing on his formal education. By the time he returned to
The New York
stage, he had earned Ivy League degrees in both philosophy and law. It has been theorized that he pursued the latter degree simply so that he might add the honorific of Esq. to his name. This theory is lent some credit by another example of his strange vanity: Some years ago, realizing that he would never be a rocket scientist or a brain surgeon, David became a member of Mensa, strictly for bragging rights. However, despite strong academic scholarship suggesting that non-Hassidic Williamsburg was overwhelmingly clean-shaven before his arrival one-decade ago, he refuses to accept credit for having introduced the beard to the hipster community of Brooklyn. Upon his return to the city, he returned to the stage, working with such underground luminaries as Jonathan Ames,
Julie Atlas Muz
, Tom Murrin, and
David Levine
. Along with his mother, performer and lyricist
Bobbie Horowitz
, David founded, ran and taught for The Times Square Group, bringing arts education to underserved populations in the NYC school system. His edgy, remixed arrangements of standards and show tunes have been commissioned by the likes of notorious gender illusionist, Lady
Clover Honey
. He produces and emcees
Angela Harriell
's The Love Show and their alternative holiday perennial, Nutcracker: Rated R, traveling the country and touring Japan. As a singer, actor, and variety performer, David has shared the stage with such stars of cabaret, circus, film, radio, and Broadway as F.
Murray Abraham
,
Sarah Rice
, Big Daddy Kane, Slick Rick,
Rob Base
,
Phoebe Legere
,
Constantine Maroulis
,
Tammy Grimes
,
Michael Musto
, and
R
Andy Jones
.
More Hot Stories For You