Suzanna Ross Brings Bewitching Love Songs to Don't Tell Mama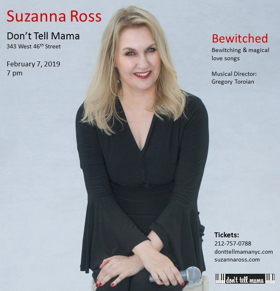 Suzanna Ross will be singing in her new show - Bewitched - at Don't Tell Mama on February 7, 2019. The show highlights a collection of bewitching and romantic songs from around the world, including American, French, and British songbooks. There are favorites as well as a few surprises. The line-up spans jazz, pop, French chansons, bossa nova, movie songs, and a country tune. From the song lists of Peggy Lee, Doris Day, Charles Aznavour, 1960s pop, Jobim, Marlene Dietrich, Patsy Cline, and more. Suzanna's singing has been described in reviews as "convincing to the ears," "passionate," "well-paced," and "magical."
Gregory Toroian is the musical director and pianist for the show, which glides easily from genre to genre. Skip Ward is on bass and David Silliman on drums. The top tier musical trio was with Suzanna at her recent show at the Triad Theater. Suzanna has performed in New York City at the Metropolitan Room, Pangea, Triad Theater, and in New Jersey at the famed jazz club, Trumpets.
Ticket reservations at Don't Tell Mama online www.donttellmamanyc.com or by phone 212-757-0788. Or via www.suzannaross.com