Review: Savion Glover and Leonardo Suarez Paz Bring a Fiery Collaboration of Tango & Tap to Feinstein's/54 Below
Tap dancer Savion Glover (BRING IN 'DA NOISE, BRING IN 'DA FUNK; SHUFFLE ALONG) and tanguero Leonardo Suárez Paz (FOREVER TANGO; TANGO ARGENTINO) mixed tap dance and tango music at Feinstein's/54 Below on February 15. Suárez Paz was accompanied by his Cuartetango string quartet, as Glover provided the percussion, improvising varied rhythms on a raised platform. The result was a fascinating collaboration called TANGO, TAP, AND FIRE.
Suárez Paz has been called a "virtuoso" violinist himself by none other than Wynton Marsalis. He has been a soloist at Carnegie Hall and on Broadway, as well as with orchestras around the world, and he founded Cuartetango in 1997, a nuevo tango group that fuses tango and American sounds. The group's 2012 album MASTERS OF BANDONEON was nominated for two Grammy Awards.
Even though Suárez Paz has collaborated with tap dancer Omar Edwards in the past, we certainly aren't accustomed to the combination of tap and tango music, making it a bit jarring at first. But in the hands (and feet) of such skilled artists, the effect soon became seamless.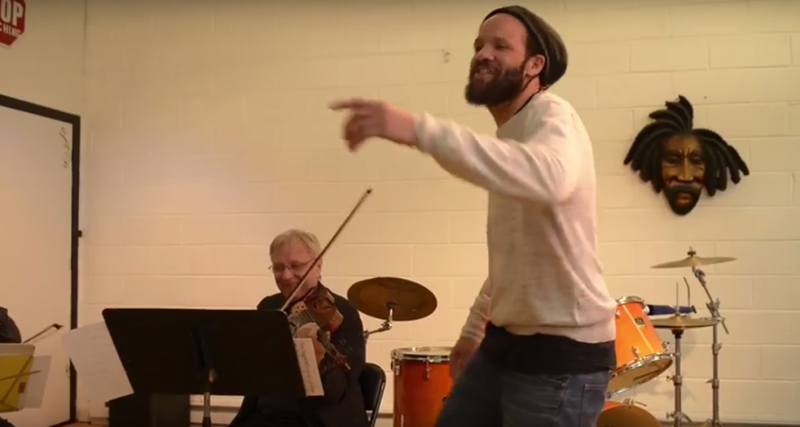 I have seen Glover perform many times, but I don't believe I have ever seen more virtuosic dancing than he showed us at 54 Below. As a tap dancer myself, what has always impressed me the most about him is the sheer speed of his taps. He may be the fastest tap dancer who has ever lived. Glover is to the hoofer what Picasso is to the painter or what Pavarotti is to the opera singer.
And when he taps, he works hard. Often dancing with a sweat rag in his hand, sweat dripped from his beard, and his black shirt soon looked as though someone had dumped a bucket of water on him.
But Glover is a rhythm tapper, not a showman in the traditional Broadway and Hollywood style. Half the time, he dances with his eyes closed but with a big smile on his face. The musicians, meanwhile, were mostly fixed on Glover, often watching him with equally big smiles on their faces.
Cuartetango's musicians---Hector Omar Falcon on violin, Ron Lawrence on viola, Danny Miller on cello, along with Suárez Paz on violin---were accompanied by Rodolfo Zanetti on bandoneon, a type of concertina that is such a dynamic component of tango music. They played with enormous passion, performing three pieces by Suárez Paz's mentor, Astor Piazzolla, and arranged for the quartet by Suárez Paz: "La Muerte Del Angel," "Escualo," and "Vampitango."
In addition to playing the violin at 54 Below, Suárez Paz sang the beautiful ballad, "El Dia Que Me Quieras" and was joined by his wife, Olga Suárez Paz, in a short tango dance demonstration. Paz's singing voice is gorgeous, so his song was a special treat that brought loud cheers from the audience. Olga joined him again for more tango dance to "Vampitango."
It was an unusual evening at 54 Below, which scarcely has the space for any kind of dance and usually focuses on Broadway singers. But both Glover and Suárez Paz have their links to Broadway, making the evening a welcome departure from the customary fare at the venue.
---
Melanie Votaw is a full-time freelance writer who has written 28 books. She covers travel, as well as theater, dance, and cabaret for Broadway World. Follow her on Twitter @melanievotaw.
---
Join Team BroadwayWorld
Are you an avid Cabaret fan in NYC? We're looking for people like you to share your thoughts and insights with our readers. Team BroadwayWorld members get access to shows to review, conduct interviews with artists, and the opportunity to meet and network with fellow theatre lovers and arts workers.
Interested? Learn more here.
---
Related Stories