SIMPLY BARBRA! Returns To The RRazz Room New Hope To Celebrate 50 Years Of Funny Girl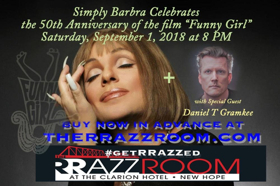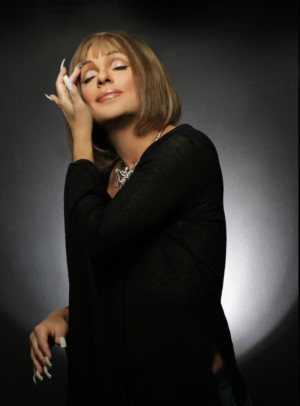 This Summer/Fall 2018, the talent appearing at New Hope's RRazz Room at The Clarion is a diverse mix of world class artists. There is something for all entertainment tastes at the intimate and comfortable Rrazz Room New Hope, located within the Clarion Inn & Suites.
Since opening the Rrazz Room space in New Hope in November of 2013, the venue has presented legendary artists who have brought patrons to their feet nightly. The impressive list of performers who have graced The RRazz Room stage to date include Dick Gregory, Vic Bibitetto, The Kinsey Sicks, Karen Akers, Andrea Marcovicci, Christine Andreas, Maureen McGovern, Karen Mason, Adam Pascal, Mx Justin Vivian Bond, Donna McKechnie, Lee Roy Reams, Andrea McArdle, Kathy Sledge, Deana Martin, Lainie Kazan, Pam Ann, Tom Wopat, Lisa Lampanelli, Leslie Jordan, Well-Strung, Tony DeSare, Linda Lavin, Suede, Joey Arias, The Amazing Kreskin, Michele Lee, Charles Busch, Rhonda Ross, Sarah Dash, Rex Smith, Linda Purl, Bobby Rydell, Varla Jean Merman, Clint Holmes, Beth Leavel, Judy Gold, Ty Herndon, Chely Wright, The Skivvies, The Trammps, France Joli, Lime, Constantine Maroulis, Carson Kressley & Kristine W and countless others.

FOR TICKETS and INFORMATION:www.TheRRazzRoom.com or 888-596-1027
Saturday, September 1, 2018, 2018 at 8pm
$30 General Admission / $40 Ltd VIP SINGER-ACTOR-IMPRESSIONIST-WRITER Steven Brinberg is SIMPLY BARBRA....all live singing..... SIMPLY BARBRA!Steven Brinberg Celeberates50 Years Of Funny Girl

SIMPLY BARBRA---Steven Brinberg returns to The RRazz Room New Hope with the latest edition of SIMPLY BARBRA his acclaimed all-LIVE homage to the legendary Barbra Streisand which he has performed all over the world. This show celebrates the 50th anniversary of the release of the film FUNNY GIRL which premiered on Sept. 19, 1968. In addition to songs from FUNNY GIRL by Jule Styne and Bob Merrill, expect other Streisand hits and surprises.
Steven Brinberg writes and stars as Simply Barbra which is updated annually as he travels the globe with the show. This year he appears with Marvin Hamlisch and the Symphony Orchestras of Dallas, Milwaukee, Buffalo and Norfolk. Prior appearances with Mr. Hamlisch include one with Barbara Cook and the National Symphony Orchestra at the Kennedy Center and another at Heinz Hall in Pittsburgh. He recently narrated the New York City Gay Men's Chorus concert at Avery Fisher Hall, written especially for him by Terrence McNally. That program was also seen in Seattle.
Mr. Brinberg has performed at Stephen Sondheim's birthday concert at the Library of Congress; at Carnegie Hall with Uptown Express; and on Broadway in the concert version of Funny Girl with Whoopi Goldberg.
Simply Barbra has twice toured Australia, New Zealand, and England, last year ending in a West End run at the Arts and Playhouse Theatres. The show has also played Singapore; Hong Kong; Sag Harbor (Bay Street Theatre); Philadelphia (Walnut Street Theatre), San Francisco (The Rrazz Room, The Empire Plush Room,New Conservatory Theatre), Los Angeles (Cinegrill); Sun Valley (Bruce Willis' Liberty Theatre), Atlantic City (Taj Mahal), Windsor, Ontario (Windsor Casino); Provincetown (Town Hall); Miami Beach (Colony Theatre): Houston (Theater Lab Houston); Albany (Empire Center); Arlington (Signature Theater); St. Louis (Sheldon Concert Hall); Chicago (Davenport's); and 3 sold out turns at The Mohegan Sun Casino.
His film credits include Camp, Boys Life, and Next Year in Jerusalem. Mr. Brinberg's television appearances include The Rosie 0'Donnell Show, Sally Jessy Raphael, Jerry Springer, Bert Newton, Kerri Anne (Australia), Fox News Channel and MTV's Celebrity Death Match as the voice of David Spade. He appeared in two workshops of Ken Page's musical, Nightlife, at Manhattan Theatre Club and Westbeth Theatre Centre, and in Ivanov at the Jewish Rep.
A two time Mac and Bistro award winner, Mr. Brinberg's CD Simply Barbra Live in London is available on Jay Records. Coming soon is a CD of duets featuring Kaye Ballard, Mimi Hines, DebbieGravitte, Karen Mason, and many others.
For this September 1st appearance, Simply Barbra will be joined by special guest performer Daniel T Gramkee -- also known as a photographic artist and BWW Contributor.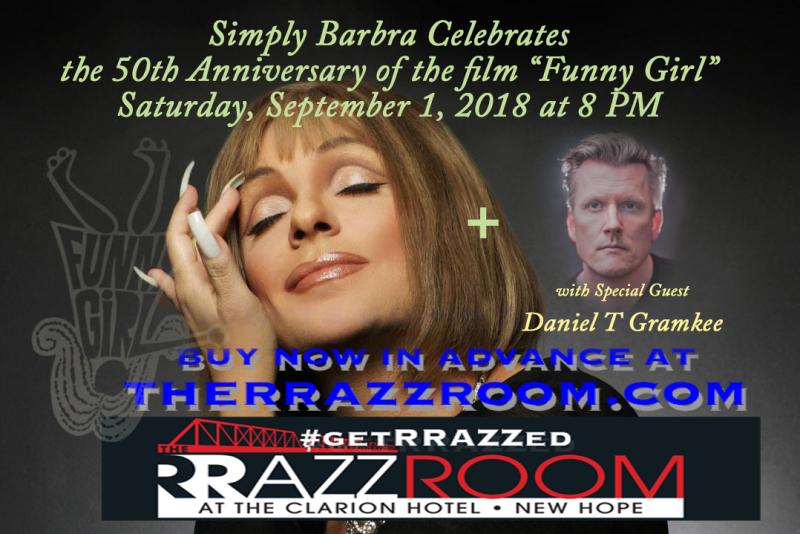 The RRazz Room presents performances by local and national artists from a wide variety of musical and theatrical genres including Broadway, pop, opera, gospel, drag, comedy, rhythm & blues, and jazz. Additional performances are announced regularly. The Rrazz Room brand is respected across the country with venues in New Hope, Philadelphia, San Francisco, Boca Raton and South Miami. The RRazz Room at The Clarion Inn & Suites is located at 6426 Lower York Road, New Hope, PA. 18938.