Our Table: A New Musical, Broadway Is 850 Strong, Max Sheldon, And More Come to Feinstein's/54 Below This Week
Next week, FEINSTEIN'S/54 BELOW, Broadway's Supper Club & Private Event Destination, presents some of the brightest stars from Broadway, cabaret, jazz, and beyond. To purchase tickets or for more information, visit www.54Below.com/Feinsteins or call (646) 476-3551.
Lindsay Mendez, JANUARY 22-26 AT 7:00PM
Newly minted Tony Award winner Lindsay Mendez, recent star of the Broadway revival of Carousel, brings an encore engagement of her solo cabaret show to the Feinstein's/54 Below stage. Known for her tremendous, roof-raising voice and searing stage energy, Lindsay will share golden age Broadway favorites you've never heard her sing, beloved tunes rom her collaborations with current musical theatre writers, and more!
The gifted singer and actress won the 2018 Tony, Drama Desk, and Outer Critics Circle awards for her performance as Carrie Pipperidge in Rodgers and Hammerstein's Carousel. Lindsay has appeared in numerous Broadway shows including Significant Other, Wicked, Godspell, Everyday Rapture, and Grease. Lindsay is celebrated for her star turn in Pasek & Paul's Dogfight, which premiered at Second Stage Theater in 2012, where she earned Drama Desk, Outer Critics Circle, and Drama League Awards nominations. Join Lindsay in another unforgettable evening of stories and songs as she is welcomed back to the Feinstein's/54 Below stage.
$60-80 cover charge. $115-130 premium seating. $25 food & beverage minimum.
OUR TABLE: A NEW MUSICAL BY David Shire AND Adam Gopnik, STARRING Melissa Errico, JANUARY 21 AT 7:00PM
From The New Yorker writer Adam Gopnik and Academy Award winner David Shire comes a charming new musical about a tiny family restaurant that is in dire need of success.
When chef's chef David Kaplan realizes that his intimate New York restaurant is being trampled by flashier eateries, he will need a way of luring customers back to his establishment. Enter hotshot celebrity chef Sergio, an old friend, rival, and possible savior who offers David a chance to give his restaurant a makeover, but will David sacrifice his pride, and wife, to save his beloved little restaurant?
The concert will star Tony nominee Melissa Errico (My Fair Lady, On a Clear Day You Can See Forever) and be directed by Tony Award winner Richard Maltby, Jr.
Also featuring: Tyler Jones (The Book of Mormon), Constantine Maroulis (Rock of Ages), Juliette McEnroe, Mark Nelson (Angels in America, Picasso at the Lapin Agile), Analise Scarpaci (Matilda), and Andy Taylor (Once).
Musical Direction by Deniz Cordell
Produced by Robert W. Schneider
$50-60 cover charge. $90 premium seating. $25 food & beverage minimum.
BROADWAY IS 850 STRONG: A BENEFIT FOR THE VICTIMS OF HURRICANE MICHAEL, JANUARY 21 AT 9:30
Broadway is 850 Strong is a benefit concert created to raise funds and aid for the victims of Hurricane Michael in the panhandle of Florida. Hurricane Michael was a nearly Category 5 hurricane that devastated residents of Florida on October 10, 2018. Many residents are still without power, shelter, food, and necessary supplies. Panama City, Florida resident, Caitlin McNeilage, has gathered a roster of Broadway's best and brightest to sing in support of this cause that is so close to her heart. A portion of the proceeds from this event will go directly to the "Bay Education Foundation" to help rebuild schools, teachers' homes, and make sure that children who lost everything are taken care of. Join us for an evening of community, hope, and art as Broadway proves that they are #850Strong.
Featuring: Ben Bogen (Frozen, Jersey Boys), Catherine Charlebois (Wicked), Ali Ewoldt (The Phantom of the Opera, The King and I), Devon Hadsell (Mean Girls), Rodney Ingram (The Phantom of the Opera, Aladdin), Courtney Iventosch (Wicked, Something Rotten!), Lexi Lawson (Hamilton, Rent), Melanie Moore (Hello Dolly!, Fiddler on the Roof), Andrew Pirozzi (Frozen, Hairspray Live!), Hannah Shankman (Wicked, Les Miserables), Nicholas Ward (Frozen, On the Town).
Musical Direction by Benjamin Rauhala.
$25-$35 cover charge. $60 premium seating. $25 food & beverage minimum.
Max Sheldon: MORE YOU PLEASE, JANUARY 27 AT 9:30PM
"Max, your voice is so unique" -Sara Bareilles to Max in an audition once
Max Sheldon: that guy who's Instagram story you've landed on too many times, recognized briefly while binging a TV show, and definitely have confused for Zac Efron more than once, makes his New York solo show debut at Feinstein's/54 Below in Max Sheldon: More You Please.
Max will explore what it really means to be yourself and the equally scary and empowering idea that the journey of discovering who you are never ends.
The evening will feature an array of musical genres and styles that celebrate both Max's inner musical theatre geek and his pop princess loving heart. Don't miss this celebration of song, dance, jokes, vulnerability, and Max's mom weeping behind her sunglasses in the back booth!
Special Guests: Kathryn Gallagher (Spring Awakening, Jagged Little Pill, Lifetime's "YOU")
Stephanie Amoroso (Sleep No More), And more TBD
Please note that all artists and acts are subject to change at any time.
$30-$40 cover charge. $65 premium seating. $25 food & beverage minimum.
54 DOES 54: THE FEINSTEIN'S/54 BELOW STAFF SHOW, JANUARY 22 AT 9:30PM
They've served you food. They've put on your shows. They've helped you purchase tickets. They've put together your events and answered all of your emails. Now, back by popular demand, they're starring in a show for you!
Come join the staff of Feinstein's/54 Below as they put their talent on display in a variety show for the ages. Servers, managers, programmers, marketers, cooks, and more - there's a whole staff of talent waiting to be shared!
Featuring: Brooke Beatty, Michelle Cabot, Bridget Carrow, Kyle Doerr, Michael Fisher, Magdelena Holland, Jayson Kerr, Kyle Luckett, Luis Palomino, Aaron Salazar, Dana Schaaf, Brian Shaw, Josh Stackhouse, Jonmichael Tarleton, Joao Ventura, and Tyree Walker.
Hosted by: Dylan Bustamante and Kevin Ferguson
$20 cover charge. $40 premium seating. $25 food & beverage minimum.
Ethan Paulini AND FRIENDS, JANUARY 23 AT 9:30PM
After a wildly successful concert last March, Ethan Paulini returns to Feinstein's/54 Below to showcase his eclectic and wildly talented clients from his private coaching studio - #ethancoaches. Ethan's clients are represented on Broadway in such shows as Frozen, The Book of Mormon, and Beautiful, on television in "The Marvelous Mrs. Maisel," "Bull," "The Unbreakable Kimmy Schmidt," and countless feature films. Join these stars and stars to be for an evening of unforgettable music and storytelling!
Featuring: Emma Barishman, Samantha Disney, Suzanne Dressler, Liz Flemming, Gabriella Garcia, Marissa Koeller, Thaddeus Kolwicz, Kaylee MacKnight, Mary Malaney, Zachary Harris Martin (Musical Therapy, Molasses In January), Adam McDowell, Rachel Mulcahy, Kurt Perry (By Moonlight), Kevin Quill, Madeline Grace Smith, Grace Winchester (Hamlet), Katherine Yacko
Music Direction by Nissa Kahle
$30-$40 cover charge. $65 premium seating. $25 food & beverage minimum.
BACK TO BEFORE: FORMER BROADWAY KIDS RETURN TO THE STAGE!, JANUARY 24 AT 9:30PM
Third edition by popular demand! Ever wonder what happened to your favorite millennial Broadway child star? They're now old enough to play their "parents"! Come hear these former child actors sing songs from the shows they were in and hear untold stories about what it's like balancing school, homework, and just being a regular kid with regular kid problems.
Featuring: Dara Paige Bloomfield (Ragtime), Barry Cavanagh (Peter Pan, A Christmas Carol), Bret Fox (The Full Monty), Joanna Howard (Les Misérables, A Christmas Carol), Tavia Jefferson (A Christmas Carol), Emily Klein (Parade, The Sound of Music), Cassidy Ladden (Annie, Annie Get Your Gun), Kara Oates (Mary Poppins), Joanna Pacitti (Annie), Rachel Resheff (Mary Poppins, Billy Elliot, Shrek the Musical, The People in the Picture, Fish in the Dark), Emma Rowley (Gypsy, Bye Bye Birdie), Analise Scarpaci (A Christmas Story, Matilda), Jordan Siwek (Les Misérables)
$30-$40 cover charge. $65 premium seating. $25 food & beverage minimum.
CORY ALEXANDER, JANUARY 24 AT 11:30PM
Cory Alexander is thrilled to be making his Feinstein's/54 Below debut in a fun night of song and dance, with an eclectic array of musical theater repertoire and fun pop hits.
Cory grew up in Westchester, NY, with the sounds of Broadway just around the corner, which inspired him to pursue a career in musical theater. A graduate of Syracuse University's Acting program, Cory was recently seen in a new play called Manifesto at the Robert Moss Theater. Cory tours around the country with his show, Rebel Rebel, the Many Lives of David Bowie. He has also modeled in campaigns for Yves Saint Laurent, Fiveism x Three, Mango, and will be featured in an editorial for Vogue Paris this March.
Featuring special guests including Lila Coogan (Anya in the Anastasia national tour) and more to be announced soon!
Produced by Philip Romano
Associate Produced by Dylan MacDowell
Music Direction by Ben Caplan
$20 cover charge. $40 premium seating. 2 drink or $20 food & beverage minimum.
KARINE HANNAH SINGS STREISAND AGAIN!, JANUARY 25 AT 11:30PM
Karine Hannah is a New York based recording artist who is signed to a label distributed by Universal Music. By overwhelming demand, Karine will be doing an encore performance of her take on iconic Barbra Streisand classics, including "People," "Somewhere," "Guilty," and many, many more. All through Karine's life, critics and fans have hailed her as the 70's Streisand look-alike and sound-alike. Now you can see why! A portion of the proceeds will be donated to the Manhattan Childrens Center and Autism Speaks.
Karine will be joined by special guest Tyce Green, an actor and recording artist who tours regularly and has opened for mega-hit bands: Heart, Air Supply, and Berlin. He is best known for working with legendary Grammy Award-winning songwriter Jim Steinman (Bat Out of Hell, Total Eclipse of the Heart). His debut album, HERO, is written and co-produced by Steinman. He has collaborated with Nick Pitera, Desmond Child, appeared on "American Idol" in 2018, and recently took part in Warrior, a new work written and developed by Grammy-Award winning songwriter Holly Knight ("Love is a Battlefield", "The Best").
$30-$40 cover charge. $65 premium seating. $25 food & beverage minimum.
54 SINGS BROADWAY'S GREATEST HITS!, JANUARY 26 AT 9:30PM
Previous volumes of this Scott Siegel concert event hit Feinstein's/54 Below like lightning! This was the show that every musical theater-lover had been waiting for... and now we're going to do it again, with a brand new line-up of Broadway's Greatest Hit Songs of All Time!
If you skip through cast albums just to hear the very best songs in each show, this is the nightclub concert event for you. If you love the classics of the Great White Way, come and hear the songs that made Broadway great, that made your heart soar, that you used to sing (maybe still do) in the shower! But at Feinstein's/54 Below, you will hear the greatest Broadway songs of all time performed by today's greatest stars, singing them straight up, the way you want to hear them!
And who better to produce/direct/host this show than the creator of Town Hall's critically acclaimed Broadway by the Year series, Scott Siegel, creator of more than 200 major concert events centered on Broadway music! Broadway's Greatest Hit Songs of All Time will be a thrilling night that you won't forget.
Featuring: Farah Alvin (Drama Desk Nominee, 6 Broadway Shows), Michael Winther (Drama Desk Nominee, 5 Broadway Shows), Brian Charles Rooney (The Three-Penny Opera), Maxine Linehan (International concert & recording artist), Oakley Boycott (Broadway by the Year at Town Hall), Dara Hartman (Broadway by the Year at Town Hall), Philippa Lynas (Australian musical theater star - Jan. 26th is Australia Day!), Giancarlo Pinzon (Broadway Rising Star), Sophie Rapeijko (54 Sings The Beatles).
$40-$60 cover charge. $75-$95 premium seating. $25 food & beverage minimum.
DARTMOUTH AIRES, JANUARY 26 AT 11:30PM
As part of their annual holiday tour, the Dartmouth Aires bring a night of energetic and zany acapella performances to Feinstein's/54 Below! As Dartmouth College's premier all-male acapella ensemble, the Dartmouth Aires have sung in various big-name events like NBC's "Sing Off," where they came second only to Grammy Award-winning Pentatonix. Completely student-run, the Aires hope to excite you with lively performances for all ages. Mixing popular music with holiday classics and dulcet traditional tunes, the Dartmouth Aires will warm you during a cold winter evening in New York City.
$20 cover charge. $45 premium seating. 2 drink or $20 food & beverage minimum.
MORE ABOUT FEINSTEIN'S/54 BELOW
Feinstein's/54 Below, Broadway's Supper Club & Private Event Destination, is a performance venue in the grand tradition of New York City nightlife. A few blocks from the heart of Times Square and just below the legendary Studio 54, Feinstein's/54 Below is a classically designed state-of-the art nightclub in the theatre district that hosts audiences with warmth and style. Feinstein's/54 Below presents iconic and rising stars from the worlds of Broadway and popular music and has set a new standard for culinary excellence worthy of the world-class entertainment on the stage.
In their description of the venue, The New York Times writes, "Feinstein's/54 Below has the intimacy of a large living room with unimpeded views and impeccable sound; there is not a bad seat in the house. Its sultry after-hours ambience is enhanced by brocade-patterned wall panels planted with orange-shaded lanterns. And the atmosphere is warmer and sexier than in Manhattan's other major supper clubs."
Located at 254 West 54th Street, Feinstein's/54 Below features up to three shows nightly with cover charges ranging from $15-$105. 54Below.com/Feinsteins
y
---
Join Team BroadwayWorld
Are you an avid Cabaret fan in NYC? We're looking for people like you to share your thoughts and insights with our readers. Team BroadwayWorld members get access to shows to review, conduct interviews with artists, and the opportunity to meet and network with fellow theatre lovers and arts workers.
Interested? Learn more here.
---
More Hot Stories For You
Chelsea Table + Stage Presents Valentine's Day Show SO THIS IS LOVE, A Cabaret With Mikayla Petrilla

December 6, 2022

Chelsea Table + Stage has announced tickets for its new Valentine's Day show, SO THIS IS LOVE, a Valentine's Day Cabaret With Mikayla Petrilla on February 11th, 2023 at 7pm.
---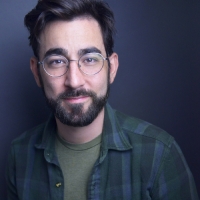 Max Crumm Joins Bebe Neuwirth, Andrew Keenan-Bolger, and More in VILLAIN: DEBLANKS

December 6, 2022

On Wednesday, December 14, funny, fabulous, fan-favorite Max Crumm (Disaster!, Grease) is joining the stellar line-up for NYC's monthly fill-in-the-blanks comedy, Villain: DeBlanks.
---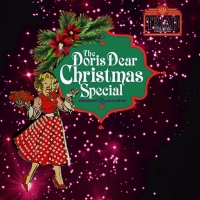 The Doris Dear 2022 Christmas Special Joins Forces with The Alzheimer's Association

December 6, 2022

Celebrating her seventh year of holiday magic, award winning artist Doris Dear, "America's Perfect Housewife", announces that the "Doris Dear 2022 Christmas Special, Christmas Through the Ages'"will be raising funds for The Alzheimer's Association.
---
INTO THE WOODS Star Katy Geraghty Joins SHITZPROBE At Asylum NYC, December 12

December 5, 2022

Katy Geraghty, who is currently in Into The Woods on Broadway as Little Red Riding Hood, is joining the cast of Shitzprobe on December 12th at 7:30pm at Asylum NYC to Improvise a Full Musical based on an audience suggestion of a title of a musical that doesn't exist!
---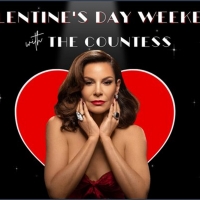 Countess Luann de Lesseps to Celebrate Valentine's Day at 54 Below

December 5, 2022

54 BELOW will welcome back "The Real Housewives of New York" star Countess Luann de Lesseps to the venue where she first got her cabaret start on February 16, 17, & 18 at 7:00pm.
---