Melissa Errico Sings Sondheim, And More Take the Stage This Week at Feinstein's/54 Below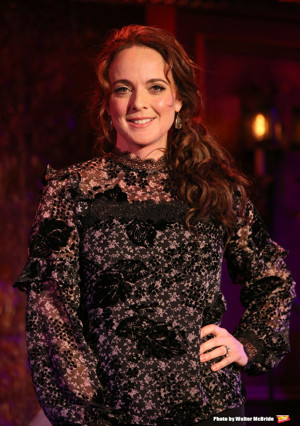 Next month, FEINSTEIN'S/54 BELOW, Broadway's Supper Club & Private Event Destination, presents some of the brightest stars from Broadway, cabaret, jazz, and beyond. To purchase tickets or for more information, visit www.54Below.com/Feinsteins or call (646) 476-3551.
Melissa Errico SINGS SONDHEIM NOVEMBER 1-3 AT 7:00PM
After multiple sold-out engagements at Feinstein's/54 Below, as well as in London and Washington, DC over the last year, Tony Award-nominated singer, actress, and writer Melissa Errico returns to Broadway's Living Room!
Bringing her gorgeous voice, and a unique and unpredictable intelligence, wit, and mischief to the music and lyrics of Stephen Sondheim, Melissa will reprise and expand this extraordinary event, subtitled "I'm Back!" Of her Sondheim concert, The New York Times has said "She sings beautifully. Her familiarity with the way the songs work to advance character and story in vivo naturally informs her in vitro style, which is actorly to begin with. An attention to the lyrics and their rush of harsh "wisdoms" was Ms. Errico's keynote. She refreshed cabaret staples, and lightly jazzed others, demonstrating how the meaning that is locked in tiny verbal gestures can be released with bold phrasing."
With classics and curios from Into the Woods, Follies, Sweeney Todd, Anyone Can Whistle, Company, A Little Night Music, and songs from shows she has starred in, this concert is one no Sondheim or Broadway fan should miss! Errico's history with Sondheim began when he selected her to star as Dot in Sunday In The Park With George at The Kennedy Center, and then she star in acclaimed New York productions as Clara in Passion and Leona in Do I Hear A Waltz?
Musical Director: Tedd Firth
Director: Robbie Rozelle
$40-$55 cover charge. $80-$85 premium seating. $25 food & beverage minimum.
54 SINGS SISTER ACT, NOVEMBER 1 AT 9:30PM
Join us at Feinstein's/54 Below for a delightful evening featuring the songs of the musical Sister Act! In an unforgettable celebration of the score by Alan Menken and Glenn Slater, experience "Raise Your Voice," The Life I Never Led," and "Spread the Love Around" like you've never heard them before!
When disco diva, Deloris Van Cartier, witnesses a murder, she is put in protective custody in the one place the cops are sure she won't be a found: a convent! Disguised as a nun, she finds herself at odds with both the rigid lifestyle and uptight Mother Superior. Using her unique disco moves and singing talent to inspire the choir, Deloris breathes new life into the church and community but, in doing so, blows her cover. Soon, the gang is giving chase, only to find them up against Deloris and the power of her newly found sisterhood.
Filled with powerful gospel music, outrageous dancing, and a truly moving story, Sister Act will leave audiences breathless! Featuring a cast with some of NYC's rising stars, this concert is produced and directed by Nicole Lippey and A Work of Heart Productions.
Featuring: Marc Anthony, Ally Hern, David Houston, Laura Laureano, Rachelle Legrand, Hayley Mason, Sarah Musicant, Cadence Owensby, Taylor Patno, Ryan Thurman, Niko Touros, David Wiens, Hannah Bonnett, Rebecca Brunelle, Samantha Disney, Gabriella Mack, Alexa Ortiz, and Juna Shai
$25-$35 cover charge. $60 premium seating. $25 food & beverage minimum.
ONCE MORE WITH FEELING: BROADWAY SLAYS BUFFY, NOVEMBER 1 & 7 AT 11:30PM
Celebrate the witchy season with the Buffy Geeks of Broadway at Feinstein/54 Below for an event that is bound to slay! Starring a cast of Broadway favorites (who are also Buffy fanatics), the evening will feature music from the cult-hit "Buffy The Vampire Slayer" musical episode, "Once More, With Feeling," written by Joss Whedon.
After coming back from the dead, Buffy and the the residents of Sunnydale find themselves bursting into song (and flame) when a demon attempts to make Dawn his bride. Will Buffy be able to save the day while singing and dancing?
This sure to be a high stakes evening you don't want to miss!
Part of the proceeds from the concert will be donated to Vera House (http://www.verahouse.org), a comprehensive domestic and sexual violence service agency providing shelter, advocacy, and counseling services for women, children & men, education and prevention programs and community coordination.
Featuring: Emily Borromeo (School of Rock), Lauren Nicole Chapman (Frozen, Kinky Boots), Kyle Matthew Hamilton (SpongeBob SquarePants), Autumn Hurlbert (Something Rotten!, Legally Blonde), Taylor Iman Jones (Head Over Heels, Groundhog Day), Denis Lambert (Doctor Zhivago, Encores! A Chorus Line), Louis Peitzman (Buzzfeed), Jenny Pinzari (Pop Filter, Fauxchella Music Festival), Nathan Richardson (Freaky Friday), Isabel Santiago (First Daughter Suite, Giant), Dennis Stowe (Aladdin, Annie), Sam Underwood ("Fear the Walking Dead," "The Following"), Darius Wright (Pretty Woman, A Bronx Tale)
Directed by Tyler Spicer
Music Directed by Drew Wutke
Produced by Shoshana Feinstein
$30-$40 cover charge. $50-$60 premium seating. 2 drink or $20 food & beverage minimum.
THE INCOMPARABLE RADIO THEATER LIVE!, NOVEMBER 2 AT 9:30PM
Join us for mystery, silliness, and original music of course, when the Incomparable Radio Theater takes the stage at Feinstein's/54 Below. When two rival musicals vie for the only open theatre space on Broadway, it will take the Fog and all his wits to solve a murder or two. With songs by David J. Loehr, the popular podcast series comes to New York with a special live edition. Whether you're a fan of the podcast, Broadway, or both, you won't want to miss the Incomparable Radio Theater's take on classic radio, musical theatre, and the coffee with the extra special secret ingredient...more coffee!
Writer and host David J. Loehr will be joined by a cast of familiar voices and new guests, including Dan Moren (Inconceivable podcast), Kevin R. Free (Welcome to Night Vale), Jennifer Kennedy, Ben Cameron (Broadway Sessions series), and more!
Musical direction by Andrei Strizek.
$30-$40 cover charge. $70 premium seating. $25 food & beverage minimum.
54 SALUTES Frank Sinatra, NOVEMBER 3 AT 9:30PM
Encore by popular demand! Join us for Frank Sinatra - The Second Century - A Celebration of Sinatra's Timeless Hit Songs!
An all-star cast of Broadway and nightclub stars will perform the songs that propelled Ol' Blue Eyes into the stratosphere of superstars. Hear the hits that turned Sinatra into an icon for the ages, making him one of rare show business beacons who continues to shine even in his second century. You'll hear songs like "One For My Baby," "Chicago," "My Way," "It Was a Very Good Year," and so many more.
This show comes courtesy of impresario Scott Siegel, who brought four different sold out Sinatra shows to Feinstein's/54 Below during the Chairman of the Board's centennial year. Now that we're in Sinatra's second century, his greatness is a given, and today's most talented performers are looking forward to performing in his honor. You'll want to be at Feinstein's/54 Below to witness it!
The show will be produced, written, and directed by Scott Siegel, the creator of Town Hall's signature series, Broadway by the Year. He has written/directed/produced concerts for Michael Feinstein at Jazz at Lincoln Center and has, over the course of the last 16 years, created more than 200 major concerts all over the world, plus scores of nightclub shows that have played major concert halls, boites, and performing arts centers.
Featuring: Tom Wopat (2X Tony Nominee, Annie Get Your Gun, A Catered Affair), Robert Cuccioli (Tony Nominee, Jekyll & Hyde
| | | |
| --- | --- | --- |
| | Donations | Arts Orgs |
Related Articles View More Cabaret

Stories

Shows
More Hot Stories For You