LANGSTON IN HARLEM Comes to Feinstein's/54 Below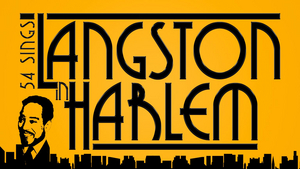 Langston Hughes, one of America's most beloved poets, will be celebrated in song at Feinstein's/54 Below on Sunday, February 2nd, at 9:30 pm.
Langston in Harlem, the 2010 Audelco Award-winning musical, takes the words of Langston Hughes and marries them to the music of legendary composer Walter Marks, whose works include the hit song "I've Gotta Be Me" amongst many others.
Audiences will hear Langston Hughes' greatest poems like "The Sweet Flypaper of Life," "The Weary Blues," "Mother To Son," and so many more, sung by the legends of Broadway whose lives have been shaped by the observations of Mr. Hughes.
The concert will coincide with Hughes' 118th Birthday.
54 SINGS LANGSTON IN HARLEM will be directed by Carl Cofield. Lon Hoyt will serve as the music director. The show will be produced by Larisa Jiao with creative consultation by Robert W. Schneider.
Schneider said, "Langston Hughes created a tapestry of poetic imagery that is still being celebrated today. His work has left an indelible impression on countless generations and I am so excited that artists from across Broadway are coming together to honor his intelligence, insight, and poetry at Feinstein's/54 Below."
Casting will be announced at a later date.
Tickets, starting at $30, are still available. In addition to the ticket price, there is a food and beverage minimum of $25.00 54 SINGS LANGSTON IN HARLEM tickets can be purchased at 54below.com. Tickets on the day of performance after 4:00 are only available by calling (646) 476-3551.