J. Mark McVey, Anne L. Nathan, & More Join Benefit for Fund for College Auditions
On Monday, July 29th, stars from Broadway and Off-Broadway will come together in support of The Fund for College Auditions (TFCA) in 'Broadway for a Day: A Benefit for TFCA' at Peter Norton Symphony Space's Leonard Nimoy Thalia Theater. TFCA is thrilled to also feature students from Musical Theatre College Auditions' Class of 2019.
Starring in 'Broadway for a Day' are Will Branner (Bat Out of Hell), Josh Daniel (Book of Mormon), Leo Ash Evens (School of Rock, Shuffle Along), Joey Harrell, L'ogan J'ones (The SpongeBob Musical), Elysia Jordan (School of Rock Tour), Charlie Murphy (Esperance Theatre Company), Zach Miller, Chris Peluso (Beautiful; West End: Miss Saigon), Anne L. Nathan (Once, Thoroughly Modern Millie, Broadway Bounty Hunter). J. Mark McVey (Les Miserables, Broadway & West End), Jon-Michael Reese (Book of Mormon Tour), Rob Rokicki (Composer, The Lightning Thief: The Percy Jackson Musical), Tim Russell, A.J. Shively (Bright Star), Ian Smith, and Danielle Wade (Mean Girls).
Founded in 2019, The Fund for College Auditions is a New York City-based non-profit that offers financial support and college guidance to acting and musical theatre students with limited resources who want to audition for post-high school training programs, especially those who identify with groups that are historically and currently underrepresented in theatre, film, and television.
The performers listed above will be joined by members of the Musical Theatre College Auditions' Class of 2019. MTCA offers college audition coaching for students and their families applying to university theatre programs and is proud to be one of TFCA's inaugural education partners. TFCA and MTCA are thrilled to feature August Bagg, Lauren Barkman, Katherine Bisaccia, Will Boone, Sydney Bossuk, Grace Bourne, Erin Bruni, Marnie Butler, Amanda Donnelly, Max Evans, Samantha Foti, Sarah Giuianti, Maddie Glass, Rebecca Goldfarb, Ofer Gordon, Kristin Greve, Katie Jergensen, Donovan Kazakoff, Grace Klebine, Emily Lang, Jonah Lione, Mackenzie Lynch, Eddie Maday, Nina Maliszewski, Calli Brielle McIntyre, Abby Menocal, Madeline Meyer, Dorothea Miller, Noah Mond, Michelle Moughan, Sam Mullaney, Matt Retcho, Ana Riley-Portal, Maggie Roach, Franca Rosenblatt, Julia Salvato, Brooke Stephenson, Andrea Sweeney, Ryan Vogt, and Peter Wurtmann. They'll be joined by TFCA College Mentors Adriana Medina-Santiago and Kris Saucedo.
Performances are July 29th at the Peter Norton Symphony Space's Leonard Nimoy Thalia Theater, 2537 Broadway at 95th St, at 7:00 PM and 9:30 PM. TIckets are $55.00, for both performances. Visit www.symphonyspace.org to purchase tickets today.
---
Join Team BroadwayWorld
Are you an avid Cabaret fan in NYC? We're looking for people like you to share your thoughts and insights with our readers. Team BroadwayWorld members get access to shows to review, conduct interviews with artists, and the opportunity to meet and network with fellow theatre lovers and arts workers.
Interested? Learn more here.
---
Related Stories
More Hot Stories For You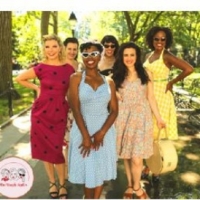 THE RANDY ANDYS HOLIDAY FETE to be Presented at The Triad Theater in December

November 28, 2022

The Randy Andys Holiday Fete will take place on Friday, December 9 at 7 pm at the historic Triad Theater. Step back in time with The Randy Andys for a magical evening of nostalgic merriment. Singing holiday favorites with their signature postmodern twist.
---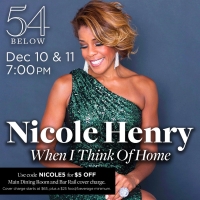 Nicole Henry to Present WHEN I THINK OF HOME at 54 Below in December

November 28, 2022

54 BELOW, Broadway's Supper Club, will present award-winning jazz vocalist Nicole Henry in WHEN I THINK OF HOME on December 10 & 11 at 7pm.
---
Joe's Pub to Present Justin Vivian Bond, Murray Hill & More This Holiday Season

November 28, 2022

Get in the holiday spirit at Joe's Pub with Murray Hill, Justin Vivian Bond, Bridget Everett, Justin Hicks and more!
---
Bebe Neuwirth, Jeff Hiller, Andrew Keenan-Bolger and More Will Appear in VILLAIN: DEBLANKS Next Month

November 28, 2022

NYC's favorite monthly fill-in-the-blanks comedy will be back at 7pm, Wednesday, December 14. The lineup includes Bebe Neuwirth, Andrew Keenan-Bolger, Jeff Hiller, and more!
---
Stranger Sings Cast Brings The 'Upside Down' to Broadway Sessions This Week

November 28, 2022

Ben Cameron's long running, award winning, musical theatre variety series, Broadway Sessions, continues this week at its new home, The Green Room 42, Thursday, Dec. 1.
---