Hannah Kloepfer Joins THE 4th UGLY CHIRSTMAS SWEATER SOIREE at The Green Room 42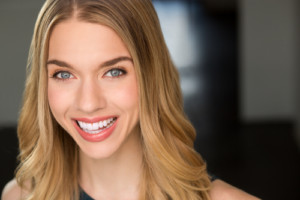 Hannah Kloepfer is set to join the cast of The 4th Ugly Christmas Sweater Soiree at The Green Room 42 on December 5th.
Hannah is a Buffalo-born, NYC-based writer, actor, and producer. Having recently wrapped as Michelle in Cinestone Pictures' upcoming Noise and Color, she is currently co-producing My Cricket and Me featuring Willie Nelson and Amy Irving as well as developing a streaming series. A graduate of Columbia University, she works as a writer's assistant for Lucky Boy Productions and has continued training at HB Studio, in Actor Therapy, and with Bob Krakower.
Favorite concert appearances include the original series Swipe Right/ Swipe Left, Drew Gasparini and friends, and with the Write Teachers! She is represented by CESD Talent. All other information at www.hannahkloepfer.com and on Twitter @HannahKloepfer.
A portion of the proceeds will go to benefit the Covenant House of New York City.
Volume 4 of this series will feature performances from Shaunice Alexander, Lauren Elder (HAIR, Sideshow), Amanda Flynn (Wicked), Savannah Frazier (Amazing Grace), Michael Gioia (Bitching and Belting), Melissa Rose Hirsch (The Bad Years), Mike Houston (Orange is the New Black), Christopher Hlinka (Mamma Mia!), Meredith Lesley, Grace McLean (Natasha, Pierre, and the Great Comet of 1812), T.J. Newton, Sandra Okuboyejo, Rob Rokicki (The Lightening Thief), Ariana Sepúlveda, Kyle Scatliffe (The Color Purple, Les Miserables), and Stephanie Turci. Stay tuned for additional casting announcements!
THE UGLY CHRISTMAS SWEATER SOIREE is conceived, directed, and produced by Megan Minutillo, with musical direction by Todd Hulet. It features a selection of holiday classics and Broadway holiday favorites performed by some of the best voices in the NYC theatre community.
General admission is $20, there is no food/drink minimum. The Green Room 42 is located at 570 Tenth Ave in Manhattan. Tickets and additional information are available here. Use the code KNIT5 for $5 off your ticket price.