Grace McLean And More Celebrate WOMEN IN A CAPELLA At The Green Room 42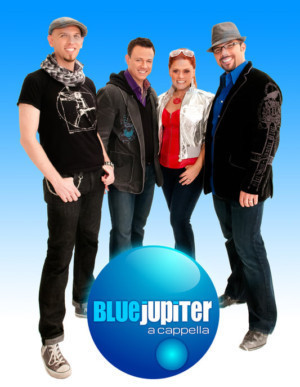 THE GREEN ROOM 42 - Broadway's newest intimate concert venue - has announced the return of Blue Jupiter's "A Cappella Party" on Friday, May 25 at 9:30 PM. Every month, Blue Jupiter's "A Cappella Party" features an evening of a cappella music to that features songs from pop and Broadway, to doo-wop and barbershop. The May edition of Blue Jupiter's "A Cappella Party" celebrates women in a cappella, including special guests Stilletta, Grace McLean, and Martini Glass.
Stiletta, the all-female pop and dance a cappella group, is the 2016 Harmony Sweepstakes Champions, and the first group in history to win First Place, Best Arrangement, and Audience Favorite. This powerful sextet has shared their power-pop vocals all across NYC and beyond. www.Stiletta.net
Grace McLean - the live-looper and original songstress - combines Regina Spektor's quirkiness, Nellie McKay's jazz sensibilities, Fiona Apple's irreverence, Kimbra's sass and Merrill Garbus of tUnE-yArDs' rhythm. As a solo performer Grace has been seen at Lincoln Center, New York City Center, The McKittrick, BAM, the ACE Hotel (where she collaborates monthly with The Dance Cartel's show OnTheFloor) and numerous other venues both uptown and downtown.
Martini Glass, an all-female group from Danbury Connecticut, sings pop, jazz, Broadway and gospel and was voted Audience Favorite at the A Cappella Connection Competition. They performed at recently at SingStrong New York. www.instagram.com/martiniglassaca
Blue Jupiter, the Broadway Records recording artists who serves as host, brings their signature "Twisted Broadway" a cappella sounds to the A Cappella Party, led by their fierce female lead and Lifetime Television star, Diana Preisler. www.BlueJupiter.com www.AcaParty.com
Blue Jupiter's "A Cappella Party" will return at The Green Room 42 (570 Tenth Avenue at 42nd Street, on the 4th Floor of Yotel) on Friday, May 25 at 9:30 PM. Tickets are from $15-20 with $35 premium seats available. There is no food and drink minimum. For tickets, please visit www.TheGreenRoom42.com.
THE GREEN ROOM 42 recently celebrated its one year anniversary as the theater district's premiere destination for live music and events. The 140-seat space lets audiences experience shows up close and personal. During the shows, guests can enjoy Mediterranean-inspired dishes alongside signature cocktails, craft beer and wine with no food/drink minimum. Tickets can be purchased at www.TheGreenRoom42.com. The Green Room 42 is located at 570 Tenth Avenue in New York City; @TheGreenRoom42.