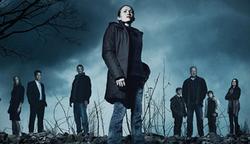 From writer, executive producer and series showrunner Veena Sud (Cold Case), The Killing is based on the wildly successful Danish television series Forbrydelsen and tells the story of the murder of a young girl in Seattle and the subsequent police investigation.
The Killing ties together three distinct stories around a single murder including the detectives assigned to the case, the victim's grieving family, and the suspects. Set in Seattle, the story also explores local politics as it follows politicians connected to the case. As the series unfolds, it becomes clear that there are no accidents; everyone has a secret, and while the characters think they've moved on, their past isn't done with them.
The Killing stars Mireille Enos (Big Love) as Sarah Linden, the lead homicide detective that investigates the death of Rosie Larsen; Billy Campbell (Once and Again) as Darren Richmond, Seattle's City Council President and now running for Mayor; Joel Kinnaman (Snabba Cash) as Stephen Holder, an ex-narc cop who joins the homicide division in the investigation to find Rosie's killer; Michelle Forbes (True Blood) as Rosie's mother, Mitch Larsen; and Brent Sexton (W., In the Valley of Elah) as Rosie's father, Stan Larsen. The pilot and Season 2 finale are directed by Patty Jenkins (Monster).
Filmed in Vancouver, The Killing is produced by Fox Television Studios and executive produced by Mikkel Bondesen (Burn Notice) for Fuse Entertainment. Fuse's Kristen Campo co-produces. AMC
Latest Articles About The Killing on AMC