Winners Announced For Make-Up Artists And Hairstylists Guild Awards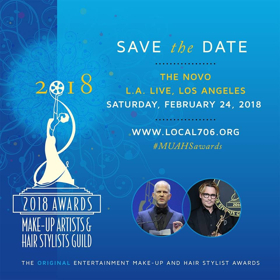 The Make-Up Artists and Hair Stylists Guild Awards (MUAHS, IATSE Local 706) tonight announced winners of its Annual Make-Up Artists & Hair Stylists Guild Awards in 23 categories of film, television, commercials and live theater. Winners in the film categories include "DARKEST HOUR," "PITCH PERFECT 3," "I, TONYA" and "GUARDIANS OF THE GALAXY Vol 2." Television winners include "GAME OF THRONES," "DANCING WITH THE STARS," "THE CROWN," "BIG LITTLE LIES," "FEUD: BETTE AND JOAN" and "AMERICAN HORROR STORY: CULT." Winners in the Daytime Television category were awarded to "THE BOLD AND THE BEAUTIFUL." "HENRY DANGER" wins Best Children/Teen Program. Theatrical honors go to MAMMA MIA and the Commercial/ Music Video Award was presented to AMERICAN HORROR STORY: CULT - PROMOTIONAL CAMPAIGN.
The awards took place at The Novo by Microsoft at L.A. Live before an audience of more than 900, including guild members, industry executives and press. MUAHS President SUE CABRAL-EBERT presided over the awards ceremony with comedian Loni Love (The Real) returning to charm as host for the third year in a row.
For the first time, the annual MUAHS Awards Red Carpet was live-streamed from LA Live's Novo Theater at local706.org/live-red-carpet and americancinematheque.com/MUAHSLiveStream.
Hosted by TV personality, actor and singer Frankie J. Grande, the MUAHS Awards "Live From the Red Carpet" was co-produced by IngleDodd Media, Honeysweet Creative and American Cinematheque.
Oscar-nominee Gary Oldman (Darkest Hour) received the Distinguished Artisan Award, presented by actor Malcolm McDowell (Clockwork Orange). Oscar-winning Make-Up Artist GREG CANNOM (Titanic, Mrs. Doubtfire, The Curious Case of Benjamin Button) was honored with a Lifetime Achievement Award by Oscar-winning Make-Up artist Rick Baker. Eight Primetime Emmy-winning Hair Stylist MARY GUERRERO (Dancing With the Stars, Hot In Cleveland) received a Lifetime Achievement Award from DWTS dance champion Val Chmerkovskiy. Guerrero's longtime client Betty White could not attend the show, but prepared a video tribute in honor of the hair stylist.
The night opened with a solo performance by Frankie Grande, accompanied by pianist JEREMY WEINGLASS. Another highlight of the evening was the moving In Memoriam, performed by long time MUAHS member and nominee ANGIE WELLS.
Presenters for this year's awards included Lily Tomlin (Grace & Frankie), Ernie Hudson (Grace & Frankie), TOM PAYNE (The Walking Dead), Carrie Ann Inaba (Dancing with the Stars), Val Chmerkovskiy (Dancing with the Stars), Anna Camp (Pitch Perfect), Melora Hardin (The Bold Type, Transparent), Joe Mantegna (Criminal Minds), Christopher McDonald (Ballers, The Good Wife), Paul Scheer (The Disaster Artists, Veep), Chin Han (Ghost in a Shell), Kate Linder (The Young & The Restless), Melissa Leo (I'm Dying Up Here), Kira Kosarin (The Thundermans), Kirsten Vangsness (Criminal Minds), Robert Patrick (Scorpion, True Blood), Olivia Sanabia (Just Add Magic), Amber Stevens West (Ghosted, The Carmichael Show), JACE NORMAN (Henry Danger), and Corbin Bleu (High School Musical) among others. Returning again as producer of this year's MUAHS Awards was Erick Weiss of Honeysweet Creations.
WINNERS FOR FEATURE LENGTH MOTION PICTURE (FEATURE FILMS)
1. BEST CONTEMPORARY MAKE-UP PITCH PERFECT 3 Melanie Hughes-Weaver, Judy Yonemoto, Erica Kyker
2. BEST CONTEMPORARY HAIR STYLING GUARDIANS OF THE GALAXY-VOL. 2 Camille Friend, Louisa Anthony, Jules Holdren
3. BEST PERIOD AND/OR CHARACTER MAKE-UP DARKEST HOUR Ivana Primorac, Flora Moody
4. BEST PERIOD AND/OR CHARACTER HAIR STYLING I, TONYA Adruitha Lee, Mary Everett
5. BEST SPECIAL MAKE-UP EFFECTS DARKEST HOUR Kazuhiro Tsuji, David Malinowski, Lucy Sibbick
WINNERS FOR TELEVISION AND NEW MEDIA SERIES:
6. BEST CONTEMPORARY MAKE-UP DANCING WITH THE STARS Zena Shteysel Green, Angela Moos, Sarah Woolf
7. BEST CONTEMPORARY HAIR STYLING DANCING WITH THE STARS Mary Guerrero, Kimi Messina, Gail Ryan
8. BEST PERIOD / CHARACTER MAKE-UP GAME OF THRONES Jane Walker, Nicola Mathews
9. BEST PERIOD / CHARACTER HAIR STYLING THE CROWN Ivana Primorac
10. BEST SPECIAL MAKE-UP EFFECTS GAME OF THRONES Barrie Gower, Sarah Gower
WINNERS FOR TELEVISION MINI SERIES / MOVIE MADE FOR TELEVISION
11. BEST CONTEMPORARY MAKE-UP BIG LITTLE LIES Steve Artmont, Nicole Artmont
12. BEST CONTEMPORARY HAIR STYLING BIG LITTLE LIES Michelle Ceglia, Frances Mathias, Lona Vigi
13. BEST PERIOD / CHARACTER MAKE-UP FEUD: BETTE AND JOAN Eryn Krueger Mekash, Robin Beauchesne
14. BEST PERIOD / CHARACTER HAIR STYLING FEUD: BETTE AND JOAN Chris Clark, Ralph Abalos, Wendy Southard
15. BEST SPECIAL MAKE-UP EFFECTS AMERICAN HORROR STORY: CULT Eryn Krueger Mekash, Michael Mekash, David Anderson
WINNERS FOR COMMERCIALS AND MUSIC VIDEOS
16. BEST MAKE-UP AMERICAN HORROR STORY: CULT - PROMOTIONAL CAMPAIGN Kerry Herta, Jason Collins, Christina Waltz
17. BEST HAIR STYLING AMERICAN HORROR STORY: CULT - PROMOTIONAL CAMPAIGN Nicki Alkire, Fernando Navarro, Stephanie Rives
WINNERS FOR THEATRICAL PRODUCTIONS (LIVE STAGE)
18. BEST MAKE-UP MAMMA MIA Vanessa Dionne, Christina Tracey, Romaine Markus-Myers
19. BEST HAIR STYLING MAMMA MIA Vanessa Dionne, Cassie Russek, Rheanne Garcia
WINNERS FOR CHILDREN AND TEEN PROGRAMMING
20. BEST MAKE-UP HENRY DANGER Michael Johnston, Patti Brand-Reese, Melanie Mills
21. BEST HAIR STYLING HENRY DANGER Joe Matke, Roma Goddard, Dwayne Ross
WINNERS FOR DAYTIME TELEVISION
22. BEST MAKE-UP THE BOLD AND THE BEAUTIFUL Christine Lai Johnson, Chris Escobosa, Jennifer Wittman
23. BEST HAIR STYLING THE BOLD AND THE BEAUTIFUL Lisa Long, Danielle Spencer, Danielle Dixon
The Make-Up Artists and Hair Stylist Guild Awards is proud to be sponsored by DIAMOND LEVEL: M.A.C. Cosmetics; RUBY LEVEL: Ardell Professional, Inspired Beauty Brands Inc.; SAPPHIRE LEVEL: Glamcor, Nigel Beauty Emporium, Schwarzkopf Professional USA ; PREMIER LEVEL: Dermaflage, Focus Features, Netflix, Olivia Garden Inc., RCMA Makeup; PLATINUM LEVEL: FOX Searchlight Pictures, IATSE Local 798 Makeup Artists & Hairstylists; GOLD LEVEL: Showtime Network; SILVER LEVEL: Boxy Girl, Bright Event Rentals, Cine-Makeup Inc., Cinema Makeup School, I.A.T.S.E., Japonesque Beauty, Kryolan Corporation, Make-up Designory, Naimie's, NYX Professional, Premiere Products Inc., Skindinavia Inc., The Criterion Group, Universal Pictures, Warner Bros Pictures; GIFT BAG SPONSORS include Beauty Blender, Brush Off, Hempz, IT Cosmetics, Jacque Mqido, Kat von D, Kevyn Aucoin, Moroccan Magic, Schneider Entertainment, Senna Cosmetics Inc, Z Palette; MEDIA SPONSORS include The Hollywood Reporter, Variety, SHOOT, Los Angeles Confidential Magazine and American Cinematheque; IN-KIND SPONSORS: The Powder Group, Make-up Light, Hollywood Distillery.
About Local 706: The Make-Up Artists and Hair Stylists Guild (IATSE, Local 706) was chartered in November 1937. Today, membership includes over 2,000 artisans in the entertainment industry worldwide. Local 706 members are make-up artists and hair stylists who have created the looks for Hollywood's most memorable characters and stars of stage, screen, television and now the Internet. The wide-ranging domains of these artists include feature films and television, commercials; "live" network television, all types of theatrical productions and Disneyland theme parks. Local 706 Members have created notable characters competing for Academy Awards, Primetime Emmys, Daytime Entertainment Emmys, Saturn Awards, BAFTA Awards, and many other honors for make-up and hair styling artistry including their own Hollywood Make-Up Artists and Hair Stylists Guild Awards. The Local 706 Guild publishes The Artisan, a glossy quarterly magazine, and provides panels, workshops and training both for members and others interested in the field to foster a spirit of innovation in the craft.
For more information, visit www.local706.org or get #MUAHSawards updates on Facebook, Twitter and Instagram.
Related Articles View More TV

Stories
More Hot Stories For You