The Knocks Deliver New Album 'New York Narcotic,' Music Video for 'Brazilian Soul'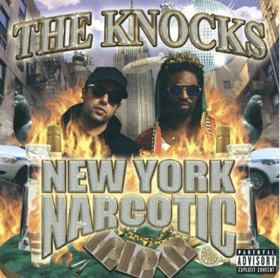 New York City-based The Knocks (comprised of Ben "B-Roc" Ruttner and James "JPatt" Patterson) release their second full length LP New York Narcotic today through Neon Gold/Big Beat Records, featuring a slew of incredible guest vocalists including Foster the People, Method Man, Big Boi, Sir Sly, Alexis Krauss from Sleigh Bells and Sofi Tukker.
Album highlights include their smashing single "Ride or Die" ft. Foster the People which has garnered over 28 Million streams, hitting #1 on iTunes Dance, 22+ weekson Billboard Dance chart and 16+ weeks on the Billboard Alternative chart plus an appearance on Late Night w/ Stephen Colbert; alongside "Goodbyes" feat. Method Man from the legendary Wu Tang Clan. "Ride Or Die" also received a hilarious official music video that parodies cult classic movies handpicked from The Knocks throughout. Also, the vibey track (along with its killer lyric video) "Shades" features vocals from Jpatt and is currently playing in Hyundai's tv/radio/online ad campaign.
B-Roc and Jpatt have been grinding as The Knocks for over a decade, making music for themselves and others in their Heavy Roc studio in New York City. The Knocks have become known for their signature futuristic production that combines all the best elements of funk, soul and electronic music, but their roots are in hip hop. From the early to mid-2000's, they worked with AZ, Cormega, Dipset, G Unit, The Lox, MOP, The Game, Bun B, Doggpound Gang, Nicki Minaj, N.O.R.E. Mobb Deep, Lil Wayne & more. Hip-hop continues to remain an influence on The Knocks' sound and they have since featured iconic rappers in their music, including Cam'ron, Wyclef, and more to come.
On the electronic side, The Knocks and Sofi Tukker combine forces again on New York Narcotic for "Brazilian Soul". The track's official music video premiered on mtvU and MTV Life this morning and will be played every hour on mtvU and 12 times on MTV Life today. Culling together footage from Brazil's rich culture and heritage, the video transports us from the lush Brazilian rainforest, to the soccer pitch, to the white sand beaches and dense urban city of São Paulo.
The groups previously collaborated on "Best Friend" and Sofi Tukker's GRAMMY-nominated debut single "Drinkee" was signed to The Knocks brainchild label, HeavyRoc Music. "Best Friend" reached #1 on the iTunes Dance, US Dance Radio, Billboard Commercial, Billboard Dance/Mix Show and the Shazam Dance Charts. It also hit #3 on the Shazam Worldwide Main Charts, debuted during Apple's Keynote address, and went on to become the soundtrack to prominent iPhone X advertisements. B-Roc and Jpatt also appeared on The Tonight Show w/ Jimmy Fallon and TRL alongside Sofi Tukker and NERVO to perform the track.
The Knocks have also curated the most buzzed about monthly party- a residency at PUBLIC Arts in New York City called The Knocks & Friends that brings back the anything-goes Manhattan party-scene. Last night's Knocks & Friends was extra special celebrating the highly anticipated release of New York Narcotic. This Saturday the 29th the celebration continues as they headline Neon Gold's 10th anniversary show alongside Marina & The Diamonds, Broods and more: https://neongoldx.eventbrite.com
You can also catch The Knocks live on their headline 2019 New York Narcotic tour. Artist presale begins on Tuesday, October 2nd, with Spotify, local, and general on sale following on October 3rd, 4th, and 5th.
Watch the "Brazilian Soul" video here:
Related Articles
View More Music

Stories
More Hot Stories For You