Farewell Angelina's Highly-Anticipated EP WOMEN & WINE Available Today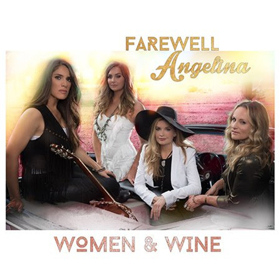 Starting the year off strong, Farewell Angelina releases their new EP, Women & Wine. The EP debuted in the iTunes Top 30 country albums. A band of longtime friends, Nicole Witt, Andrea Young, Lisa Torres and Ashley Gearing all met pursuing their dreams in Nashville, Tenn. Now years of hard work are paying off with the release of their new Women & Wine EP, available here.

"This project was fully funded by our fans! We co-produced as a band something that truly captured our musical sisterhood while working alongside the best musicians and engineers in the business. We are so thankful and excited to bring this music on The Women & Wine Tour across America and Europe in 2019." - Farewell Angelina

The girls have recently performed on The Ty Bentli Show, CountryLine TV, WJHG-TV in Panama City Beach and FOX 2 in St. Louis. The group also received a positive review of their show at the Doudna Fine Arts Center from the Daily Eastern News. The ladies of Farewell Angelina are back on the road for the second leg of their "Women & Wine" Tour, with several dates already sold out. You can keep up with all their tour dates on their website at www.farewellangelinamusic.com.

Farewell Angelina Tour Dates
Jan. 25 - St. Cloud, Minn. - Paramount Center For The Arts
Jan. 26 - Holstein, Iowa - Rosemary Clausen Center
Jan. 27 - Alexandria, Minn. - Alexandria Performing Arts Center
Jan. 31 - Delray Beach, Fla. - Crest Theater at Old School Square
Feb. 1 - Belle Glade, Fla. - Dolly Hand Cultural Arts Center
Feb. 3 - Tarpon Springs, Fla. - Tarpon Springs Performing Arts Center
Feb. 5 - Boca Grande, Fla. - Boca Grande Community Center
Feb. 15 - Bennettsville, S.C. - Malboro Civic Center
Feb. 16 - Lumberton, N.C. - Carolina Civic Center Historic Theater
Feb. 17 - Bluffton, S.C. - Music With Friends Palmetto Bluff
March 12 - Van Buren, Ark. - Van Buren Fine Arts Center
March 13 - Hot Springs, Ark. - Woodlands Auditorium
March 14 - Hot Springs, Ark. - Woodlands Auditorium
March 15 - Hot Springs, Ark. - Woodlands Auditorium
March 16 - Duncan, Okla. - Simmons Center Theater
March 21 - Bluffton, S.C. - The Pavillion Sun City Country Fest
March 22 - Bluffton, S.C. - Roasting Room Lounge
March 23 - Cornelius, N.C. - Boatyard Eats
April 19 - Eau Claire, Wisc. - Pablo Center at the Confluence
May 4 - Bremen, Ga. - Milltown Music Hall

About Farewell Angelina
Named after a haunting Bob Dylan song, Farewell Angelina is an all-female country group with four powerhouse vocalists, dynamic songwriters and accomplished multi-instrumentalists. Their stellar blend of heart-stopping harmonies over blazing double violins and guitars has earned soaring praise across the board. Roughstock calls them a "Superstar Act... with Killer Songs;" Rolling Stone says, "Wickedly smart songwriting delivered with a healthy dash of sass... deft playing... into one sonic knockout punch." A band of longtime friends, Nicole Witt, Andrea Young, Lisa Torres and Ashley Gearing all met pursuing their dreams in Nashville, TN. Each deeply respected and admired one another while they were building successful solo careers, touring and recording with top artists, and writing songs for some of Country Music's biggest hitmakers. When they heard the undeniable magic of their voices together for the first time, they couldn't wait to take their show on the road. Major opportunities soon followed including singing the National Anthem for Thursday Night Football, The Unbridled Eve Gala for the Kentucky Derby, the ACM All-Star Jam, and the Albisguetli Schutzenhaus Festival in Switzerland. Farewell Angelina's chemistry lives in watching each other shine, and most of all, creating moments every night with the Country Music fans they love so much. The relationship they share with their fans won them the fan-voted "Hot Seat" spot of the Taste of Country 2017 "RISERS" Program by over 20,000 votes. They've also been named among Rolling Stone's "New Artists You Need To Know" and Roughstock's "Ones to Watch" with a tour schedule to prove it. The girls have opened shows for the likes of Kenny Chesney, Old Dominion, Frankie Ballard, Jake Owen, Billy Currington, Maroon 5, and Trace Adkins, to name a few. The girls joined the Bacon Brothers (Kevin & Michael) as the opening act on many dates of their last two summer tours. They are currently headlining their own "Women & Wine Tour" to packed crowds across the US. The girls closed out 2018 having played over 75 shows. The band's highly anticipated Women & Wine EP is set for release in January 2019. Visit their website at www.farewellangelinamusic.com.
Related Articles
View More Music

Stories
More Hot Stories For You