City Winery Chicago Announces Marc Roberge, Tim O'Brien and More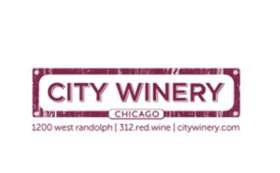 City Winery Chicago, 1200 W. Randolph Street, announces O.A.R. lead vocalist/guitarist Marc Roberge, and more. The following shows go on sale to the public on Thursday, November 29 at noon. All tickets will be available at citywinery.com/chicago.
Friday, February 8; 7:00 & 10:00 p.m.
$45/$50/$55/$65
Lyricist, lead vocalist, and co-founder of O.A.R. Marc Roberge returns to City Winery Chicago for a rare solo performance. Roberge's jam band O.A.R. is renowned for their intense, vibrant live shows with hits including "Hey Girl," "This Town," "Shattered," and "Peace." The Rockville, MD native points to Pearl Jam as his biggest musical influence.
Monday, February 11
$12/$15/$18/$20
Whether it's their collaboration with the legendary producer Rick Rubin, kudos from the likes of Zane Lowe and the BBC, or a string of memorable performances from the hills of Glastonbury to the deserts of Coachella, multi-instrumentalist and songwriter siblings Henry and Rupert Stansall, known by their amalgam-created moniker Ruen Brothers, are making a mark with a throwback rock and roll sound that intersects the early days of the genre with a dynamic, present-day act.
The Tim O'Brien Band
Wednesday, March 27
$22/$25/$29/$32
Tim O'Brien grew up singing in church and in school, and he started playing folk and rock music on guitar at age 12. After seeing Doc Watson on TV, he became a lifelong devotee of old time and bluegrass music. O'Brien has produced recordings for Laurie Lewis, the Yonder Mountain String Band, the Infamous Stringdusters, Old Man Luedecke, and early mentor J.D. Hutchison. He has recorded and performed with The Chieftains, Joan Baez, Dierks Bentley, Bill Frisell, and the Wheeling Symphony Orchestra. He contributed to the movie soundtrack of O Brother, Where Art Thou? as well as those of Cold Mountain and The Blob. He is a former president of the International Bluegrass Music Association, and currently serves on the board of the West Virginia Music Hall of Fame.
OBrien's latest release, 2017's Where the River Meets the Road, is his 16th solo recording. Focusing on the music of his native West Virginia, it features songs by Billy Edd Wheeler, Bill Withers, Hazel Dickens, and two O'Brien originals, as well as traditional material by the Lilly Brothers, the Lonesome Pine Fiddlers, and Doc Williams. Guests include Stuart Duncan, Kathy Mattea, Chris Stapleton, Bryan Sutton, and Jan Fabricius.
City Winery Chicago also announces Craig Strickland opens for Hudson Taylor on Feb. 12.
All City Winery Chicago events are open to all ages and start at 8 p.m., unless noted.
Tickets go on sale to the general public on November 29 at noon. Only members of City Winery Chicago's signature VinoFile™ program have access to ticket sales today in addition to receiving: a waiver of ticket service fees; free valet parking; Restaurant Loyalty Rewards, such as a free pair of VIP concert tickets for every $500 spent on food & beverage in the restaurant; exclusive membership-only events; and access to the proprietary City Winery Virtual Sommelier™, which helps make suggestions for wines one might enjoy based on past consumption at the venue.
Marc Roberge of O.A.R., Ruen Brothers, The Tim O'Brien Band, and Craig Strickland join a diverse mix of the most respected names in pop, rock, jazz, blues, world music, theater, dance, spoken word and comedy presented at City Winery Chicago, including previously announced headliners and supporting acts: Pokey LaFarge with Heather Styka (Nov. 27); Canned Heat with Kevin Burt (Nov. 28); Dwele (Nov. 29, 7 & 9:30p); Jane Lynch (Nov. 30, 7 & 10p); Andrew Ripp (Dec. 1); Jennifer Knapp & Margaret Becker (Dec. 2, 12p); Suzy Bogguss(Dec. 2, 7p); Dave Hollister (Dec. 3, 7 & 9:30p); Kris Allen with Sawyer (Dec. 4); Joe Pug with Carson McHone (Dec. 5); The Empty Pockets (Dec. 6); Syleena Johnson (Dec. 7, 7 & 10p); Chicago Philharmonic Chamber Players (Dec. 9, 12p); Los Lobos (Dec. 9-12); Art Garfunkel (Dec. 14-15); Vienna Teng with Katie Rose (Dec. 16); Tab Benoit (Dec. 17-18);Kurt Elling (Dec. 19-20); Michael McDermott (Dec 21-23); Christmas for the Jews (Dec. 25); Shemekia Copeland (Dec. 26-27); Macy Gray (Dec. 28-29); Avery*Sunshine (Dec. 30; Dec. 31, 7:30 & 11p; Jan. 1, 5p); Musiq Soulchild with Kameelah Williams (Jan. 3-4, 7:30 & 10p); Talib Kweli (Jan. 5, 7p & 10p); Sons of the Never Wrong with Michael Smith (Jan. 6, 7p); Dan Tedesco (Jan. 7, 7:30p); Shane Koyczan (Jan. 8); Three Women and the Truth (Jan. 11); Maysa (Jan. 12, 7 & 10p); Corky Siegel's Chamber Blues featuring Tracy Nelson(Jan. 13, 7p); Steve Earle (Jan. 14-15); EagleMania (Jan. 16); Paris Combo (Jan. 17); Melanie Fiona (Jan. 19, 7 & 10p); Jodee Lewis & Jonas Friddle (Jan. 20, 7p); Let Freedom Ring, Chicago! (Jan. 21, 7:30p); The Hot Sardines (Jan. 23); Randy Bachman (Jan. 24-25); Susan Werner (Jan. 27); Trey McLaughlin & The Sounds of Zamar (Jan. 28, 7p); Alejandro Escovedo with Don Antonio Band (Jan. 31-Feb. 2); Ms. Lisa Fischer & Grand Baton (Feb. 4-5); Marcus Johnson with Kathy Kosins (Feb. 6); Anders Osborne (Feb. 9, 7 & 10p);Anita Wilson with Dante Hall (Feb. 10, 7p); Hudson Taylor (Feb. 12); Patrizio Buanne (Feb. 13); 10,000 Maniacs (Feb. 14-16); Kandace Springs (Feb. 17); Donavon Frankenreiter(Feb. 18, 6:30 & 9p); Procol Harum (Feb. 20-21); Bobby McFerrin & Gimme 5 (Feb. 22-23, 7 & 10p); The Four C Notes (Feb. 24, 2:30p); Steve Earle (Feb. 25-26); Ann Hampton Callaway (Feb. 27); We Banjo 3 (Mar. 1); Kasim Sulton's Utopia (Mar. 7); Ron Pope with Caroline Spence (Mar. 8); Ron Pope with Emily Scott Robinson (Mar. 9); Los Lonely Boys(Mar. 16-17); Chris Difford with Steve Smith (Mar. 18); Christopher Cross (Mar. 19-20); The Verve Pipe (Mar. 29); John Parr (Apr. 10); Dave Davies (Apr. 21) and Herb Alpert & Lani Hall (May 4-5).
Opened in 2012, City Winery Chicago is a fully operational winery, restaurant with outdoor patio, concert hall and private event space located in the heart of the West Loop at 1200 W. Randolph, in the historic urban Fulton Market district. Once a refrigerated food distribution warehouse, the 1911 building has been transformed into a contemporary 33,000 square foot haven for those passionate about wine, music and culinary arts. The décor evokes the romance of being in wine country, from the exposed stainless steel fermenting tanks and French oak barrels, to the aroma of fermenting grapes. The West Loop's only fully operational winery has produced dozens of in-house wines sourced from vineyards in California, Oregon, Washington, Argentina and Chile, including a Wine Enthusiast 92-point 2015 Verna's Vineyard Reserve Pinot Noir. With more than 400 unique producers from around the world City Winery is recognized with 2014 and 2015 Best of Awards of Excellence "for having one of the most outstanding restaurant wine lists in the world" by Wine Spectator. The globally inspired, locally sourced, wine-focused food menu is conceived for pairing and sharing. The concert hall accommodates up to 300 guests, all seated at tables with complete beverage and dining service, ensuring a comfortable "listening room" experience enhanced by a state-of-the-art Meyer Sound system. Riedel is the official and exclusive provider of glassware, showing City Winery's commitment to enjoying quality wine in a quality vessel. American Airlines is the Official Airline and Virgin Hotels Chicago is the Official Hotel of City Winery. For more information, please visitwww.citywinery.com.