Belly Share Release New Song STARS ALIGN From DOVE, First Album in 23 Years Out 5/4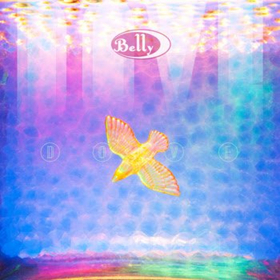 On May 4, Belly return with DOVE, their first full length album release in 23 years. The album was produced and recorded by band member Tom Gorman alongside longtime friend of the group Paul Q. Kolderie (Hole, Throwing Muses, Radiohead).
Today, Belly shared "Stars Align," the second song to be released from the forthcoming album.
Watch "Stars Align" on YouTube:
"'Stars Align' was a dark horse that we kept coming back to in the writing stage of the album, reinventing and restructuring it," explains Tanya Donelly. "It was nearly left behind a couple of times, but we knew we could get this one to a good place if we kept at it, and it finally came together in the 11th hour before recording. This has been one of my favorites, even in its awkward stages, since Tom sent us his first version of it. (The use of Superman as a trope is a little threadbare at this point, but I mean every word)."
DOVE is now available for pre-order and includes instant downloads of "Shiny One" and "Stars Align."
On Record Store Day, Belly will release a limited edition 10" colored vinyl EP featuring two tracks from DOVE, one track exclusive to this release, and a cover of "Hushabye Mountain" from Chitty Chitty Bang Bang.
Watch the video for "Shiny One," the first single that was released from DOVE, via YouTube here!
Belly, who formed in 1991, is Tanya Donelly (guitar, vocals), Tom Gorman(guitar), Chris Gorman (drums), and Gail Greenwood (bass). The band released their gold-certified critically-acclaimed debut album Star in 1993, which spawned the alternative radio and MTV staple "Feed The Tree" and led to Grammy nominations for Best Alternative Music Album and Best New Artist.
In 1995, Belly released their sophomore album King and toured extensively behind the album before dissolving in 1996. Over the next two decades, the members stayed close while pursuing their own creative paths before the idea of a Belly reunion gained serious traction just a few years ago.
"We had just gotten to the point where we were just missing each other, and missing the music," says Donelly. "The music I've been doing in the past several years has been very collaborative, which made me kind of homesick for Belly; I missed that sense of having a band."
The songs that comprise DOVE were spun out of a new songwriting system that was necessitated by the four members' far-flung hometowns. "It required a lot of trust," says Donelly, "because we were sending raw snippets to each other-anything from 30-second pieces to full songs. Tom and Gail and I would send demos back and forth, and then Chris would add drums to whatever snippets he'd heard, and Tom would sew everything together. It would sometimes be a very circuitous route to a song, but it was really fun."
"All three of the songwriters were locked in and working in a way that complemented the others' strengths," says Chris Gorman. "Gail's writing was in top form. Tanya is able to make anybody's song her own-she's got that gift. And Tom has really honed his arrangement and production style."
Belly will launch their first major tour since 1995 later this year and will play Boston Calling on May 26. Find a full list of tour dates below. "We're all looking forward to presenting these songs in a live setting, and having the opportunity to play together again," says Chris Gorman. "We should be in for a really exciting year."
Tracklist:
1) Mine
2) Shiny One
3) Human Child
4) Faceless
5) Suffer The Fools
6) Girl
7) Army of Clay
8) Stars Align
9) Quicksand
10) Artifact
11) Heartstrings
Tour Dates:
5/26: Cambridge, MA - Boston Calling
6/9: Portsmouth, UK - Wedgewood Rooms
6/10: Bristol, UK - SWX
6/11: Cardiff, UK - Glee Club
6/12: Manchester, UK - The Ritz
6/13: Leeds, UK - Beckett
6/14: Whitley Bay, UK - Playhouse
6/16: Glasgow, UK - O2ABC
6/17: Sheffield, UK - Leadmill
6/18: Nottingham, UK - Rescue Rooms
6/19: Brighton, UK - Concorde 2
6/20: London, UK - Shepherd's Bush Empire
8/8: Los Angeles, CA - Teragram
8/9: Los Angeles, CA - Teragram
8/10: San Francisco, CA - Great American Music Hall
8/11: Portland, OR - Revolution Hall
8/12: Seattle, WA - Neptune
8/22: Portland, ME - Port City
8/25: Brooklyn, NY - Music Hall of Williamsburg
8/26: Brooklyn, NY - Music Hall of Williamsburg
9/28: Philadelphia, PA - Union Transfer
9/29: Washington, DC - 9:30 Club
10/4: Madison, WI - Majestic Theater
10/5: Minneapolis, MN - Fine Line Music Cafe
10/6: Chicago, IL - Vic Theatre