Austin Psych-Rocker Ty Richards Premieres Single RED PILL, Plus Announces 4/20 Album Release Show Details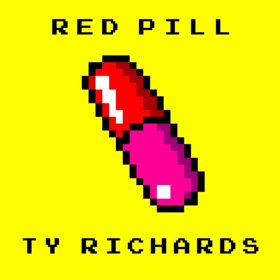 Austin-based, chart-topping psych-rock prodigy Ty Richards is thrilled to announce the premiere of his latest single, "Red Pill," off of his upcoming album, "Welcome to Flat Earth," with Paste Magazine.The premiere can be found here. The track is available for purchase here and everywhere else digital music is sold. There will be an official "Welcome to Flat Earth" Album Release Show & UNDERGROUND Art Experience presented by Tremolo Records on Friday, April 20 in correlation with the weekend of Earth Day. The release show will be held at MOSAIC Sound Collective, a former juvenile delinquent facility located at 6400 FM 969, Austin, Texas 78724. Doors are at 8 p.m. with support from The Cuckoos and James Cooke (fellow artist on Tremolo Records). There will be live painting by members of the Blue Dozen Collective(@bluedozenco) including artists: Aaron Darling (@acsoblucka), and others who go by their official Instagram handles including @BriksLovesYou, @jenkins2d, @nikaowho and @mleeding. General admission tickets are $15 and if guests bring three or more friends they will get a vinyl copy of "Welcome to Flat Earth" sent to them. VIP "Inner Circle" tickets are also available for $45 and includes full access to the pre-show listening party at the vinyl lounge with Ty Richards and friends, in addition to general admission, music-nerding and good company. This also includes a limited-edition vinyl LP of "Welcome to Flat Earth" and a limited-run show poster - both signed and numbered. Tickets can be purchased here, and for more information, please visit www.tyrichards.com.
"Welcome to Flat Earth" is an all-analog, DIY, future-punk record, and Richards' new direction can best be described as "Devo meets Queens of the Stone Age."With heavy grooves, video game-esque keyboards, blown out fuzz guitars and gritty, satirical vocals, the album will take listeners on a sonic journey recorded purely to analog tape in Richard's home studio. The album can be pre-ordered on vinyl, cassette tape and digital download here. For more music, videos and information, visit www.tyrichards.com.
"The hook is like a riff from a Super Mario video game," said Ty Richards. "I pulled this track out of left field and 'Red Pill' immediately had a certain swagger to it that I fell in love with. The bass in all of its fuzzy goodness drives the whole song as the lead instrument, but something about the swanky drum beat and slurring synthesizers makes me move. 'Red Pill' is grounded but disorienting all at once in a way that makes me feel drunk with nostalgia. The jerky vocal lines and surrealist lyrics seemed relevant to the current culture war going on in the world too. I wrote, produced and recorded the song all at once in a single day by myself. Like the rest of the record I did this one straight to tape and loved every minute of it. I hope you enjoy listening to it as much as I did making it."
Since the release of his 2017 debut album, "Zillion," Ty Richards has had a busy year filled with critical acclaim and a string of tour dates, even reaching number four on USA Today's top college albums. The debut broke NACC college top 40 album charts after being picked up by more than 50 college stations nationwide. He landed KUTX "Artist of the Month" during SXSW 2017 and closed out the year with a song placement on Season Eight, Episode Two of Showtime's "Shameless." Once the "Zillion" rush came to a close, Richards went right back to the creative process, reinventing himself, and began recording new music for his next release. This time around, Richards holds up an anti-authoritarian, rebellious lens to the world, writing through a heavily surreal perspective.
"There is a strong use of absurd satire and ironic humor throughout the album," said Richards. "'Welcome to Flat Earth' is jokingly named after the growing Flat Earth Theory movement of the present day. Over time though, the title and the vibe of the record as a whole has come to represent a much deeper theme in humanity - why do we TRUST authority?"
Writing for "Welcome to Flat Earth" began in late September of 2017 and concluded in early December of 2017. The album was completed in roughly three months, compared to the two years it took to finish "Zillion." Richards wrote, performed, produced and mixed the album in a self proclaimed "tiny 10 by 12-foot bedroom," and tracked everything on the record straight to tape, completely analog with zero editing. Each song was made with two major creative limitations: no computers, and only eight tracks per song.
"This album represents a devolution from the previous record," said Richards. "This collection of songs was recorded directly to a lo-fi reel-to-reel tape machine from the early '80s. The same model, Tascam 388, was used by Prince to create demos, and is featured on the early records of The Black Keys and Dr. Dog."
"Welcome to Flat Earth" features seven original songs and a Kinks cover. None of the original songs were pre-written, instead being penned and recorded at the same time in a "stream of consciousness" style. Brian Lucey mastered the album at Magic Garden Mastering in Los Angeles in December of 2017. Lucey was crucial in carrying out the final stroke on each song and ultimately brought out the "punk spirit" of the record. Lucey has an extensive discography including the likes of Beck, David Lynch, The Black Keys, Ray LaMontagne, Sigur Rós, Dr. John, Lucinda Williams, Dr. Dog and Ringo Deathstarr.
In line with the punk spirit, Richards' lyrics drip with an ironic "post-truth" theme. Like Devo and punk predecessors of the 20th century, "Welcome to Flat Earth" combines aggressive electronic-rock with mischievous satire to poke fun at the "post-truth" world.
"I like the deeper truth of humanity that is unveiled by the ridiculous Flat Earth conspiracy," said Richards. "Assuming it's completely false, it still exposes the reality that almost everything we call 'truth' is based on TRUST - how do we know who to TRUST and not trust? That's where we are now. Welcome to the 'post-truth' world - or, 'Welcome to Flat Earth.' It's absolutely amazing. It's absolutely nauseating."
"Welcome to Flat Earth" will be released on April 20, 2018, with southwest and west coast American tour dates, as well as tour dates in Japan, to be announced at a later date.

"WELCOME TO FLAT EARTH" TRACKLIST:
IndoctriNation
Western Chauvinist
Merry-Go-Round
Red Pill
All Day and All of the Night
Killjoy
Kissing the Wizard
Bleed Yourself Dry
Austin's own PSYCH rock prodigy Ty Richards, referred to as "the future of rock," as well as "Beck Zeppelin," debuted his first album, "Zillion," in February of 2017. His lead single, "Spaceman," earned Song of the Day on Austin's KUTX 98.9 just before PureVolume described the song as "both futuristic and vintage all at once." In Addition, Peter Blackstock at the Austin American-Statesman claimed "'Going Out for a Cigarette' is one of the best radio singles to come out of Austin in quite some time." Podcast host Johnny Goudie of How Did I Get Here? proclaimed that Richards is "a hurricane of artistry."
Richards went on to reach national success after the release of "Zillion." Topping the charts of numerous radio stations across the US, breaking the top 40 in the NACC (North American College and Community Top 200) charts and hitting number six on national specialty radio, Richards has won the ears of rock fans across the United States. He has performed all over, from packed Austin clubs with a four-piece band to west coast radio tours in California.
Ty Richards currently runs a boutique creative shop, Paradox, and designs album artwork and gig posters at Austin Invasion. He also runs an indie record label, Tremolo Records, in Austin, Texas. Tremolo Records released Jackie Daytona's new album "She's So Hot" in March of 2018 and will be releasing at least 3 more highly-curated albums from Texas-based artists in 2018 in addition to "Welcome to Flat Earth'". To learn more, see www.tyrichards.com.