ITALIAN TRADE AGENCY Helps You Decode the Wine List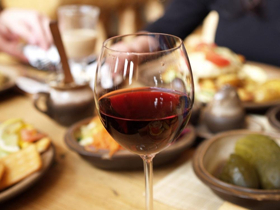 Don't be intimidated by the wine list when you dine out. There are four common features that will help you decode it so you can impress your friends, guests or a dinner date. Thanks to the Italian Trade Agency (ITA), we have the elements in the order they are likely to appear on a restaurant's wine menu.

Producer
The producer (or bottler) can be a single wine estate, a cooperative or a brand. Look for words such as "Tenuta" (estate), "Castello" (castle), "Azienda" (company), "Cantina" (winery), "Poggio" (hill), "Vigneto" or "Vigna" (vineyard), "Fattoria" (farm) and "Produttori" (producers) to help you identify the producer.

Region
There are 20 Italian wine regions, each specializing in different types of wine and grape varieties. From the Alps to the islands, Italy has more than 590 grape varieties that are unique to each region.
Wine Name
The type of wine, or wine name can refer to the region (such as Barolo) or grape variety (Pinot Grigio). It could be a "fantasy name" (Tignanello) or it could refer to a specific vineyard (Vigna Rionda). Fantasy names are created by the producer and may indicate that the wine is a blend or made outside the tight regulations applied to appellation wines. Sometimes the wine name encompasses both the grape variety and the location, such as Montepulciano d'Abruzzo-Montepulciano being the grape variety and Abruzzo being the region where it is produced.

Vintage
The vintage refers to the harvest year of the grapes from which the wine was made. Certain words may help to understand the vintage as well, such as "Riserva," which means the wine has been aged for longer than the standard requirement for wine of that denomination. "Superiore" generally denotes a slightly higher grape quality and alcohol content than the usual requirement for that denomination, such as "Valpolicella Superiore." "Classico" refers to a classic or historical area within the denomination's growing region, such as "Chianti Classico."

Soon enough, you'll be able to order Italian wine like an expert. Learn more about how to read an Italian wine label by visiting: http://extraordinaryitalianwine.us/learn/reading-an-italian-wine-label-and-menu/.
Learn about each of Italy's wine regions and their varietals by visiting: http://extraordinaryitalianwine.us/regions/.
For more information on Italian wines and the Italian Trade Agency, please visit: http://extraordinaryitalianwine.us/, And connect with them on social media.
Photo Credit: Freeimages.com