Click Here for More Articles on FOOD & WINE
Chef Spotlight: Chef Stephan Bogardus of THE NORTH FORK TABLE & INN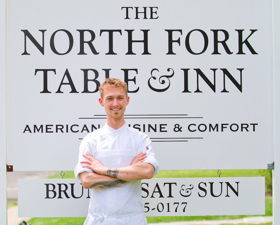 Chef Stephan Bogardus is a rising culinary talent whose journey has brought him full circle to his native Long Island and The North Fork Table & Inn. Informed by the region's bounty and the personal relationships with local purveyors, Bogardus' progressive American menu focuses on new interpretations of familiar dishes.
Bogardus, who grew up in Cutchogue on Long Island's North Fork, began cooking at age 13 on a local food truck. After graduating from the Culinary Institute of America in 2009, he returned to Long Island and, armed with his resume and a set of knives, he knocked on the door of The North Fork Table & Inn. He was hired by chef/proprietors Gerry Hayden and Claudia Fleming, training directly under Hayden.
In 2010, Bogardus headed to Palm Beach to work for Daniel Boulud's Dinex Group. He returned to the North Fork Table & Inn in 2012 as Chef de Cuisine. At the time, Hayden's diagnosis of ALS meant that Bogardus would serve as the hands for his mentor's mind, forging a unique bond between the two chefs.
In 2013, Bogardus left for upstate New York to serve as Executive Chef at the Locust Hill Country Club in Rochester. In the fall of 2015, feeling that Bogardus was the natural successor to chef Hayden after his passing, Claudia Fleming called him home to serve as Executive Chef.
Since his return, Bogardus and The North Fork Table & Inn have earned rave reviews from Newsday and The New York Times.
Outside the kitchen, Bogardus is an accomplished bow hunter, avid yoga practitioner, and Ducati aficionado.
Brodwayworld.com had the pleasure of interviewing Chef Bogardus for our "Chef Spotlight."
What was your earliest interest in cooking?
When I was four years old, my mom gave me a paring knife and taught me to slice, dice, and chop with her during the holidays. I remember my aunt scolding her about giving a knife to a young child. But of course, she was right next to me and supervised me very closely. I'm grateful she did, because it was not only a great bonding experience, but it also sparked my interest in cooking.
Who were some of your career mentors?
There are a quite a few! Gerard Viverito of CIA (Culinary Institute of America) was one of the first to help me develop my skills. Then, of course, there's Gerry Hayden at The North Fork Table & Inn. I began my career working side by side with Gerry, learning every aspect of running a kitchen and managing a team from him. And it was an honor to be called back to run the restaurant after he passed away in 2015.
I also enjoy learning about the heritage of a cuisine and crave education, mostly in the classics: August Escoffié, Pointe, Bocuse, Micheal Bras, Freddy Gerdain, Jean Louis Pallidan. I'm part of a generation of chefs who grew up worshipping Thomas Keller. And I also admire Yannick Alleno and Benoit Violier.
What culinary styles have influenced your career?
My career began with continental American cuisine, but it's progressed and now is strongly influenced by classic French, Latin and Asian flavors, which have endless possibilities when it comes to flavor development. After my first trip to Paris, I started putting more of a modern twist to my dishes.
What do you consider the most distinguishing features of your work as a chef?
When you dine with us, you're going to have an authentic North Fork experience. We use products from the many farmers, fishermen, ranchers and foragers in the area, and being back here for the last few years has given me a deep appreciation for everything region has to offer.
One of our signature dishes is our corn soup. We sourced the corn from a local family farm after tasting six local producers. We juice the corn the same day it's picked, so it never sees a refrigerator. We cook the corn juice into a pudding, letting the starches thicken it naturally. We then thin the pudding with a stock made from the cobs. The technique is essential, but the farmer and his corn provide us with the beautiful canvas on which to work.
What is your favorite meal?
The best meal I have ever had was at Pavilion Ledoyen Yannick Alleno in Paris. From start to finish, Yannick's approach to modern cuisine with minimal altercation to the products was amazing and inspiring. The passion fruit Crème brûlée is placed on the table in a whole passion fruit at the beginning of the meal, and guests are asked to not fiddle with it. Three hours later, a server comes over with scissors, a torch and sugar and explains the how the crème is injected into the raw fruit and heated upon the guests' arrival, forming a culture with the natural acidity in the fruit, which thickens into a custard. A truly grand experience!
My first trip to Philadelphia was arranged by my girlfriend early in our relationship. She "kidnapped" me for the day and drove us down to Philly, where we enjoyed a 12 course, multi-hour feast at Vetri. It was the best pasta I ever had, but I also realized that a truly memorable dining experience is one with the right company!
Tell me a little bit about your restaurant for our readers.

The North Fork Table & Inn is located in Southold, in the heart of Long Island wine country. We serve modern American food with an emphasis on seasonality and local ingredients. Chefs Gerry Hayden and Claudia Fleming opened the restaurant in 2006 and essentially put the area on the map by introducing refined farm to table dining to the region. We also have four rooms at the Inn.
Dining here is a warm, comfortable experience, where guests have a choice between
a tasting menu, prix fixe, and a la carte. They can eat in the dining room or have a casual dinner at the bar. We also serve brunch on weekends, and our food truck is great for lunch. We're open all year, and while the summer is busiest, the off-season is a wonderful time to visit. The cars and crowds are gone, and it's a beautiful, quiet way to spend a day or a weekend.
North Fork Table & Inn is located at 57225 Main Road, Southold, New York. Call them at631.765.0177 or contact them at info@northforktableandinn.com and visit their web site at http://northforktableandinn.com/.
You can also follow them on social media @northforktable.
Chef Bogardus will be cooking at The James Beard House on December 19th, along with Claudia Fleming, North Fork Table proprietor and renown pastry chef. For more information on the event, visit: https://www.jamesbeard.org/events/north-fork-elegance?category=Dinner./
Photo Credit: Courtesy of Chef Bogardus
Related Articles
Marina P. Kennedy writes articles and reviews for Broadwayworld.com on productions in New York City and New Jersey. She is the Editor in Chief of (read more about this author...)