Review: TUDOR CITY STEAKHOUSE for Distinctive and Creative Dining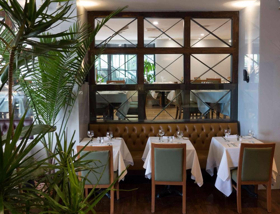 There's a new steakhouse in town, Tudor City Steakhouse. It is sure to please New Yorkers and many more looking for a truly great meal. The restaurant's location in Tudor City makes it very accessible, only a few short blocks from Grand Central Station and across 1st Avenue from the United Nations Headquarters. You'll love the charm of the restaurant's classic multi-level setting, the gracious service, and the finest food and drink. Guests are made to feel special from the moment they walk in the door. There are seating options to suit parties of all sizes. Whether you're dining solo, out with a special someone or with a large group, the venue is very accommodating.
Tudor City Steakhouse is not all about steak. While they serve the best quality meats, they also have sushi, ceviche, soups and salads along with an array of entrees that include seafood, poultry and pastas dishes. The menu has an emphasis on fresh, locally sourced ingredients with an international flair.
We started our culinary journey with one of our favorites, Beet Salad. It was perfectly prepared with honey, walnuts, and goat cheese over a bed of spinach. The ceviche appetizer was some of the best we've ever had. Their Peruvian Mixed Seafood selection has mussels, clams, calamari, shrimp, and squid marinated in a citrus Huancaina sauce. Steak selections are prime USDA beef dry-aged in house. We savored a tender Rib Eye Steak made to our exact liking and ordered Home Fries as a side. Other sides include vegetables that can be sautéed or steamed like asparagus, mushrooms and broccoli. There are also accompaniments like Mac & Cheese, Cuban Black Beans & Rice, Mashed Potatoes or Truffle Cream Corn.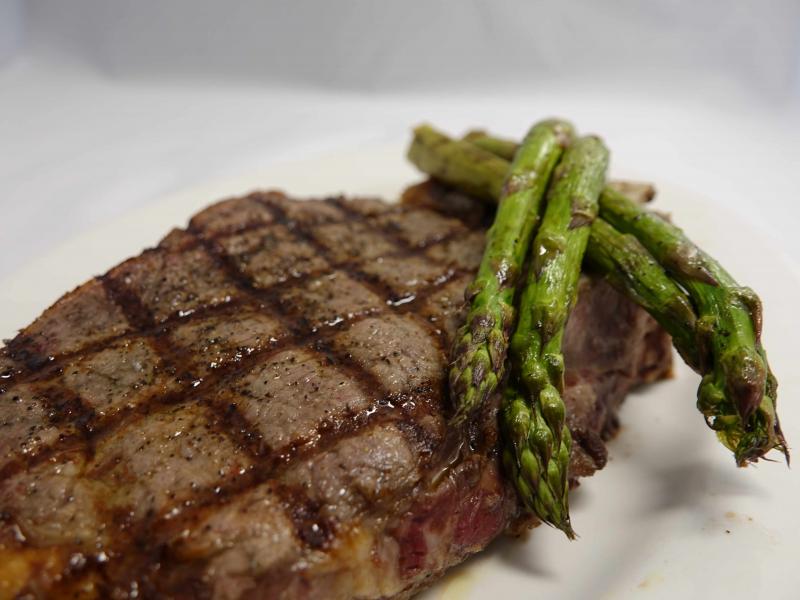 Tudor City Steakhouse has an outstanding beverage program that allows you to pair your meal with cocktails, fine wines, or beers. Your server will be pleased to help you make just the right choices.
Relax and linger over coffee, tea or an aperitif. Specially crafted desserts include their Chocolate Cigar, the NY Cheesecake served with mixed berries, blueberry scented cardamom sauce, mint and cookie crumbs or the Banana Cream Pie with sponge cake, vanilla bean pudding, caramel sauce, vanilla wafer, and fresh bananas. We selected a house specialty, the Chocolate Cremeux with peanut butter chocolate mousse, candied salted peanuts, mandarin sauce, and chocolate cake.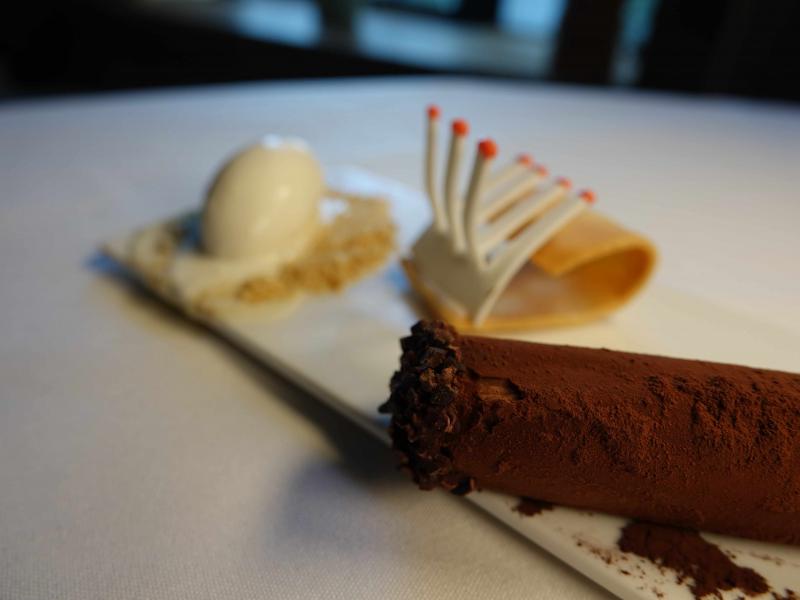 Be sure to check out Tudor City Steakhouse's Happy Hour from 3:00 pm to 6:30 pm along with the Late Night Happy Hour and Ladies Happy Hour. Wind down at their stylish bar with drink specials and small plates.
Tudor City Steakhouse is sure to become a preferred restaurant for people looking for fine dining in New York City. It is owned and operated by the newly created Sylvan Hospitality Group and features an impressive staff of culinary experts who will make your meal experience distinctive. We are sure you'll visit again and again.
Tudor City Steakhouse, 45 Tudor City Place, New York, NY 10017 will be open daily for dinner and for lunch Monday through Friday. Operating hours will be 11 a.m. to 10 p.m. on Monday, 11 a.m. to 11 p.m. Tuesday to Friday, 5 - 11 p.m. on Saturday and from 5 to 10 p.m. Sunday. For more information and reservations, visit www.tudorcitysteakhouse.com or call 212-682-4000. The email address is hello@tudorcitysteakhouse.com.
Photo Credit: Branko M. Peshter, Anticiplate