Click Here for More Articles on FOOD & WINE
BWW Review: BENARES Presents Fine Indian Cuisine in Tribeca
Editor's Note: This article is written by a Food and Wine guest contributors, Matt de Rogatis.
I recently visited Benares on a Monday evening for an exceptional dinner. The restaurant is located at 45 Murray Street in the heart of Tribeca. Named after the Northern city of Benares in India, the restaurant offers a diverse menu from regions throughout India with an emphasis on healthy, gourmet cuisine.
The interior of the restaurant is wonderfully designed, open and airy with deep mustard and dark brown banquets for comfortable seating. Earth-toned panels that represent areas of India color the walls. The Ganges River, depicted on a glass window with embedded rose petals, is part of the unique design of this trendy eatery.
Paintings of India from the Victoria and Albert Museum, photographed and reprinted on aluminum, adorn the walls of the bustling bar that attracts many regulars. The bar area is part of Benares' relaxed, chic atmosphere.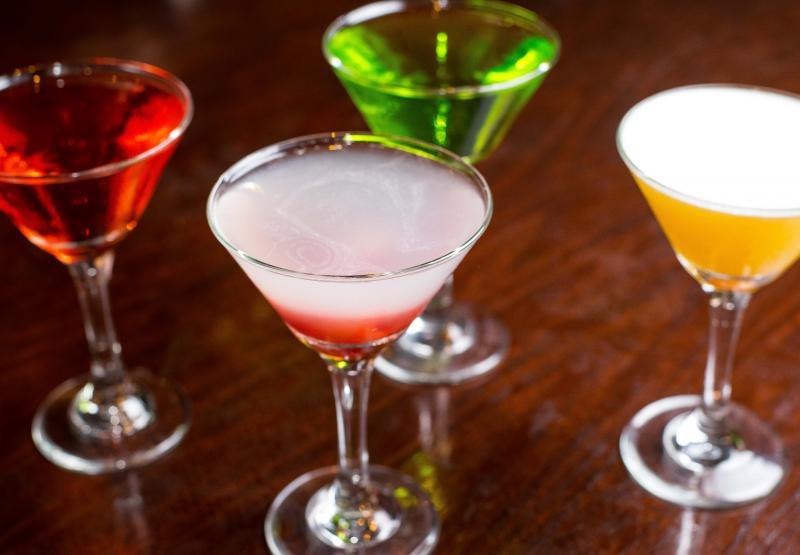 We were warmly greeted by one of the restaurant's distinguished managers, Dipen Rawal and started our dining experience with cocktails from their outstanding beverage program. The High Society Old Fashioned isn't a pretentious take on this classic drink like so many other restaurants offer. Rather, it is a straightforward, perfectly crafted old-fashioned. And the pour is very generous.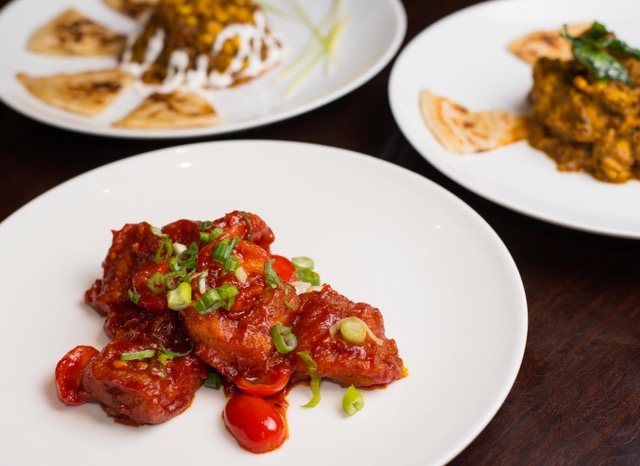 Benares' friendly staff treated us to a taste of the house. We sampled many of the appetizers from their eclectic menu that are great as table shares. The Khasta Gobhi is a lightly battered cauliflower that is fried to perfection and finished with a savory, tangy sauce. I have dined at Indian restaurants across America and in London and it is one of the best I have ever tasted.
The Fish Amritsari was another starter we enjoyed. The fish is marinated in yogurts, traditional Indian spices, and coated in gram flour. It is lightly fried allowing the flavor of the fish, a hearty portion of moist, flaky Salmon, to shine through. Several other appetizers on the menu are accompanied with their savory sauces and relishes. Benares is remarkably creative with the flavorings of their dishes.
The entrées are beautifully presented. We sampled some of their top vegetarian items accompanied by house made garlic Naan. Malai Kofta, the vegetable and cheese dumplings, are cooked in a cashew and onion gravy. The Saag Paneer, a house favorite, is made with fresh spinach cooked with cottage cheese and nicely tempered with cumin, ginger and garlic.
The Butter Chicken has grilled tandoori chicken pieces that are juicy and tender. The rich tomato sauce that garnishes the dish is ideal for dipping with Naan. Meat lovers will also relish the succulent Kadhai Goat cooked with fresh tomatoes, ginger, garlic, and fresh cilantro. The meat is so tender that it is falls off the bone and the seasoning provides a rich, distinctive flavor.
We ended the night with the Atomic Bomb, one of Benares newest dessert choices. The warm chocolate brownie, surrounded by scoops of rose flavored ice cream, make it a perfect way to end a pleasant, satisfying dining experience.
Guests of Benares will find that all of the menu items are extremely appetizing. Their culinary team takes great pride in creating dishes using only the finest, freshest ingredients.
Benares is a top dining experience. And that is saying something in a city filled with nearly 25,000 restaurants. The gracious staff makes certain that all of their guests feel special. There are choices on the menu for Indian food lovers with many taste preferences including an entire section devoted to Vegans. You can be sure that I will be back again and I hope to see you there.
If you've been to Benares loved the food so much that you want to have an event or party catered at the venue, there's great news. General manager Ranbir Bhatia leads the catering division with an array of options and menus custom designed for any occasion.
Benares is open for lunch Monday to Sunday from 11:30am to 3:00pm and dinner is served daily from 5:00pm to 10:30pm. For reservations and more information visit http://www.benaresnyc.com/tribeca or call 212.766.4900.
Meet our Guest Contributor, Matt de Rogatis
Matt de Rogatis is a stage actor based in New York City. When he is not performing, he enjoys reading, writing, and collecting vintage baseball cards. His interest in food spans a wide range of tastes and experiences, but Italian and Indian are two of his favorites. You can follow Matt on Twitter and Instagram @themightydero.
Photo Credit: Jason Greenspan
Related Articles
More Hot Stories For You