Click Here for More Articles on DANCE - CONTEMPORARY
BWW Review: BRYANT PARK CONTEMPORARY DANCE PROGRAM at Bryant Park
BBW Review: Daring Dancers Soar Despite Threatening Skies at Bryant Park
Ah, summer in New York City! Those who can handle the heat and humidity and don't flee to more breezy terrain on the weekends (or the season's entirety) and hopeful visitors taking in the New York experience during the sultriest months with the most unpredictable mood swings of Mother Nature, will be treated to the city's abundant exciting outdoor offerings, many of which are free of charge.
Bryant Park, a mere avenue away from the heart of the bustling center of Times Square, has been a haven for such delightful pastimes and the summer series, Bryant Park Picnics, presents world-class performances of music, theatre and dance all season long with scrumptious snacks and refreshing beverages to compliment the myriad viewing pleasures.
The first installation of the Contemporary Dance Series, curated by Tiffany Rea-Fisher (which runs Fridays from June 22-July 20 at 6pm) kicked-off with a strong start on the debut evening with performances from Harlem School of the Arts, AThomasProject, Eryc Taylor Dance and Graham 2.
Harlem School of the Arts Dance Ensemble took the stage first. The company provides classes for students age 2-17 in music, dance, theatre and visual arts and is lead by former Alvin Ailey Dance Company and Lion King Associate Producer, Aubrey Lynch II. The evocation dance was called "A Prayer For Earth," followed by "In Search of Our Mothers' Garden" featuring spoken word from Dr. Maya Angelou and dedicated to African-American female activists. Their final piece was "This is Me" the powerful song of self-acceptance that rocked the Oscars this year, from The Greatest Showman film, written by Benj Pasek and Justin Paul, whose Dear Evan Hansen is still playing to sold-out audiences and high ticket prices only walking distance away. This was the strongest piece for the young dancers who clearly related to the lyrics and performed it with panache.
AThomasProject began their set with "Grounds," an intentionally disquieting, discordant electronic music piece with the trio of dancers in stark, tight black undergarments. The next two dances, "3,4,5!" and "Cool, Calm, Collective (CCC)" were more grounded in poetic expression as a means to share powerful portrayals of African-American themes demonstrated in "3,4,5!" with another trio and the large group number "Cool, Calm, Collective (CCC)" that featured a large group of dancers in urban street clothes moving with tempestuous, broad, aggravated gestures that may have well stirred up the storm which was threatening from the grey, overcast skies from the commencement of the evening.
Eyrc Taylor Dance introduced their set with a theatrical, cinematic (evocative of a silent film) flair in "Chaise Lung," as two women clad in identical crimson gowns and cascading, raven ponytails (Twins? Sisters? Rivals?) constricted their movements to an elegant scarlet couch -- all flailing legs and juxtaposition between ladylike and vulgar behaviors, until they broke into a tango which took them away from the cushions. The second piece, "Cycles (an excerpt)," which will be seen in an extended version at the Dancers for Good Gala Event on July 20th in East Hampton, showcased the largest assembly of the company. This recent (2017) creation by provocative, athletically-inclined choreographer Eryc Taylor, is an abstraction of weightless environments, space and sea, and has a kind of stormy quality to it, which was also echoed by the looming cloud coverage that threatened from above. The original score was a special collaboration with British electronic Artist/DJ Swarm Intelligence and created the soundscape meant to transport viewers into another world. The final piece for Eryc Taylor Dance was perhaps the most poignant for the viewers in its simplicity and relatability -- "Grand Duo" is a dance battle between lovers, performed to the emotionally impactful, inescapable music of Billie Holiday, Nina Simone and Otis Redding. The performance featured Eryc Taylor's star dancers Nicole Baker and Chris Bell, who toyed with the complexities of a relationship in a moving pas de deux, sometimes touching, other times not, much like lovers in each stage of breaking up and making up.
The group which concluded the evening was Graham 2, the performing troupe of the Martha Graham School, currently helmed by the deft direction of Virginie Mecene. This company had the unfortunate position, fourth (in chronological order and balletic reference), and was laid bare to the whims of the weather. But a bit of wetness did not detain these dancers and it was on with the show, until conditions became too dangerous. Graham 2 braved the storm and performed all seven of their pieces with only a brief pause to wipe down the stage for the safety of the dancers. The opening number was a country-style jig with music by Woody Guthrie "I Ain't Got No Home" followed by "Serenata Morisca," choreography by Ted Shawn, reconstructed by Martha Graham in 1916. It is hailed as Graham's signature breakout piece, still provocative and powerful today, portrayed by the captivating Karlie Budge (who was also stunning in "Plain of Prayer", a reference to the plain of prayer in Tibet) whose lithe limbs and sharp gestures brought the eternal spirit of Martha Graham alive again -- she is certainly one to watch! Another who deserves his due is Octave Parfait, who was the primary dancer in four pieces of the seven (the opening Woody Guthrie number, "A New Place," "Moon" and "Dark Meadow") and shows extraordinary skill in groups, partnering and solos. Sabrina Lobner reenacted Graham's "Satyric Festival Song," with the bold costuming and sculptural gestures that are the world-renowned company's signature.
If this evening that ushered in the summer of outdoor Contemporary Dance is any kind of indication, then audiences attending Bryant Park Picnics and the other plein air festivals are in for a sensational treat this summer!
For more information, please visit: http://bryantpark.org/programs/contemporary_dance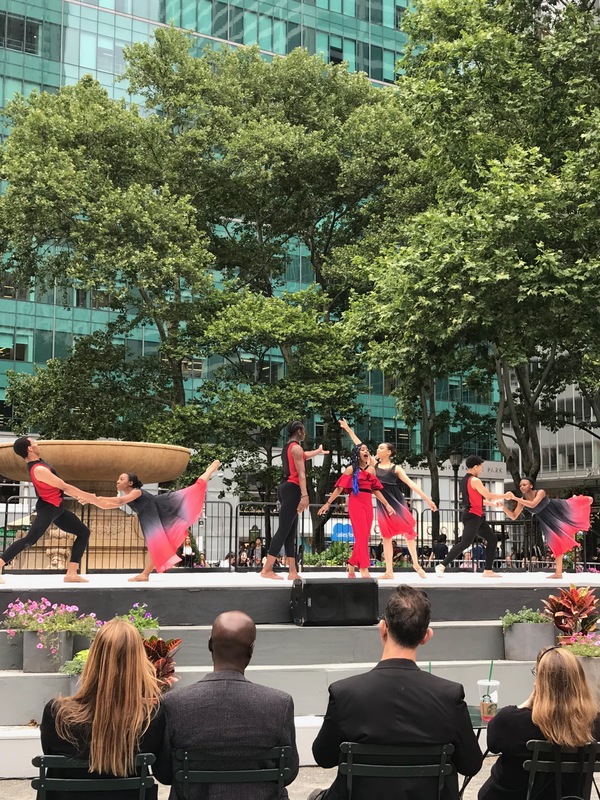 Harlem School of the Arts Dance Ensemble performs "This Is Me."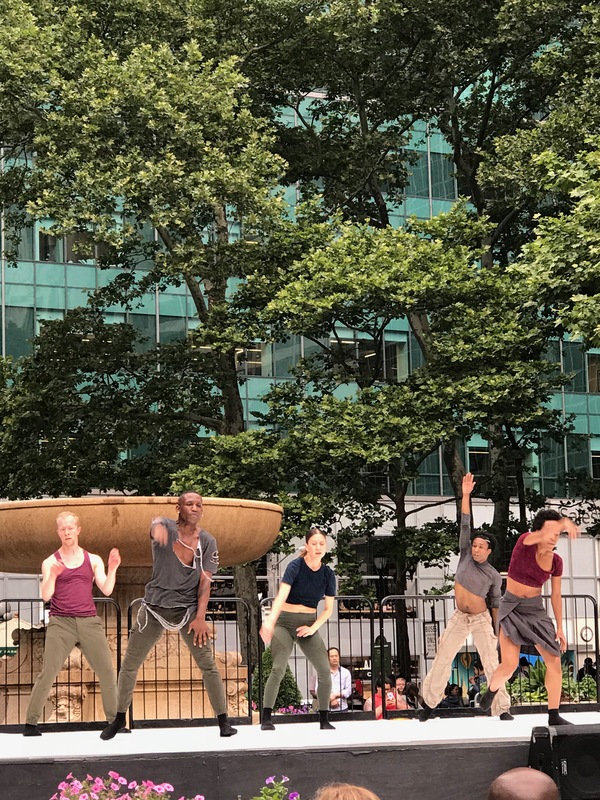 AThomasProject performs "Cool, Calm, Collective (CCC).�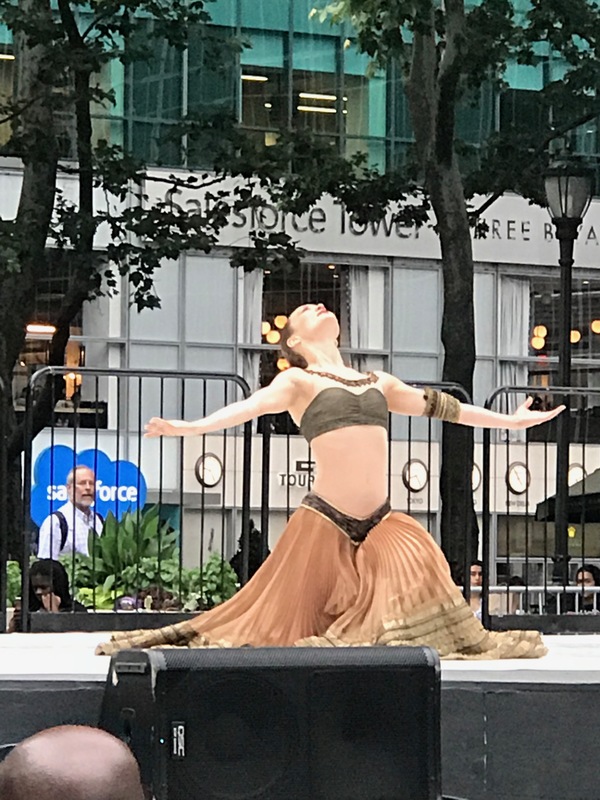 "Serenata Morisca� performed by Karlie Budge of Graham 2.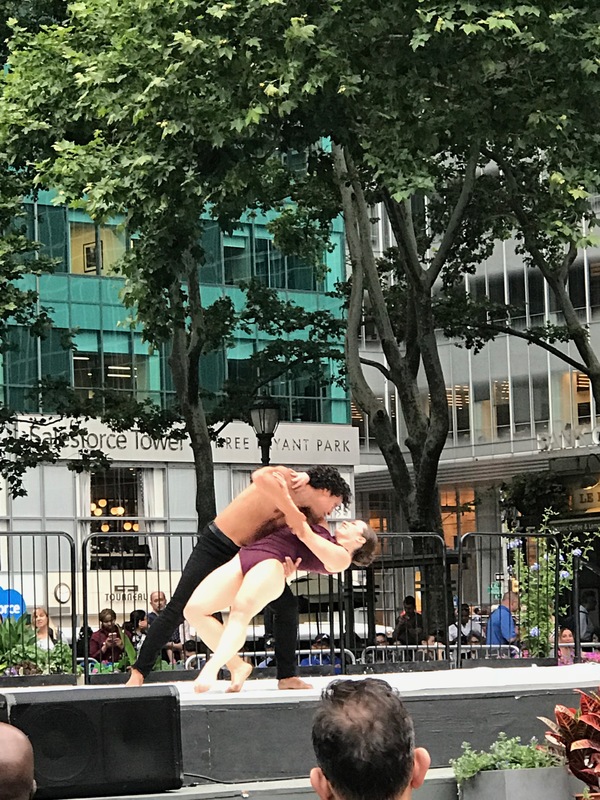 Nicole Baker and Chris Bell of Eyrc Taylor Dance perform "Grand Duo.�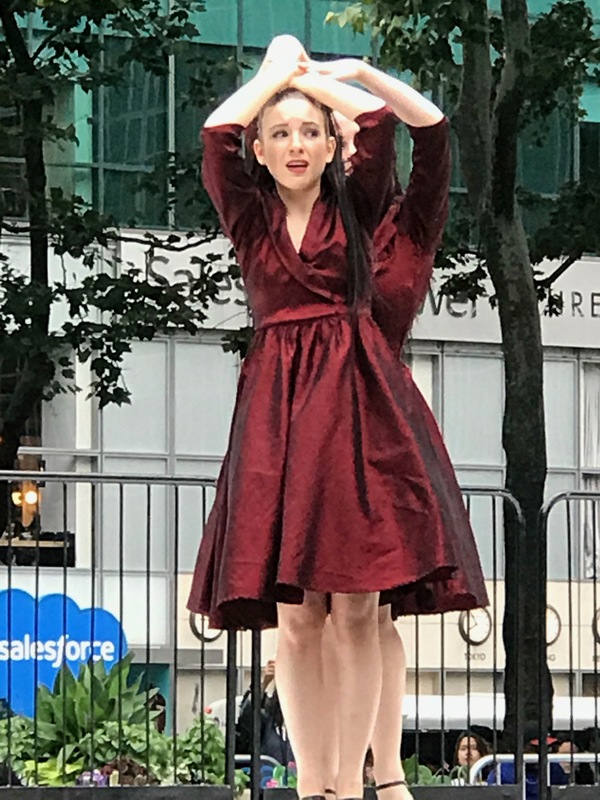 Taylor Ennen and Alex Teniero Theis of Eyrc Taylor Dance perform "Chaise Lung.�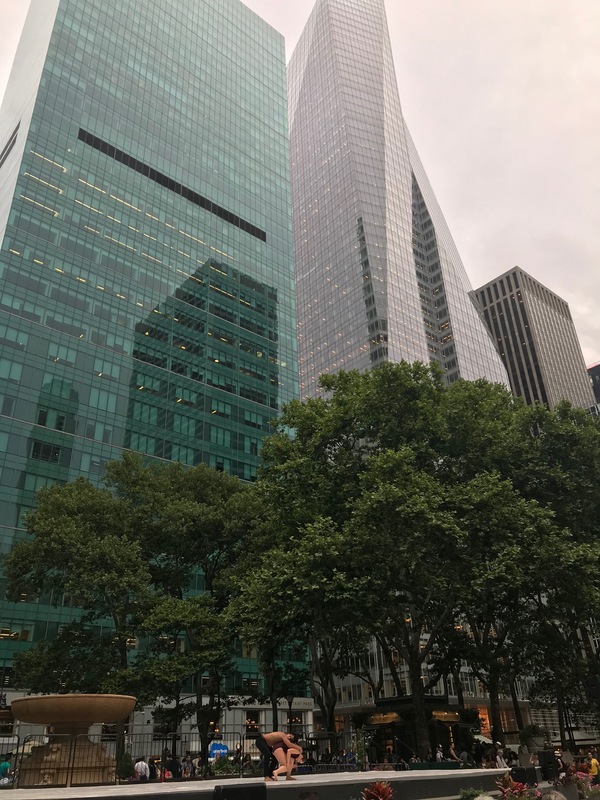 The stage for Bryant Park Picnics Contemporary Dance Program.
Photo Credit: BWW-Staff and Eryc Taylor Dance company member Chris Bell photo by Nikola Bradonjic.
| | | |
| --- | --- | --- |
| | Donations | Arts Orgs |
Related Articles