Cindy Sibilsky
Cindy Sibilsky is a Broadway, Off Broadway, U.S. and international Producer, Tour Producer, Marketing/PR Director and theatre, film, arts & culture and travel writer/reviewer specializing in global cultural exchange and accessible, universally appealing entertainment. She is devoted to bringing the best shows and companies from around the world to the U.S. and U.S. and global companies and shows on international tours and beyond or call attention to their work through featured reviews. For Broadway World, Cindy covers Dance, Theatre, Music, Film, Cabaret, and International special features. She is the Regional writer/reviewer for Panama, opening up the region to the world's stage. She writes for numerous outlets including several international publications and her writing has been translated into Arabic, Spanish, Chinese and Japanese. For more information on her company, InJoy Entertainment: www.injoyentertainment.com
MOST POPULAR ARTICLES
LAST 30 DAYS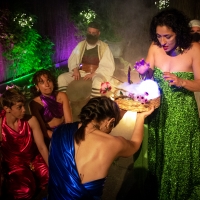 BWW Review: PERSOU Pursues Eternal Spring at The Cell Theatre
Posted: Jun. 1, 2021


LAST 365 DAYS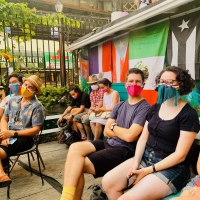 BWW Review: In QUINCE, Live Theatre Blooms at The People's Garden in Bushwick
Posted: Aug. 23, 2020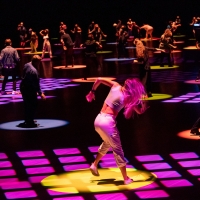 BWW Review: SOCIAL! THE SOCIAL DISTANCE DANCE CLUB at Park Avenue Armory
Posted: Apr. 19, 2021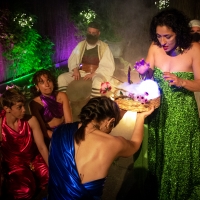 BWW Review: PERSOU Pursues Eternal Spring at The Cell Theatre
Posted: Jun. 1, 2021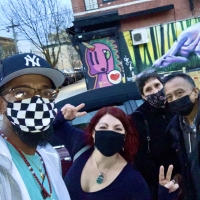 BWW Review: TAXILANDIA Takes a Ride Through Bushwick
Posted: Apr. 19, 2021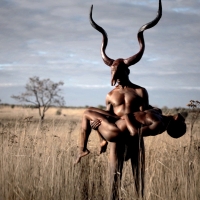 BWW Review: 'FROM AFRICA' LEAPS ACROSS THE SCREEN at THE 39TH BATTERY DANCE FESTIVAL
Posted: Sep. 1, 2020


BWW Review: PERSOU Pursues Eternal Spring at The Cell Theatre

June 1, 2021

One Whale Tale's Persou transforms The Cell Theatre in Chelsea into the Temple of Aphrodite and invites audiences into a sensual, immersive experience celebrating the beauty and bounty of spring. The interactive theatrical event is extended through June 12th.
---
BWW Review: TAXILANDIA Takes a Ride Through Bushwick

April 19, 2021

In Taxilandia — a solo show that a maximum of three audience members at a time watch from the backseat of a cab — Modesto Flako Jimenez is the charismatic guide unveiling the hellish and heavenly aspects of Bushwick's past, present, and uncertain future.
---
BWW Review: SOCIAL! THE SOCIAL DISTANCE DANCE CLUB at Park Avenue Armory

April 19, 2021

David Byrne is no stranger to creating theatre, quirky immersive experiences, or ushering people to the dance floor. So perhaps it's fitting that he's acting as a Pied Piper for a return to all three in SOCIAL! The Social Distance Dance Club at Park Avenue Armory.
---
BWW Review: 'FROM AFRICA' LEAPS ACROSS THE SCREEN at THE 39TH BATTERY DANCE FESTIVAL

September 1, 2020

All of these companies were planning to premiere their works live in the U.S. this year but shifted to adapt. One takeaway is clear, the continent of Africa is producing some of the most exciting and innovative dance worldwide while remaining true to their roots. From Africa at Battery Dance Festival is available to watch online through August 30.
---
BWW Review: In QUINCE, Live Theatre Blooms at The People's Garden in Bushwick

August 23, 2020

Quince may not have been ground-breaking or earth-shattering, it was quirky, charming, celebratory, and delightful, filled with sincerity and warmth. The grassroots style and non-pretentious 'let's put on a show!' vibe was welcoming, refreshing, and well-suited to the surroundings.
---
BWW Interview: Legendary Japanese Theatre Artist Hideki Noda on ONE GREEN BOTTLE at La MaMa ETC

March 9, 2020

Hideki Noda's powerfully dynamic, physically demanding, utterly engaging and thoroughly entertaining works have been seen across the world's stage and now he returns to one of the most significant homes of the underground theatre movement in NYC -- The Ellen Stewart Theater at La MaMa -- in One Green Bottle, playing from February 29-March 8th. The three-person gender-swapping show puts an absurdist spin on the current self-driven, self-obsessed 'selfie' society. One Green Bottle is unmissable, uproariously hysterical and absolutely delightful with depth that lingers long after the last 'one green bottle should accidentally fall...' as the song goes.
---
BWW Review: MEDEA for Modern Times Seeks to Shed Light on Dark Acts at Harvey Theater at BAM Strong

February 19, 2020

The astounding, unnerving and transfixing new production of Medea, set in present times and starring the real-life couple with a pair of boys of their own -- Bobby Cannavale and Rose Byrne -- written and directed by Simon Stone, now playing at Harvey Theater at BAM Strong on an extended run through March 8th, leaves the audience pondering and works backward to attempt to shed light on the process that could lead to such inconceivable atrocities.
---
BWW Review: COMPLEXIONS, THE ROCKSTARS OF BALLET, TACKLE LENNY KRAVITZ at Joyce Theater

February 7, 2020

Winter in New York City is not known for being particularly steamy (though the unseasonably mild weather this year gives one reason to pause), but there is always Complexions Contemporary Ballet's season at the Joyce Theater to turn up the heat to a feverish, sweltering boiling point! For the 26th season, the company revived recent seminal works -- Bach 25 and Woke -- alongside favorites spanning from 1994 to a brand new solo in Essential Parts, which acted as a 'Greatest Hits' compilation for the ever-evolving, always revolutionary dance troupe. This year also marked the World Premiere of their latest exploration of the full canon of a particular musician's oeuvre -- Love Rocks featuring the music of the iconic Grammy-winning rockstar, Lenny Kravitz. For patrons unable to attend all programs, FOMO (fear of missing out) syndrome is understandable, but for those who are highly familiar with the group's work or only getting their first taste, Program C -- which featured the latter two mentioned -- was the most delectable sampling of Complexions offerings old and new. The fascinating thing about such juxtapositions is that, in seeing the latest creations from 2020 side-by-side with choreography premiered in the early 1990s, it is remarkable to note how the level of innovation, depth of emotion and current relevance remains the same. It's a reminder that timeliness and timelessness can coexist, given the right mediums and masters. The genius of legendary Co-Founders, Co-Artistic Directors Desmond Richard and Dwight Rhoden (also the Principal Choreographer) cannot be underestimated. Indeed, it has not. They have both achieved phenomenal success and longevity, been lauded as trailblazers and received numerous accolades from peers, critics and audiences alike since they burst on the dance scene. It's no wonder that they have utilized the music of David Bowie, Stevie Wonder, Kendrick Lamar and Lenny Kravitz to tell their stories through bodies in motion -- they are rockstars themselves!
---
BWW Review: UNDER THE RADAR: FEOS & THE SHADOW WHOSE PREY THE HUNTER BECOMES at The Public Theater

January 20, 2020

Mid-January in New York City does not appear to be a particularly romantic or momentous time of year for The Big Apple. The Christmas decorations have come down (most of them at least) and the holiday revelers and hoards of tourists have retreated, getting on with their own lives for the start of a new year -- and in this case, a new decade -- during a very tumultuous time where everything matters and nothing, especially in the arts, feels arbitrary.
---
BWW Review: ORLANDO: A Revolutionary, Radical New Opera Blends Art With Activism at Vienna State Opera

December 31, 2019

Orlando was a deeply engaging, intriguing and thought-provoking exploration whose pondering, messages, striking soundscapes and visuals reverberated and lingered long after the curtain had closed. It is a highly ambitious undertaking but Neuwirth and her colleagues were up for the challenge. What is most exciting is what has now been established for a venue such as The Wiener Straatsoper as we move into a new decade of uncertain times when it is vital that radical expressions of art and activism combined are given such a grand stage with which to proclaim their truths.
---
BWW Review: BARBER SHOP CHRONICLES Showcases Salons as a Beacon of Hope for Contemporary Black Men

December 9, 2019

Barber Shop Chronicles is a unifying, enriching, thought-provoking and captivating theatrical experience that solidifies Ellams' position as a griot worthy of upholding the rich African ancestry of storytelling traditions, and an exciting new poet and playwright making his mark on the world's stage by sharing slices of life that dive deeply into the culture and concerns of the contemporary black man.
---
BWW Review: SHAKINA NAYFACK: MANIFEST PUSSY at Joe's Pub is a Heroine's Journey

November 23, 2019

Manifest Pussy is a deeply personal and profound her-story, the story of how Shakina went from a nice Jewish boy growing up in the suburbs of Los Angeles, dreaming of dressing up in the gossamer gowns that were forbidden to him, to the relentlessly exuberant, terrifically talented, hilarious and kind buxom star of stage and screen.
---
BWW Review: USER NOT FOUND Deals With Death In The Digital Age At A Brooklyn Café

November 18, 2019

The show itself was entertaining and contained intriguing concepts and questions that could merit continued conversations on the topics addressed (possibly at a cafe over a cup of coffee or tea?) but wasn't completely flawless in execution or innovation, and was more personally reflective than profound. Through our connection to Terry's world by being plugged into his smartphone and hearing what he hears via headphones, as well as what he thinks and feels via his one-sided dialogue, we become privy to a person's private grief in a public space.
---
BWW Review: HAMNET Explores the Complexities of a Famous Father Through the Eyes of a Child at Next Wave 2019

November 12, 2019

Children of powerful or accomplished parents have a hard enough time as it is stepping into the massive shoes laid out before them or being able to be seen for who they are unobscured by the huge, formidable shadow cast by someone who has been called a a?oegreat mana??, but what of a child who never got the chance in the first place? These are some of the questions that arose from Hamnet, written and directed by Ben Kidd and Bush Moukarzel of Ireland's Dead Centre as part of BAM's Next Wave 2019.
---
BWW Review: HIJIKATA MON AMOUR Honors A Trailblazer While Exploring the Future of Butoh

November 11, 2019

'On a personal level, to me, the piece represented the lineage: a student hears a teachers' voice and is forever changed by it,' Vangeline described. 'A butoh student must be lost to be found, walk in the dark, dive deeply inside themselves, and, as Tatsumi Hijikata said, 'pluck the darkness from their own flesh.'
---
India's Independence Celebrates With Lady Liberty At Sunset For Battery Dance Festival

September 9, 2019

It was fitting that Manipuri dance was chosen to commemorate India Independence Day, because during British colonial rule the dances were ridiculed as savage, immoral and outdated. Fortunately, thanks to India's independence, the help of activists, scholars and performers revitalizing ancient yet timeless traditions, and organizations like Battery Dance Festival, Manipuri dance can continue to thrive not only in India but on the world's stage. Lord Krishna must be pleased!
---
BWW Review: THE COLOR IZ Presented a Multifaceted Array of Dance and Disco at The Stonewall Inn

August 27, 2019

The Color Iz was part dance showcase, part musical theatre and part gender-bending Drag show with a heavy, heady dose of disco, glam and glitter and a focus on celebrating all shades of expression in dance and identity.
---
BWW Review: DANCERS FOR GOOD 2019 Outdoes Itself Again!

July 29, 2019

Last year, in 2018, the third annual Dancers For Good Benefit supporting the Actors Fund Dancers Resource in East Hampton was so impressive that I challenged the founders to 'high-kick it up a notch even higher next year'. I'm thrilled to announce that not only did they clearly accept that challenge, they superseded all expectations!
---
BWW Review: ERYC TAYLOR DANCE'S Immersive EARTH Breaks New Ground at Brooklyn Botanic Gardens

July 25, 2019

Eryc Taylor Dance and guest choreographers from ETD's grant program performed segments from EARTH at BBG. Taylor's impetus to create EARTH was the urge to present a visual, physical and auditory 'wake up call' to the impact of humankind's impact on global warming.
---
BWW Review: DOUG VARONE AND DANCERS IN THE SHELTER OF THE FOLD / EPILOGUE is Transcendent and Transfixing

June 11, 2019

Doug Varone and Dancers in the shelter of the fold / epilogue is a transcendent and transfixing inquiry into public and private relationships to faith through seven vignettes that intermingled fluidly at BAM's Fisher from June 5-8th. The thirteen bodies in nearly continuous motion -- choreographed by Varone -- were so mesmerizing that the captivated viewers were on the edge of their seats during the entire performance. The evening was as sonically spellbinding as it was visually enchanting thanks to the complex, varied and at times otherworldly or ethereal sounds provided a diverse array of multiple compositions played by Bang on a Can All-Stars with PUBLIQuartet and Lesley Flanigan.
---