STARRING BUFFALO To Launch With THE HUNCHBACK OF NOTRE DAME At Rockwell Hall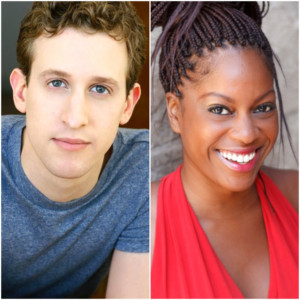 Founders Drew Fornarola, Laura Brodie, and Steven Tartick are proud to announce the creation of STARRING BUFFALO, a new not-for-profit arts organization that brings together Broadway's best performers, Buffalo's top theater and music professionals, and talented area students to create unforgettable theatrical experiences.
STARRING BUFFALO events will offer Buffalo audiences unrivaled access to the world's greatest theater artists, while providing Western New York students the chance to learn from, work alongside, and be inspired in both master class and concert environments.
The organization will launch with THE HUNCHBACK OF NOTRE DAME, the lushly scored retelling of Victor Hugo's epic story of love and acceptance, in concert performances at Rockwell Hall in downtown Buffalo on October 19th at 7:30pm and October 20th at 2pm and 7:30pm.
ABOUT THE SHOW
Written by Academy Award-winners Alan Menken (Beauty and the Beast, Aladdin) and Stephen Schwartz (Wicked, Godspell), the show features songs from the Disney animated movie, as well as new songs from Menken and Schwartz. The book by Peter Parnell (The West Wing) includes passages from Hugo's gothic novel, creating a dark and beautiful musical suitable for adults and children alike.
HUNCHBACK will be sung in concert by a cast featuring visiting Broadway actors, a live professional orchestra, and an extraordinary group of Buffalo's top professional performers. Outstanding Buffalo-area high school students and members of the University at Buffalo's Zodiaque Dance Company have also been selected to contribute.
The show stars Alex Wyse (Spring Awakening, Lysistrata Jones, Wicked - Tour) as Quasimodo, and Dan'yelle Williamson (Memphis, Rocky, The Lion King - Tour) as Esmeralda alongside Leah Berst, Charmagne Chi, Arianne Davidow, Keith Ersing, Matthew Iwanski-Jackson, Dudney Joseph, Ben Michael Moran, Katy Miner, Raphael Santos. Complete casting will be announced soon.
Artistic Director Drew Fornarola says, "My upbringing and education in Western New York allowed me to fulfill my dream of becoming a professional writer in the Broadway and Hollywood communities. I'm excited to try to build that bridge for more aspiring Buffalo artists, as well as to add more high-quality theater to the already vibrant and growing downtown arts scene." Chair of the Board Laura Brodie adds, The Buffalo area is flush with creative people and organizations, and it's on of our goals to work with as many as possible. I'm thrilled to offer audiences and participating students a different way to engage with performance, while exposing our visiting artists to the amazing talent in Buffalo as well."
Starring Buffalo is a not-for-profit arts organization founded by theater professionals and supporters with ties to both the Buffalo and Broadway communities. To learn more about our cutting-edge model for musical theater and arts participation, visit StarringBuffalo.org.
THE STARRING BUFFALO TEAM
Drew Fornarola (artistic director), a Williamsville East and Princeton University graduate, will oversee the artistic side of the organization. Drew is a NYC-based writer and producer with strong ties in both the Broadway and Buffalo communities. He has written songs for DreamWorks' Shrek and VeggieTales franchises, headlined concerts around the world, and garnered numerous awards including a New York Times Critics' Pick for his 2016 play STRAIGHT.
Laura Brodie (chair of the board), also a NYC-based product of Williamsville East and Princeton, will oversee business and development. Laura is Vice President and General Manager of Burt Rigid Box and CDD Millwork, two custom manufacturing businesses headquartered in Buffalo and operating in Central NY. She previously worked in development and education at the American Symphony Orchestra, and currently serves on the board of the Princeton Tower Club and the Executive Committee of the national Paperboard Packaging Council.
Steven Tartick (founding board member), is the Executive Creative Director at RPM, a Broadway advertising agency in New York City. He leads the creative strategy for clients including Hamilton, Waitress, Chicago, and Second Stage. He is a founding member of the TEDxBroadway organizing committee and producer of the upcoming musical "Rubble Rubble." Steven is a proud Buffalo native and graduate of Williamsville East High School.
Michael Russo (education director), a longtime WNY resident originally from the greater NYC area, will manage local operations and coordinate services and technology for the organization. Michael is the arts administrator in the Williamsville Central Schools, a system he has worked in for 25 years. He has extensive experience in the music education and community arts organizations of WNY and is delighted to be able to help bring a unique opportunity like this to the rich WNY Arts palette.
More Hot Stories For You