2017 Miss New York Pageant Set for Shea's Buffalo Theatre Next June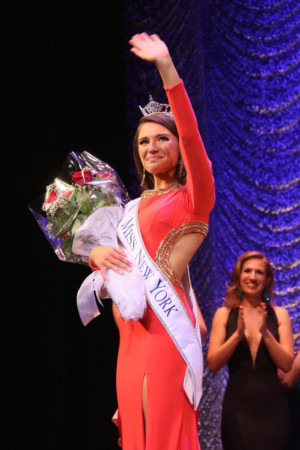 The Miss NY State Organization will hold a ceremonial ribbon-cutting event under the Shea's Buffalo Theatre marquee at 11:00 A.M on Saturday, August 19 to commemorate their new partnership. The Miss New York Pageant will be held at Shea's Buffalo Theatre in June, 2018.
Special guests at the event will include Senator Tim Kennedy and other dignitaries, Children's Hospital representatives, the Board of Directors from the Scholarship Organization in New York City, Shea's Performing Arts Center representatives, past state and local title holders, and Gabrielle Walter - Miss New York State 2017.
La Verne Mosey-Murphy, Director of Development & Liaison of the Miss NY State Scholarship Organization, expressed enthusiasm for the event to come to Buffalo. "On behalf of the Miss New York State Scholarship Organization, we are very excited to be coming to Buffalo and look forward to showcasing our pageant made up of over 30 young women from across the state in the beautiful and historic Shea's Buffalo Theater. As a native Buffalonian it gives me great pride to take part in welcoming the organization to its new home, in the city of good neighbors."
As the official preliminary to the Miss AmErica Pageant, the Miss New York Pageant shares the same objectives as its parent licensee. The Miss NY State Organization partners academic scholarships with hands-on leadership to provide New York's brightest women the platform to expand their personal excellence and societal impact. The goal is to create social change across New York State through expert advocacy, encouraging creative arts, and promoting physical health for well-balanced women.
The Miss America Organization is one of the nation's leading achievement programs and the world's largest provider of scholarship assistance for young women. Last year, the Miss America Organization and its state and local organizations made available millions in cash and scholarship assistance.
Developed by the Miss America Organization, the Miss America program is a not-for-profit organization that exists to provide personal and professional opportunities for young women and to promote their voices in culture, politics and the community. The program provides a forum for today's young women to express their viewpoints, talents, and accomplishments to audiences during the telecast and to the public-at-large during the ensuing year. Almost all contestants have either received, or are in the process of earning, college or postgraduate degrees and utilize Miss America scholarship grants to further their educations.
In 1989, the Miss America Organization founded the platform concept, which requires each contestant to choose an issue about which she cares deeply and that is of relevance to our society. Once chosen, Miss America and the state titleholders use their stature to address community-service organizations, business and civic leaders, the media and others about their platform issues. Since 1989, Miss America titleholders have appeared at thousands of public speaking engagements and charitable events to generate awareness for a variety of causes, including homelessness, HIV/AIDS prevention, domestic violence, diabetes awareness, character education, and literacy.
For more information, visit www.missny.org.
The Miss America Organization, a 501(c)4 non-profit organization, is the nation's leading advocate for women's education and the largest provider of scholarship assistance to young women in the United States, awarding millions of dollars annually. The Miss America Organization is comprised of 51 organizations, including all 50 states and the District of Columbia. Miss America contestants contribute tens of thousands of community service hours annually and have raised over $16 million for Children's Miracle Network Hospitals and Miss America scholarships since 2007. For more information, visit www.MissAmerica.org.
Related Articles View More Buffalo

Stories

Shows
More Hot Stories For You