The Brick Theater Presents THE FESTIVAL OF LIES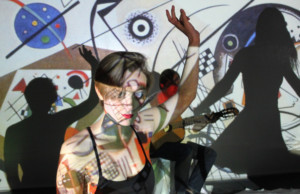 Truth is an illusion. Experience is subjective. And proof is in the eye of the beholder. We at The Brick believe only what we feel like believing and likely not even that. All news is fake news. Except for the news that proves my point. Join us for performances and art works full of hot takes, half-truths and exaggerations for you to believe, ignore and distrust at your pleasure. All spectators will receive ten million dollars.
FEATURING THE LIAR SHOW AND ACCLAIMED AUTHOR/VAUDEVILLIAN TRAV S.D.!
SHOWS:
The Gaslight Cabaret
June 30, 2018
Naked television celebrities will be handing out $50 bills to every audience member at this Vatican-sponsored event.
Saturday, June 30 @ 6:30pm
Anderson Lena and the Things That Don't Matter
June 20, 2018
Fall in love. Don't tell him. Leave for foreign country. Lose touch. Come home. Recount every last detail of prior interactions in a blind attempt to figure out how he feels. Lather. Rinse. Repeat.
60 minutes
Wednesday, June 20 @ 7pm
As You Like It
Doghouse Ensemble Theatre
June 23 - July 1, 2018
Directed and Produced by Catherine Andre
Director Catherine Andre re-imagines Shakespeare's As You Like It to interrogate our society's tenuous relationship to truth and reality building. Developed in Doghouse Ensemble Theatre's Incubator Program (Mark Mazzarella, Julia Steenstra, Yoni Weiss; Artistic Directors), this radical adaptation uses a predominantly female cast to consider how we all frame the world as we like it.
100 minutes
Saturday, June 23 @ 1pm
Monday, June 25 @ 7pm
Sunday, July 1 @ 1pm
Bird of Pray
June 9 - 27, 2018
Written by Darrel Alejandro Holnes
Directed by Mimi Barcomi
When Shaquille returns from war in Afghanistan to his childhood home in small-town Louisiana, he fights for his life against his inner demons as a hurricane approaches the Gulf Coast. This theatrical journey into PTSD explores the depths of a soldier's mind and the hidden corners of American history.
1 hour
Saturday, June 9 @ 5pm
Sunday, June 17 @ 4pm
Wednesday, June 27 @ 7pm
Ciphered Bridges: Hudson Exhibit III!
June 16 - 30, 2018
Composed by Køvvånng & the Amnesia Wars Company
Directed by Rob Reese
Accomplished musicians, dancers, actors and cetera immediately devise performance pieces as decreed each night by international conceptual artist Køvvånng.
This Cipher Art performance piece will resemble the bastard orgy-child of a performance art installation, a modern music-dance concert, an improvisational comedy spectacle, and a Monty Python fever dream.
100 minutes
Saturday, June 16 @ 1pm
Monday, June 17 @ 9:30pm
Saturday, June 30 @ 3:30pm
CoatlCast: LIVE!
Sneaky Snake Productions
June 24 - 28, 2018
Hosted by Tom Nabb and Scott Morel
Since it first appeared on the Canadian streaming service EnokEye, the cult sci-fi series Coatl has captivated, provoked, and baffled hundreds of viewers internationally. And of the many podcasts that have sprung up to feed on its modest success, "CoatlCast" has been consistently praised for its insightful commentary and satisfactory production values. In CoatlCast: LIVE!, Tom and Scott will record their first-ever episode before a live audience. The first performance will be a conventional CoatlCast episode, while the second will combine the audio of that recorded episode with live performance. NOTE: Attendees are strongly encouraged to watch Coatl S2E6 ("Enter ... the Egress!") beforehand.
90 minutes
Saturday, June 24 @ 1pm
Thursday, June 28 @ 7pm
How We Hear
June 18 - 26, 2018
Director & Creator: Emily Lyon
From Abraham Lincoln to Trump's Twitter feed, How We Hear is an experimental piece about how our political discourse has changed in response to technology. The piece asks, particularly when debating such weighty issues as civil rights, how can we value and protect nuance in a world of 140 (or 280) characters?
90 minutes
Monday, June 18 @ 7pm
Saturday, June 23 @ 4pm
Tuesday, June 26 @ 9:15pm
Is This a Graveyard?
Visceral Realist Theater Company
June 10 - 30, 2018
by Enrique Huili, Directed by Elizabeth Ruelas
Is This A Graveyard is an absurdist comedy that focuses on two brothers as they reunite, reminisce, and rebuild their relationship in a place that can be best described as a void. As the two brothers are forced to dig a hole by an unruly constable, they explore themes of masculinity, poverty, and self-exploration.
90 minutes
Sunday, June 10 @ 1pm
Wednesday, June 27 @ 9pm
Saturday, June 30 @ 1pm
The Liar Show: Festival of Lies Edition
June 16, 2018
Featuring: Jim O'Grady, Tracy Rowland, Jeff Simmermon & Richard Cardillo
And your host Brad Lawrence
Call it an unreality show. Since the summer of 2006, The Liar Show has taken the art of deception to theaters, cabarets and cultural centers around the U.S. and Canada and was called "A Winner" (The Scotsman) and received 4 Stars during a month-long run at the Edinburgh Fringe Festival.
Liar has featured New Yorker Magazine contributor Andy Borowitz, Mike Daisey, called "The master storyteller" by the NY Times, and former Bill Clinton speechwriter, Mark Katz in addition to Comedy Central personalities, film directors, lapsed Mormons with a bone to pick with the Almighty, and even an NYPD gang squad detective.
At each show, four performers tell short personal stories, but listen carefully, because one of these people is making it all up. Interrogate the cast and expose the Liar to win our unbelievable T-shirt. But as The Washington Post wrote of our show: "Prizes mean nothing compared with the sweet victory of being recognized as the savviest people in the room."
90 minutes
Saturday, June 16 @ 7pm
Orientation or The Handmaid's Dianetics
June 6 - 29, 2018
Written & Performed by Joyce Miller
Ofhubbard lives an ethical life just trying to do the greatest good for the greatest number, until true love forces her to reconsider whether life outside the cult is any better than her simple existence as an immortal spiritual being.
75 minutes
Wednesday, June 6 @ 9pm
Tuesday, June 26 @ 7pm
Friday, June 29 @ 7pm
Paper Towels
June 8 - 12, 2018
A man that lost everything in the aftermath of Hurricane Maria in Puerto Rico is about to attack the people of the government that left them forgotten. The only thing standing between him and this heinous act? His cousin and an echo dot.
1 hour
Friday, June 8 @ 7pm
Sunday, June 10 @ 4pm
Tuesday, June 12 @ 7pm
Sweet Little Lies
Equus Ursus Productions
June 6 - 11, 2018
Featuring short plays from Erin Bregman, Chris Chappell, Bob Laine, Richard Lovejoy, Greg Romero, and Alexis Sottile.
For discriminating connoisseurs of untruth, the last two years of American life have been a particularly grotesque spectacle, as public figures have advanced ever-more extravagant, clumsy, and implausible lies to a global audience. What we've lost in these decadent times is an appreciation for more subtle delectations: venial deceits, graceful exaggerations, and artful lies of omission. Sweet Little Lies brings to Williamsburg, Brooklyn-the original home of artisanal bullshit-seven such lovingly crafted confections, comprising an hour-long celebration of falsehood that highlights some of the best* new* short works from leading* American Playwrights.
70 minutes
Wednesday, June 6 @ 7pm
Saturday, June 9 @ 7pm
Monday, June 11 @ 7pm
Tall Tales
June 9 - 19, 2018
Written, Directed & Performed by Trav S.D.
Writer and performer Trav S.D. mines American folk/ pop culture, history, and his own life to examine America's 4 century long love affair with being conned. Songs, monologues, humor, pathos, and a few touches of vaudeville. Trav S.D. is best known for directing & producing hit 2014 NYC Fringe revival of the Marx Bros first Broadway show I'll Say She Is, for writing the seminal 2005 non-fiction book "No Applause, Just Throw Money: The Book That Made Vaudeville Famous" and for his popular show biz blog Travalanche. His biographical play Horse Play (about Adah Isaacs Menken) was produced by Theatre Askew at La Mama's Ellen Stewart Theatre starring Molly Pope and Everett Quinton in 2015.
1 hour
Saturday, June 9 @ 3pm
Wednesday, June 13 @ 7pm
Tuesday, June 19 @ 7pm
The Festival of Lies will play at The Brick (579 Metropolitan Ave at Lorimer Street, Williamsburg, Brooklyn) from June 6 to July 5, 2018. Tickets ($20) may be purchased online at www.bricktheater.com or by calling 866-811-4111.
The Brick is located at 579 Metropolitan Avenue (between Union Avenue and Lorimer Street) in Williamsburg, Brooklyn on the L & G subway lines (L: Lorimer stop; G: Metropolitan stop). For more detailed directions & further information, visit www.bricktheater.com. The Brick and its non-profit company, The Brick Theater, Inc. were founded in September of 2002 by Robert Honeywell and Michael Gardner. Formerly an auto-body shop, a storage space and a yoga center, this brick- walled garage was completely refurbished into a state-of-the-art theater complex, with a large sprung floor and professional lighting and sound package.
Winner of THE 2009 CAFFE CINO FELLOWSHIP AWARD, The Brick is Williamsburg, Brooklyn's destination for subversive theatrical experiences. Home to the critically acclaimed premieres of Bouffon Glass Menajoree (NY IT Award Winner-Outstanding Play), Samuel & Alasdair: A Personal History of the Robot War (NY IT Award Winner-Outstanding Play), Greed: A Musical Love $tory (NY IT Award Nominee-Outstanding Musical), Red Cloud Rising, Theatre of the Arcade and Suspicious Package (NY IT Award Nominee-Outstanding Play), The Brick has hosted some of downtown theater's most innovative artists, including Award-winners Lila Neugebauer, Lea Nanako Winkler, Young Jean Lee, The Debate Society, Little Lord, Nellie Tinder, Target Margin Theater, New Georges, Jason Grote, Annie Baker, The Mad Ones and Thomas Bradshaw.
Related Articles View More Brooklyn

Stories

Shows
More Hot Stories For You