Moliere In The Park Announces Inaugural Season with Samira Wiley & Stew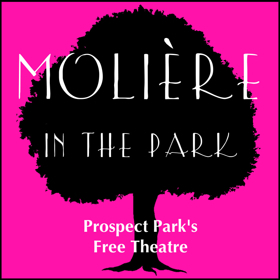 Molière in the Park, presented in partnership with the Prospect Park Alliance and the LeFrak Center at Lakeside, has announced its inaugural season. The three-day event begins with the company launch and fundraiser on Saturday, May 18 at 7pm, followed by two free staged public readings of two-time Pulitzer Prize winner Richard Wilbur's translation of Molière's THE MISANTHROPE, directed by Molière in the Park's Founding Artistic Director Lucie Tiberghien, with original songs by Tony and two-time Obie Award winner Stew, on Sunday, May 19 at 7pm and Monday, May 20 at 7pm.
The star-studded cast for THE MISANTHROPE includes Emmy and SAG Award winner
Samira Wiley
(Hulu's "The Handmaid's Tale," Netflix's "Orange Is the New Black,"
Harlem Stage
's Antigone in Ferguson),
Chris Henry
Coffey (Bronx Bombers at Circle in the Square &
Primary Stages
, Water by the Spoonful at
Second Stage
),
Mandi Masden
(Broadway's Saint Joan, Jitney - MTC, 2017 Tony Award),
Jennifer Mudge
(Into the Woods at Roundabout -
Lucille Lortel
Award nominee, Broadway's Rocky) and
Postell Pringle
(FX's "Rescue Me," Broadway's A Free Man of Color at LCT). Additional cast members to be announced. Molière in the Park is dedicated to bringing, yearly, free and inclusive productions of Molière's masterpieces to the LeFrak Center at Lakeside in Prospect Park. Considered one of the world's greatest French satirists, they aim to make English translations of Molière's plays a vital part of Brooklyn's diverse culture. Every year a new production will bring our community together, free of charge, to experience subversive and timeless comedies under the stars. In both style and content, Molière's plays capture Brooklyn: funny, gritty, smart, progressive and disruptive, and embracing of all types of people. His vast body of work reflects a common theme of generosity; Every play is a gift to the viewer, as the playwright leads his audience through laughter, honesty, tenderness, anguish and love. Through the lens of his stories, we see ourselves and others as imperfect and intertwined humans. Much like Prospect Park's unifying draw to Brooklynites and New Yorkers, Molière's plays unite us and point to our commonalities rather than our differences. Molière in the Park is a homage to Brooklyn's unique brand of diversity, innovation, and inclusion. In THE MISANTHROPE, a society built upon a fragile foundation of up-front politeness and behind-the-back gossip is subjected to Alceste's wrecking ball of bluntness and disdain for social norms. Ironically, Alceste is madly in love with Célimène, a skilled courtesan who deftly navigates the shark-filled waters of polite society in her relentless goal for independence. Can such opposites ever hope to find common ground? The production team includes Garth Belcon (Co-Founding Producer),
Jessie Dean
(Associate Artistic Director),
Kris Stone
(Set Design), S. Stoli Stolnack (Lighting Design) and Thyra Hartshorn (Production Manager). Molière in the Park takes place at the LeFrak Center at Lakeside in Prospect Park, Brooklyn from May 18 - 20, 2019. Enter at 171 East Drive between Ocean Avenue and Lincoln Road. Tickets for all events can be reserved at https://www.moliereinthepark.org. The running time for the reading is approximately 2 hours and 30 minutes including intermission. For more info visit
www.moliereinthepark.org
.
Lucie Tiberghien (Molière in the Park Founding Artistic Director) is a French and American theater director, and a translator, based in Brooklyn, NY. She was raised just outside Geneva where at an early age she began her career as a dancer (Grand Théâtre de Genève). She then moved to Paris after high school to further her training in music and dance, and eventually went back to school to study history and political science. After graduating from Geneva Webster University, she moved to New York to pursue a career in directing.
Lucie's New York credits include Daybreak by
Joyce Van Dyke
(PanAsian Rep on Theater Row), Terminus by
Gabriel Jason Dean
(NYTW Next Door), The Other Thing by
Emily Schwend
(
Second Stage
), Soldier X by Rehana Mirza (
Ma-Yi Theater Company
), Don't Go Gentle by
Stephen Belber
(MCC), Blind and The Pavilion by
Craig Wright
(Rattlestick Theater Company), Hoodoo Love by
Katori Hall
(Cherry Lane Theater), A Small Melodramatic Story and Geometry of Fire by
Stephen Belber
(
LAByrinth Theater Company
, Rattlestick). Lucie's regional credits include Queens for a year by TD Mitchell (Hartford Stage), Pen/Man/Ship and The Ashes Under Gait City by
Christina Anderson
(Portland Playhouse, Contemporary American Theater Festival), Blueprints to Freedom by
Michael
Benjamin Washington
(
La Jolla Playhouse
, Kansas City Rep), Love in Afghanistan by
Charles Randolph
Wright (
Arena Stage
, DC), The Invisible Hand by
Ayad Akhtar
(Milwaukee Rep), Water by the Spoonful by Quiara Alegria Hudes (Arden Theater), Blood and Gifts by
JT Rogers
(
La Jolla Playhouse
), and Great Falls and Flag Day by
Lee Blessing
(Humana Festival, CATF). Stew's (Original Songs) credits include Book, Lyrics, Co-Composer: PASSING STRANGE (2008 Tony: Best Book, 2-time 2007 Obie: Best New Theater Piece and Best Ensemble), RESISTING MY RESISTANCE TO THE RESISTANCE (Metropolitan Museum of Art 2017), THE TOTAL BENT (Public Theater 2016), NOTES OF A NATIVE SONG (
Harlem Stage
, Curran Theater), WAGNER, MAX! WAGNER! (Kennedy Center 2015), FAMILY ALBUM (Oregon Shakespeare Festival 2014), CHICAGO OMNIBUS (Museum of Contemporary Art Chicago 2013), THE MAKING IT (
St. Ann's Warehouse
2010), BROOKLYN OMNIBUS (
Brooklyn Academy Of Music
2010), and
Spike Lee
'S PASSING STRANGE (2009). Prospect Park Alliance is the nonprofit organization that sustains, restores and advances Prospect Park for the diverse communities that call Brooklyn home, working in partnership with the City. The Alliance provides critical staff and resources that keep the Park green and vibrant. Learn more at https://www.prospectpark.org. Molière in the Park is proud to have the support of the LeFrak Center at Lakeside, The Prospect Park Alliance, the DeGroot Foundation, the Evelyn Sharp Foundation, Brooklyn Borough President Eric Adams, the Cultural Services of the French Embassy, Dramatist Play Service and the French Institute Alliance Française. Without them, this inaugural weekend would not be possible.